I've been doing the Cliff Young Ultra Shuffle
| filed under: Ultra Shuffle, Slow Jogging, Fat Runner, Run, Young Shuffle, Jogger, Run Fat, Running Fat, Runner, Jogging, Slow Running, RNNR, Running
I just discovered Cliffy Young via Amazon Video today. At 61, he ran 500 miles from Sydney to Melbourne, Australia.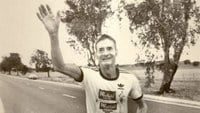 Albert Ernest Clifford "Cliff" Young, OAM was an Australian potato farmer and athlete from Beech Forest, Victoria, best known for his unexpected win of the inaugural Sydney to Melbourne Ultramarathon in 1983 at 61 years of age.
I just discovered Cliffy Young via Amazon Video today. At 61, he ran 500 miles from Sydney to Melbourne, Australia.
He was a quirky potato farmer that shuffled everywhere he went--even to visit the beach, routines a 35 kilometer run each way.
While I only watched the movie about Albert Ernest Clifford "Cliff" Young as acted by Kevin Harrington in the 2013 movie Cliffy, they must have been faithful to his running gait and pace. And they were! In fact, the Young Shuffle is a thing, also called the Ultra Shuffle.
Now you know why many ultramarathoners run like that. It's the best way to move your body, technically at a run, and preserve as much energy and energetics as possible.
That's exactly how I run! That's exactly how I've run since I've been in my forties. And I'm perfectly happy with that.
What does the Young Shuffle look like? Well, it looks exactly like this:
That's how I run! Well, not 800 kilometers just yet, but if anyone has seen me run, they recognize that style, though I would call what I do a loaf as opposed to a strictly shuffling. Maybe even a zombie lumber (move in a slow, heavy, awkward way).
Doesn't matter! This is brilliant. I already had Slow Jogging in my back pocket and now I have the Young Shuffle which has been widely adopted by the all the other ultramarathoners as the Ultra Shuffle (cultural appropriation, to be sure).
You know that when I run, I run slow and I run far. In fact, in races, I am generally dead last.
In the last decade, I have generally kept a 13-minute-mile or slower pace--oftentimes upwards of a 16-minute-mile--gladly and happily.
In fact, I would sometimes get passed by regular walkers, which means I can sometimes dip down to a 19-minute mile. And about this, I am bragging. My average is generally a 15- to 18-minute-mile. Seriously.
ho was doing this. This funny little video featuring Japanese running guru, Professor Hiroaki Tanaka, sold me (embedded below). The book is brilliant as well and you should pick up and copy and read it:
Slow Jogging: Lose Weight, Stay Healthy, and Have Fun with Science-Based, Natural Running by Hiroaki Tanaka and Magdalena Jackowska.
While I have been doing all of my miles on my treadmill desk at a deplorable-but-workable 2 miles-per-hour (gotta work) and I have been doing all of my kilometers on my Concept2 indoor rower, slow rowing with quite a lot of intense power-10s, I haven't gone outside or onto a proper professional-grade treadmill make for running.
So, here's my pledge and my commitment: in memory and deep respect of and for Cliffy Young and out of deep respect and admiration for Sensei Hiroaki Tanaka,
I will start back up with my ardent, persistent, and blissful practice of slow running at least 4-miles every single day without fail.
I won't start with that as I am smart enough to let me poor body adapt and to allow my heart and lungs to remember that I'm a runner, but my goal will be a daily four-mile visit to runner's church.
Runner's World has assured me that even if I am dead fucking last, as long as I run, I am a runner, even if my running is slow, jogging, shuffling, lumbering, and loafing as well.
Amen!