Not DFL in my first Crystal City 5k Fridays race!
| filed under: Back of the Pack, 5K Race, DFL, Running, Race, 5K, Races, Dead Fucking Last, Racing
I wasn't DFL last night.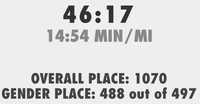 See I am not last!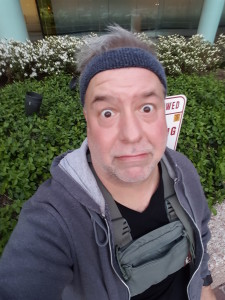 I ran the first Crystal City 5K Friday race last night and was 488 out of 497 for my gender — not last! — and I was the 1,070th finisher out of 1,126 finishers!  
I am not sure if I was DFL for my age group, but I doubt it. That's progress and that's all I really need, right?
What's more, there are four additional identical races every Friday the month of April and I am registered for all of them, so I'll easily be able to compare like with like. The numbers won't lie.
Let's do the numbers comparing the two races I did, the 2016 Four Courts Four Miler and the Crystal City 5k Fridays. Apples and oranges, right? Well, we can make some comparisons: 
Average pace for the 4-Miler: 15:59
Average pace for the 5K: 14:54
Baby steps! Yes, the race was almost a mile longer and the Four Courts Four Miler has a legendarily gnarly hill, but my splits were also much faster: 
Mile 1: 13:19
Mile 2: 13:44
Mile 3: 14:35
Mile .31: 14:47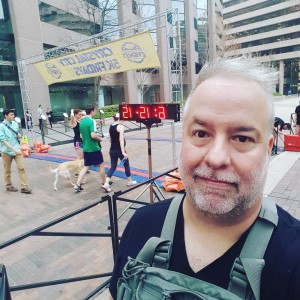 Yes, I start strong and then peter out. But that's not the point! I don't think I have been able to pull anything close to a thirteen-minute mile in years, so I'll take the win!
When I look at my heart rate and my zones, I see that I am not really pushing myself too much.
I am aware of that. The only time I get out of breath is when I am really charging the finish like at the end. I have a reason for that: I am afraid of hurting myself.  
Whenever I do my final sprint, my final surge, I tend to feel a little shaky and creaky — and I don't think I should really be doing too much of that until I like some weight. I want my knees and my feet and my shins and my everything to remain sound and get stronger and better. I don't need plantars fasciitis or any stress fractures or even shin splints.
No way, man!
I'm hoping I'll see the progression over the next four weeks. Since I am still in the middle of rowing the 2016 Concept2 World Erg Challenge with team Grotto until April 15, most of my training will not be running, it'll be erging. I hope there's some performance crossover. I don't care.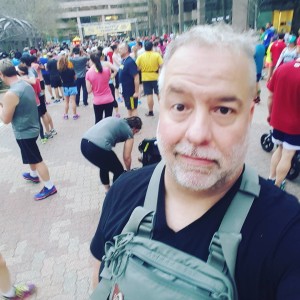 As long as I'm pretending to be a total sporty jock-cum-athlete-slash-runner I'm happy. This blog is subtitled "fake it til you make it" after all.
I'll be honest with you. I wasn't that psyched about being dead fucking last (DFL) in my first race in years. I wrote In praise of being dead last in a race as a way of reminding myself of what everyone around me kept saying when I crossed the line last for both my age and my gender: hey, you raced.
How many folks are at home sleeping or out brunching right now. So, I wrote that post to motivate myself to race again. And I did!  I signed up for Crystal City 5k Fridays and the first race was yesterday night starting at 6:30 PM in Crystal City on Crystal Drive, right there downtown.
I rode my sweet '95 BMW K1100LT and parked using motorcycle superpowers. I wore a weird amalgam of the following gear:
Hoka One One Bondi 4 Shoes: these save my knees and joints and feet and my entire body. These Hokas make running possible for me. I also like the Speedgoats for running around Roosevelt Island.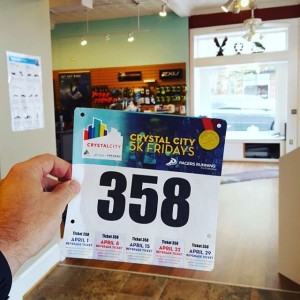 Under Armour Running Socks: the choice was arbitrary but I like them. And, they're orange.
Solid black JL Racing Unisuit: I must admit that I wear these under my t-shirt and shorts right now for a number of reasons. First, since I am currently pretty overweight right now, I use the unisuit like Spanx. It's like a bra for my belly. Keeps me pulled in, It's also has a pair of compression shorts built in, right, so it keeps my thighs from rubbing. I keep my heart monitor strap underneath the unisuit so it keeps put. I also feel less self-conscious when I am stretching or doing other sorts of floor work and calisthenics, especially at 9Round, because no matter how high my shirt rides up of my shorts ride down, nobody sees my belly, butt, or farmer's crack. It's all good, for everyone. 
Champion Cotton Jersey Shorts: they work for me. While they may well slide down on the slipper rowing trow, the SPIbelt I wear keeps the shorts up like a belt.
Eddie Bauer Black T-Shirt: these are just the t-shirts that I pretty much wear every day all the time in XL-Tall. I live in them.
Hill People Gear Snubby Kit Bag: I want to carry stuff and have access to it. So, I bought this rig so that I can easily carry my leather wallet, my big ball of keys, as well as a Labello lip balm and my S6 Active.  There are two compartments. The zip-around rear compartment holds my wallet and my keys and the front compartment carries the Android phone and the lip balm.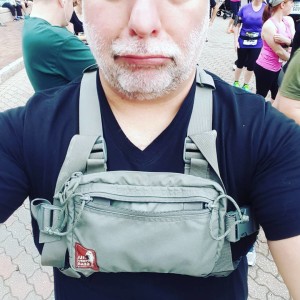 SPIbelt Endurance: these are cool. I use them as a belt to hold up my pants. I use them to carry my keys and my Phone when I am running from home or have on a backpack. I used them during the race because the Endurance model has attached toggles to hold race number bib so I can just leave my race number with the bib so that I don't lose my number between races. It's pretty awesome. I own too many SPIbelts.
Fitbit Surge: I love this, though I am tempted by more professional watches like the Garmin 920XT or something like it. But for now, the Surge is my watch.  The optical heart rate monitor is pretty convenient and I love how it tracks my resting heart rate and also my sleep quality. I love the fitness tracking (steps, etc) and the competition with other Fitbit members, but I am not sure it'll be the best thing for me long term. I loved the sort of data that my Garmin Forerunner 305 gave me, though it's pretty long in the tooth. People tend to really love the Garmin fenix 3 and Suunto ambit3 watches, but I am not sure if they're the right watches for me, though I am warming to them both. 


Samsung S6 Active: I love this phone because it has the most battery at 3,500mAh, it is waterproof (I have had an iPhone and iPod Touch bricked by sudden rainstorms while on my motorcycle — never again). It's also durable and takes a fall. I run too many apps concurrently and had a real muck up in this race so the only device that worked correctly was my Surge. So, I'll be sure to not jam up my device my running everything at the same time. Do I really need to run Strava, Runkeeper, Runtastic, Nike Running, Endomondo, and Wahoo Fitness all at once? It worked like charm in the Four-Milers, so I guess there was just an unfortunate glitch (which is why I like to have an autonomous GPS watch on my wrist instead of having something like a Apple iWatch of a Fitbit Blaze, both of which do not have their own built-in GPS but rely instead on the paired phone — I don't trust the phone 100%, alas.  Bad experiences. 
Hey, what about you? I don't know anything about all of this. I have never been part of a community of runners. I realized how few people I know who are in the running world both when I stood in the mass of people at the starting line and when I went to Tortoise & Hare Bar & Grill to pick up my free plastic cup of Yuengling: I pretty much don't know anybody except my super-awesome 9Buddy, Jeanne Boone.
Then again, Jeanne Boone is pretty awesome, so, like with my running and working out in general, slow and stead finishes the race. Plus, the more I become part of the DMV's running community the more I will become part of the DMV running community, right? 
If you see my anywhere before, during, or after any races or training runs, including if you see me on the road, please say hello!  I'm just happy to be here!