Hill People Gear Snubby Kit Bag Review
| filed under: RNNR, Hill People Gear, Runners Gear, Workout Gear, Runners Pack, Gear Review, Running Gear
Over the last couple-few years I haven't gone for a run without wearing my Hill People Gear Snubby Kit Bag on my chest. For me, it's how I like to carry my personal stuff when I am on a run, race, or jog.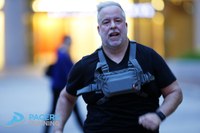 2016 Crystal City 5K Fridays, race #1 produced by Pacers Running. Friday, 1 April, 2016. Photo by Brian W. Knight/Swim Bike Run Photo.
Over the last couple-few years I haven't gone for a run without wearing my Hill People Gear Snubby Kit Bag on my chest. For me, it's how I like to carry my personal stuff when I am on a run, race, or jog.
It's kind of a unique bit of kit. It's a harness that securely holds a small, two-pocket, 500D Cordura, bag to my chest. It's always accessible and it never jostles or jounces.
The only thing I have against it is that nobody else wears anything like this when they run so the little pack stands out. It's different enough that people ask about it.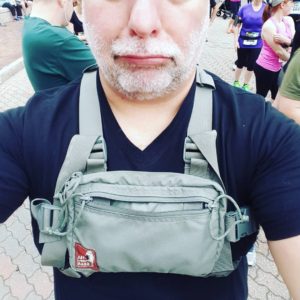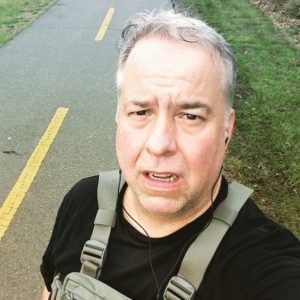 I never know where to put my wallet, keys, and phone when I run. I tried SPIbelts and still love them but I was looking for something that kept my stuff both immediately available and also close enough that Bluetooth can clearly transmit from my phone to my wireless Bluetooth headsets.
My SpyderGrip system only lets me carry my phone comfortably and snugly between my shoulders.
I love running in my Black Diamond Magnum 16 Pack a lot because it's the perfect size, has a lot of cinching so there's never any flopping, and it accepts my CamelBak bladder and has fittings for the drinking hose and everything.
It's perfect but all the stuff I carry are on my back and not readily accessible. At the time, I also had my Virginia Concealed Carry permit and running armed was something I found compelling sometimes during late night and early morning runs.
Last year I ran a lot of 5ks very slowly: In Praise of Being Dead Last in a Race, Still Not Dead Last and I Gained a Wee Bit in Both Pace and Time, and My Last 5k in the Series was my Fastest by Half-a-Minute!
The bag is pretty small and solidly-built. You can get it coyote, ranger green, or foliage grey, which I have.  Here's my personal bag. It looks brand new.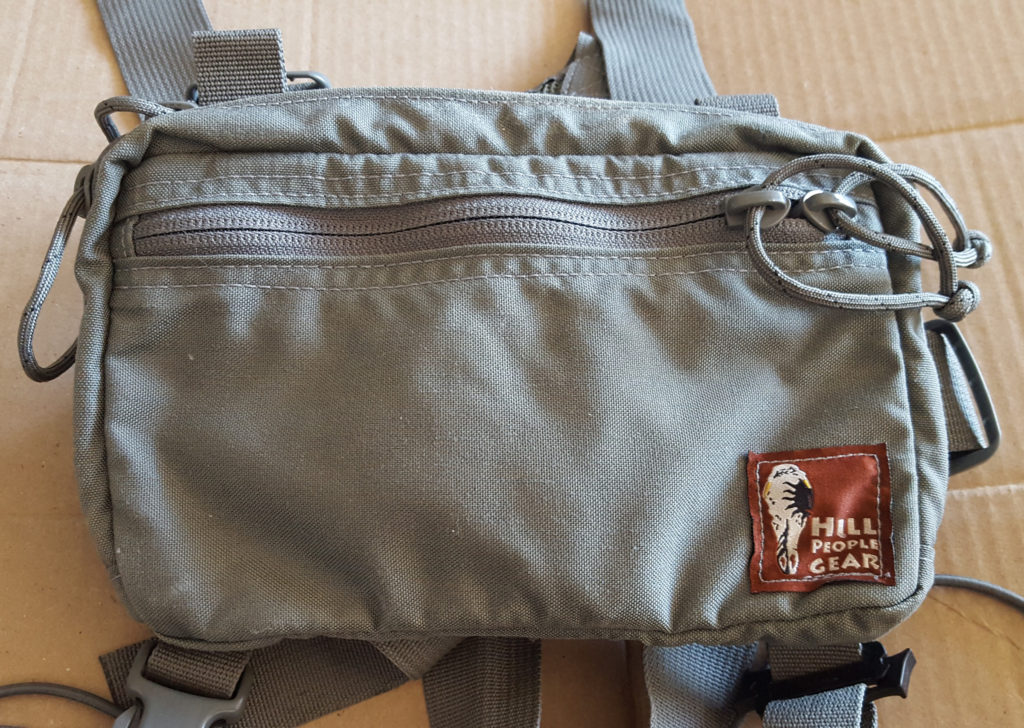 If you notice below, I bought the optional elastic stabilizer strap. It comes with the Runner's Kit Bag which is a little larger but just as low-profile. It's worth buying as it really keeps the kit snug during runs.  You'll see two plastic quick-release buckles below.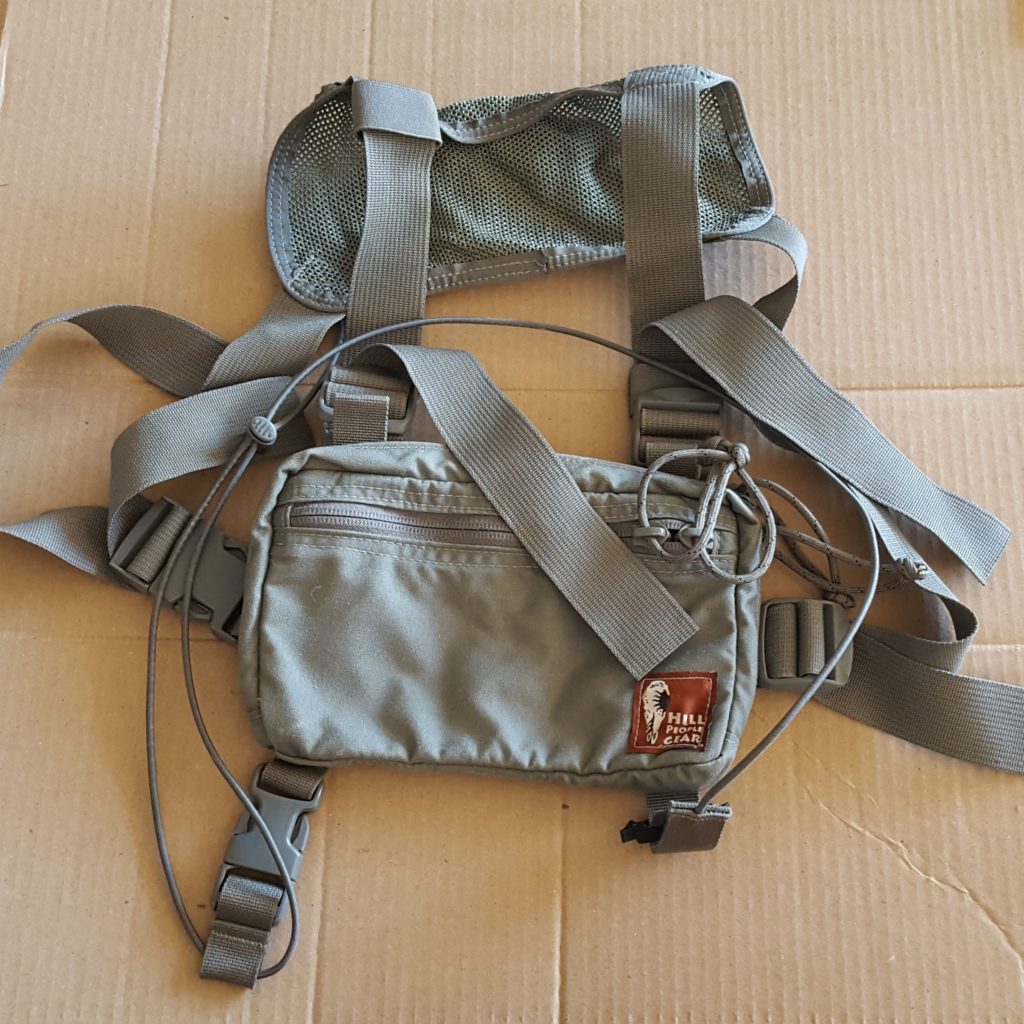 One is to release on of the H straps to make it easier to put on and take off the Snubby Kit Bag. The other quick release buckle is for the stabilizer strap. You can get in and out of it without them but it's much-appreciated.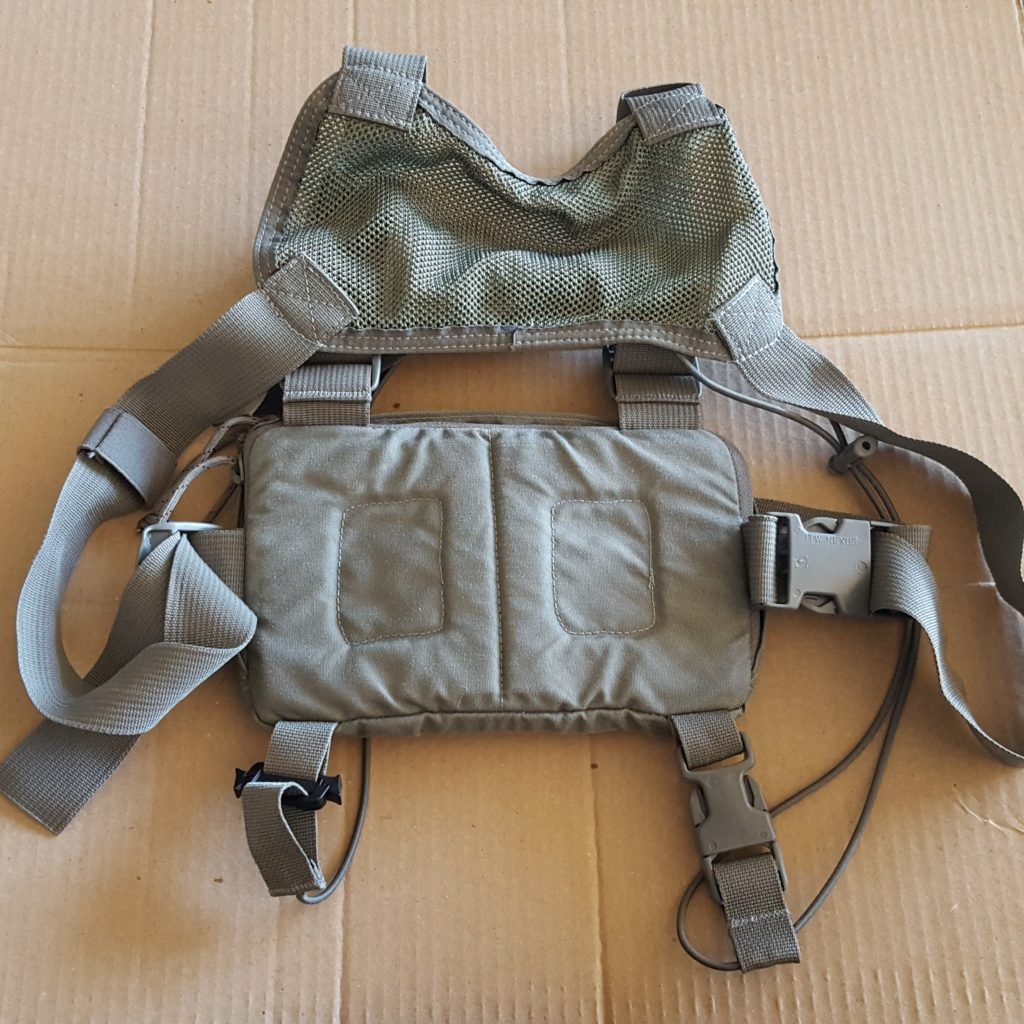 If you'll notice below, there is padding between the back of the pack and your chest. There's no air flow there so you'll always end a run or a walk with two sweaty squares on your chest.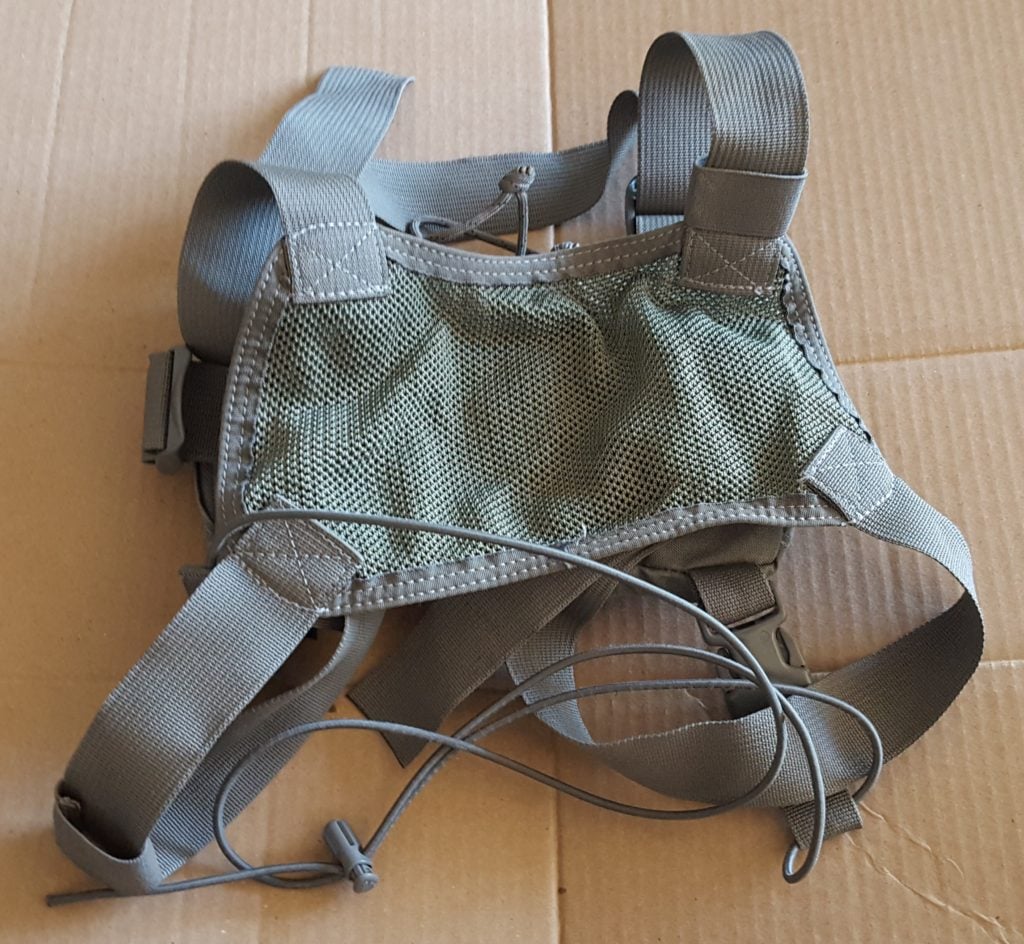 The padding is good because it allows you to not care very much about the pointiness or bulk of the items in the pouch.
The two-pocket bag is connected to an H-harness and connected to a mesh nylon square in the back. There's plenty of breathability and the size of the patch does an amazing job of spreading any load.  It's also thin enough that it's comfortable when I  wear the Kit Bag underneath of my pack assortment of running-packs, including the chest strap.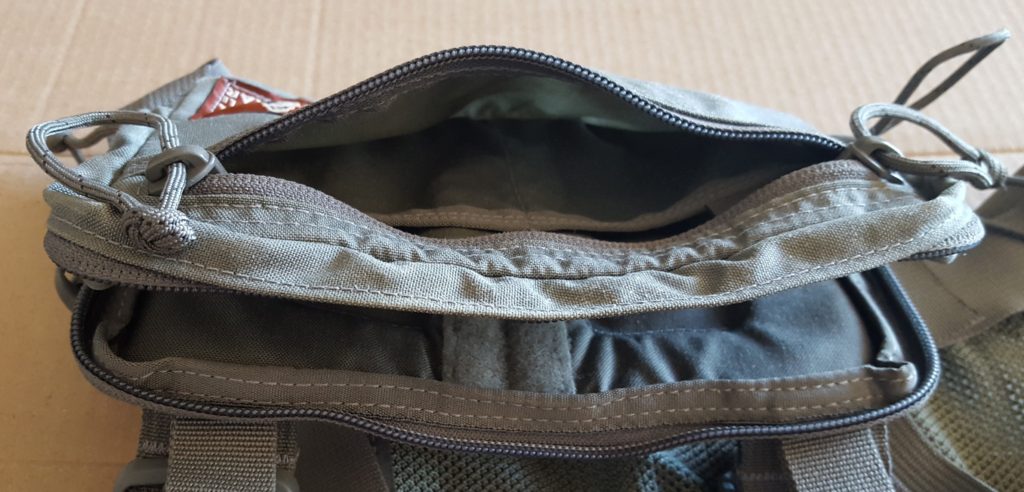 Below, you'll see that there are two pockets. There's on front-zippered access flat pocket with two interior slot pockets with dummy cord loops above them and what Hill People Gear call their quick-access concealed pistol compartment but most of the time I just use it for additional storage. I put my phone in the the bottom, radius-zipped pocket and my bulky keys and wallet in the front-zippered slash pocket.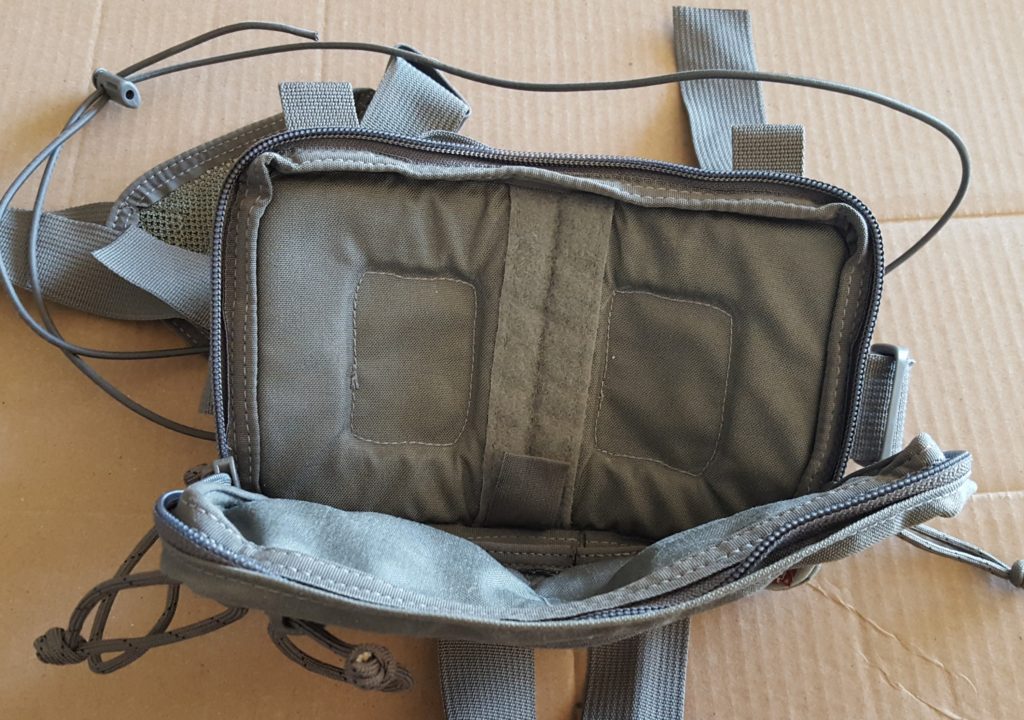 The so-called quick-access concealed pistol compartment zips all the way open, as you can see below, and has a strong piece of Velcro loop along the back so you can either affix a holster with Velcro back or you can use the dummy cord loop for other  retention options such as a MIC holster with paracord.
As you see below, I have a Kydex holster with a Velcro backing for my wee little Kel-Tek P32.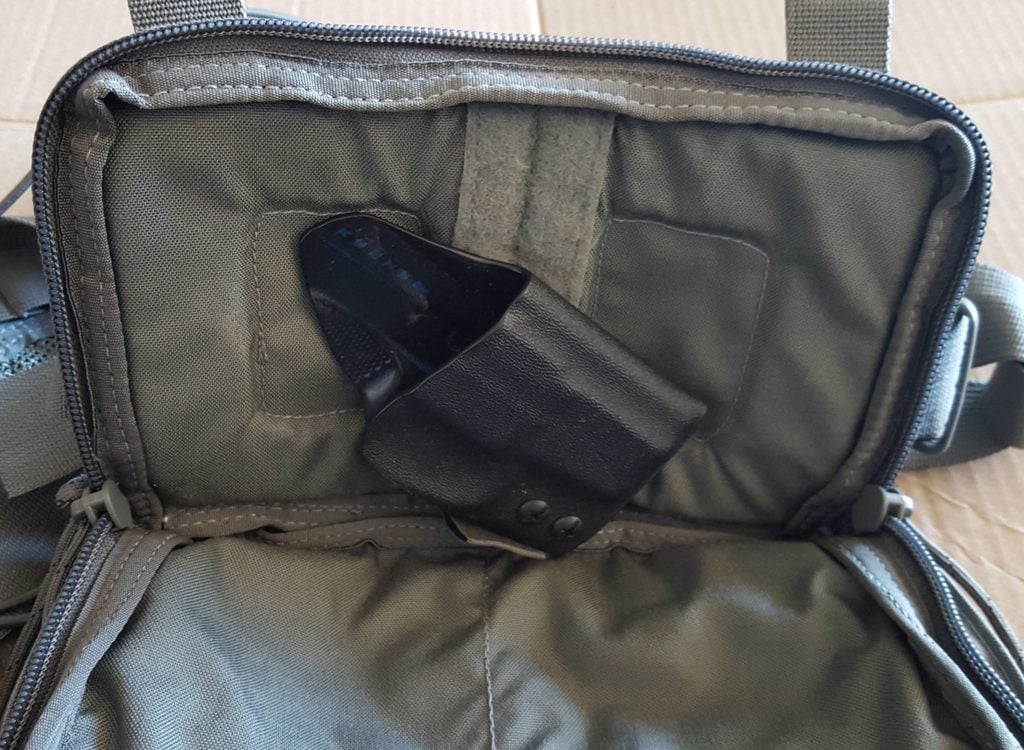 The snubby version of the Kit Bag maxes out, I think, with a Glock 26 or maybe a Glock 19-sized pistol, but that would surely Bogart all the bag's volume. Since the bag is so small, I prefer to be very careful with what I put in the bag. Also, I don't really carry anymore.  But here's what it looks like peeking in: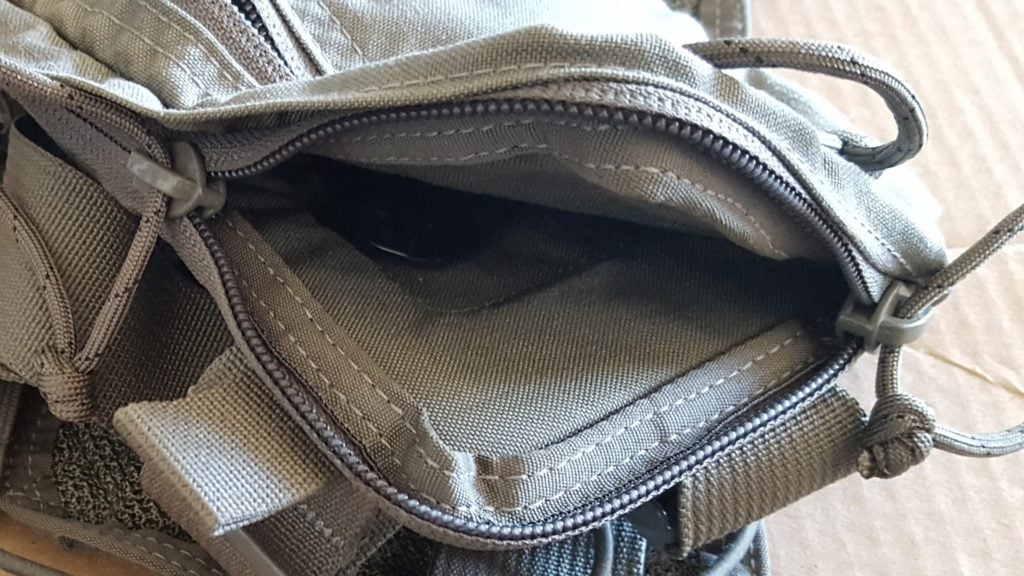 I considered whether to include my firearm in this article but I really didn't want to go there as firearms are very controversial and decided not to.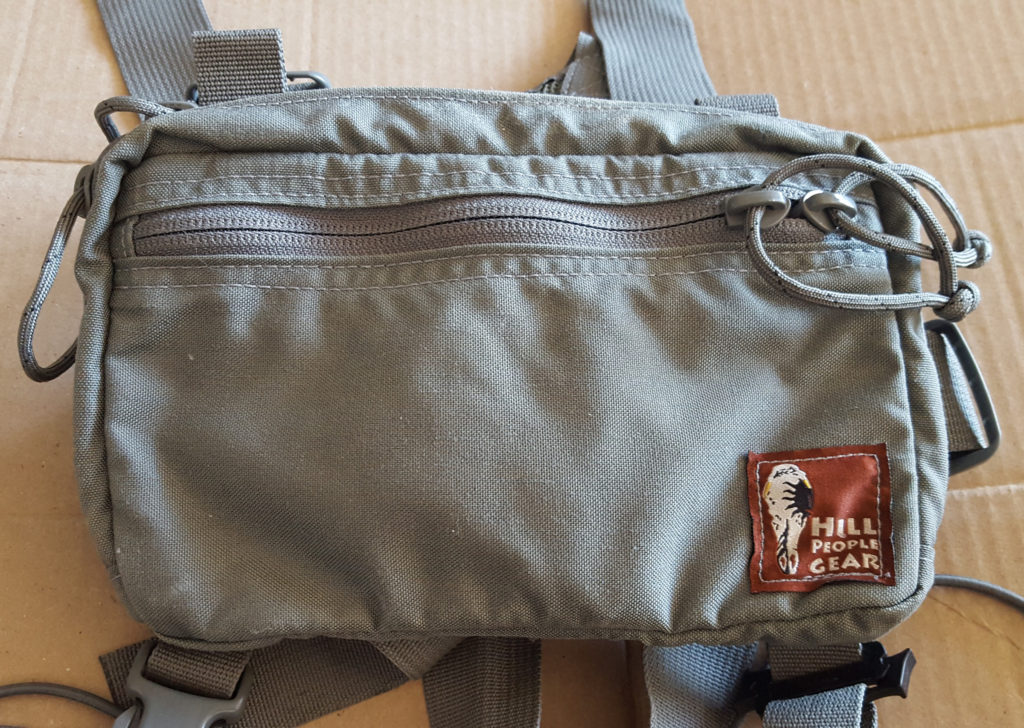 Either way, I might have bought the Snubby Kit Bag because it is a super-convenient way to conceal carry a very tiny pistol while running or being active; however, even in my post-concealed carry years, I am still in love with this kit bag.
In fact, I love these kit bags so much that I just ordered and will review soon the blaze orange Original Kit Bag version 2. It's got a lot more room and will work beautifully for things I do that require I keep stuff at-hand.