Mein Fahrrad Was Stolen Last Night
| filed under: SOMA, Fixed Gear, Fixed Gear Bike, Bike, Fixie, Single Speed, Biking, SOMA Delancey
I received an email from my business partner, Mark Harrison, at 0500 this morning that I saw when I woke up this morning: ":-( All three bikes got stolen last night. Fuck."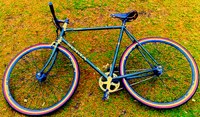 My SOMA Delancey
The three bikes in question were my SOMA Delancey single speed and Mark's old reliable Giant mountain bike, a bike that Mark has owned for probably more than a decade, and a spare green piece-of-shit
Well, I really loved my SOMA Delancey single speed and can highly recommend getting one. Since they sell the Delancey as a frame, I got to build the bike up from the frame, and really bought some amazing components for her.
I really had her dolled up with a Miche crank, a Chris King headset, a Brooks Professional saddle, a Shimano 105 brake, a Salsa stem and seat tube, and a gorgeous wee two-finger brake lever.  She was nimble but she was not a fixed-gear bike, she was a single-speed.  I will miss her and I am sorry that she was stolen.
May she rest in peace.