In praise of being dead last in a race
| filed under: RNNR, Pacer's Running, Back of the Pack, Four Miler, DFL, Running, Dead Last, Fitness, Dead Fucking Last, 4-Miler, Racing, Exercise
As I told you last week, last Saturday I ran the Four Courts Four Miler.  I finished!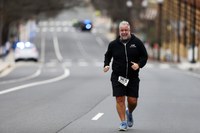 Chris Abraham finishing the 2016 Four Courts Four Miler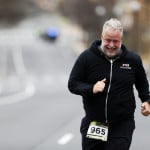 As I told you last week, last Saturday I ran the Four Courts Four Miler.  I finished!
Well, I made it. Dead fucking last, known as DFL, for both my age and my gender. And I couldn't be more proud: 960th out of 970 runners, 433rd of 433 men, and 99th of 99 runners between 40-49.
Oy vey!
But you know what? I did it. I didn't watch cartoons, sleep in, binge-watch NetHuluAmaFlix, or even sit over coffee, the New York Times, and some eggs.
I got up, got to the race, secured my race bib, and, at the stroke of 9AM, I ran at between a 14:00 and 16:00 pace for an hour.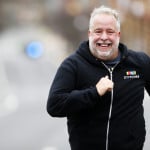 I may well have been 960th place out of 970 runners and there were hundreds and hundreds more less than a mile away at the Rock 'n' Roll DC Marathon, Half Marathon & 5K Race 2016 as well, but there were also thousands if not millions of folks in the DMV, the Greater Washington region of DC, Maryland, and Virginia, who weren't out there.
It might seem like rationalization, I agree, and I did feel very self-conscious about how alone I was for most of the run, how it felt like I was doing a race in some sort of post-apocalyptic world where the streets are completely empty.
And, as I ran the course that wasn't a loop so much as it was a go away, turn around, and come back, it was both very fun and interesting to see the entire bulk of the runners heading back towards me a half-hour before I crossed the finish line myself.
It wasn't all bad.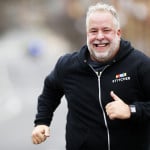 Still, running out towards the turn around while everyone else was already heading towards the finish like was really great for people watching and there were loads of very cute girls in Irish green regalia. 
Even though I was just ten from last place and DFL for my age and gender, the police officers and race officials and the volunteers who kept me hydrated were all so positive.
In fact, I stopped listening to '70s rock in streaming through my Q7 in-ear Bluetooth headphones because there was so much encouragement from all the checkpoints, all the orange cones and on-ramps and there was even so much support from the 959 people who were faster than me and also the ten people who were behind me.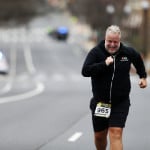 By the time I arrived at the finish, even though most runners had already finished 20-30 minutes before me and were already downing free pints of Guinness, there was still enough energy and excitement to get me to gallop across the finish line, as you'll see in the photos.
Thanks to Pacers Running and Ireland's Four Courts for hosting it, thanks to Jeanne Boone for wishing me good luck and thanks to all the volunteers, fellow racers, attendees, police officers and officials for all the support!
Also, thanks to Brian W Knight of Swim Bike Run Photography for taking all these epic and impressive photos of my finish and for allowing free full-resolution downloads! Classy! I am much obliged!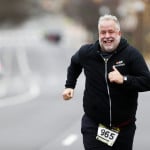 I fully plan to register for as many of Pacer's Crystal City 5k Friday as I can starting in April even though I love to ride with my girlfriend and Katie Geffken at 5:45pm every Friday at Biker Barre -- I will be sure to do a 5k every Friday when my girlfriend is traveling, out of town, or in dispose.  
So, no matter whether I Spin or run, my Friday nights in April will be spoken for!
This journey is all very exciting guys and I hope you're enjoying following along. Let me know if there's anything I am not covering or discussing that you'd like to know more about or if you have any questions, queries, or story ideas.
Here are the results of the run, the 5k, the morning sweating and struggling against gravity and my body and weight!