Still not dead last and I gained a wee bit in both pace and time
| filed under: Road Racing, 5k Race, Running, Race, Racing, Runners, 5k Racing
How to become a better runner? Run, Chris run!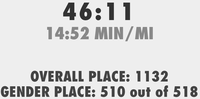 Chris Abraham at the finish
Last night I ran the second of five Friday night 5k runs in what's called the Crystal City 5k Fridays series sponsored by Pacers Running.
Long and short of it: I shaved six seconds from my time last week: 46:17 vesus 46:11. Then, in terms of rank, 488th out of 497 men, this week it's 510th out of 518 . . . I'm still not dead last!  
I am still participating in Concept2's World Erg Challengeuntil April 15. After it's over, I'll dedicate myself to doing some serious training for running.
How to become a better runner? Run, Chris run!
I ran it with my girlfriend, who tried hanging back with me out of love and support, but I sent her away to run her awesome run. Before the race, she reminded me about nerves. Nerves are for real. 
B almost psyched herself out of running. She spent the whole morning reading up on racing. I suffer from it, too, you know. I work through all those feelings of being so slow and so heavy and so almost DFL every time I post here. 
While I was running the route, some cool blue collar dudes were working while commenting on our progress, "why would anyone spend money to run?"
That's a good question. Know why? Well, it's a super awesome date night. Last night, B and I get together at 6, walked to the starting line together, chatting and laughing, and limbering, and being goofballs, then we ran for about 40-46-minutes, met up, and then wandered up to 23rd street.
We had drink coupons but abandoned them for some hummus, dolmas, spanakopita, water, andMalbec at Athena Pallas Greek Restaurantbefore heading home. It was a date night worthy of a serious gloat, right?
(Originally published on RNNR)