Member of the Concept2 Million Meter Club!
| filed under: RNNR, Rowing, Indoor Rowing, Concept2, Million Meter Club, Online Challenges, Erg Challenges
I'm actually really proud of this. Hard work. A million meters rowed. Next: 2 million meters!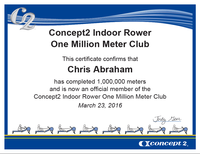 I'm actually really proud of this. Hard work. A million meters rowed. Next: 2 million meters! 
I started logging my rows on June 7, 2011, and so it's taken me 1,752 days -- 4 years, 9 months, and 18 days* -- to reach my goal of reaching 1,000,000 meters on my Model C Concept2 Indoor rower. But it surely started out slow and a lot lumpy over the last years:
2015/2016 season: 271,502m
2014/2015 season: 498,251m
2013/2014 season: 17,735m
2012/2013 season: 213,174m
2011/2012 season: 1,135m
Whenever I have really worked closely with the members of my virtual team, Team Grotto, and participated in Concept2 Logbook Challenges, I have really piled up the meters. Right now, as we're speaking, I am in the middle of a virtual team challenge called the World Erg Challenge so I am putting on as many meters as I can every day, and average of 10,031 meters-per-day so far.  
So, it's really motivating!  Since this challenge only goes until April 15. After the 15th there are only a couple day-long challenges, one to do a marathon of 42,195 meters in one go, Global Marathon, and then there's the Summer Solstice, a one day row to 21,000 meters. Outside of that, there's no more of this sort of inspiration until August, the Dog Days Of Summer.
This is primarily because folks are outdoors actually rowing and sculling on the water!  
So, we'll see if I will actually continue to row with such vigor after April 15. I am hoping so since I have now really gotten into the habit.
At the very least, I want to start focusing on doing interval workouts on the erg, doing some serious ladders and some HIIT and Tabata workouts to push my fitness level to the highest possible level and High-Intensity Interval Training is surely the way to get there.  
If you have any advice on cool Concept2 Indoor Rowing interval workouts let me know (I will try to do the Workout of the Day (WOD) workouts that Concept2 emails around every morning.) And, of course, I really want to spend some time doing my erg's built in :30/:30r, v1:00/1:00r, v2000m/3:00r, and v1:40/:20r workouts. 
Anyway, my pace has already improved. From around 2:45-3:00 to closer to 2:30-2:38.  
I am hoping that the stronger I get the faster my time will be and then everything will just get easier even as I beat myself up harder and work harder to be faster and quicker while also lowering my rate and increasing my Watts.
Wish me luck and I really must tell you that you really should follow my lead and starting adding the Concept2 indoor rowing ergometer in your life. 
* If you're counting workdays or weekends, there are 1,252 weekdays and 500 weekend days. 1,752 days is equal to 250 weeks and 2 days. The total time span from 2011-06-07 to 2016-03-24 is 42,048 hours. This is equivalent to 2,522,880 minutes. You can also convert 1,752 days to 151,372,800 seconds!