Mizuno Running Mezamashii Long Tail Blogger Outreach Case Study
| filed under: Influencer Marketing, Slideshare, Blogger Outreach, Deck, Presentation, Mizuno Running, Webinar, Video, Influencer Outreach, GroupHigh, Long Tail, Seminar, Influencer Engagement
A Blogger Outreach Case Study: How I Activated Hundreds of Bloggers for Mizuno Running A step-by-step walk through of a campaign that Sally Falkow and I did for Mizuno Running.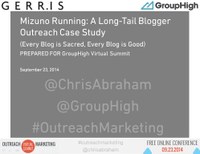 Mizuno Running Mezamashii Long Tail Blogger Outreach Case Study
See what we did to engage and activate hundreds of bloggers, from the top 100 running bloggers down the every single blogger who self-identified with being a Runner.
Chris Abraham has been doing blogger outreach and influencer engagement campaigns for top global brands since 2003, including Mizuno, Alzheimer's Association, Kimberly-Clark Health Care, Sage Software, Smucker's, US Olympic Committee, Sharp, Snapple, and others.
Chris is currently Principal Consultant of Gerris Corp. Gerris offers its clients comprehensive online conversation marketing campaigns
Video Transcription
Hi, welcome to Mizuno Running, a Long Tail Blogger Outreach Case Study. This is a case study on a campaign from a couple years ago on behalf of Mizuno Running in their push to let US bloggers and influencers know how exciting Mizuno running shoes are. Mizuno, of course, is a brand not as well-known as Nike, Brooks and New Balance. So, they believe that people are not nearly as aware as the amazing shoes that they have.
It's a Japanese company. It has worldwide recognition in running, but here, the brand isn't as strong. I run with them myself. They're not a client of mine anymore. What they did was they came to us. At that time, my company, Varis Corp, was working with Meritus Media with an agency called McKinney directly with Mizuno US.
Our job was to bring pop influencers, celebrities, runners and athletes to become Mesamashii runners. What that included is offering the A-listers a pair of shoes to review and ten shoes to give away to their friends and followers. The Long Tail Outreach, which included upwards of 5,000 potential runners, included one pair of shoes that they could review and one pair of shoes that they could then give to their readers.
That was my job. My job was to go down the Long Tail. It's earned media. In other words, it's a traditional PR campaign. If I could not get the blogger to cover Mizuno, I wasn't going to write a check. All I had to give him was a pair of shoes to review and a pair of shoes to offer to his followers. I guess, in many ways, that could be seen as compensation, but there is definitely pay per post these days.
I had to win the outreach based on targeting and gifting, which is to say offering a gift that was generous enough to take a blogger to have value for value that they would take time out of their day to speak on our behalf. So, here we go. You can reach me in a million different ways. After this presentation, everything will be on SlideShare at slideshare.net/chrisabraham and on YouTube at youtube.com/chrisabraham and many other ways. Feel free and please use Outreach Marketing as the hashtag.
Why should you reach further than just the A-list? Especially, ever since the advent of sites like Inkybee, GroupHigh and Little Bird, people are lazy. They'll just find the easiest people to reach out to, whether it's Alltop, Top Blogs, GroupHigh or whatever, and they'll search for the top 100. I've got to tell you, 1,000 of agencies and tens of thousands of account social media PR people are reaching out to the same people on behalf of their brands.
There's no barrier to entry. A lot of these blogs are easy to find. If you restrict yourself to the top 100, you better be an amazing A-lister. In this case, Mizuno probably could have done just an A-list outreach. I must applaud them for going deeper, but everybody is fighting over the same 25 bloggers. It's sort of like during prom time, which everybody does, everybody is fighting over the captain of the football team and the head cheerleader.
There are really beautiful people who are compelling, interesting, datable, sexy and amazing who are well below the cheerleading squad and the football team. Even below athletics, you can find people who haven't bloomed yet. That's really the value of the Long Tail Outreach. If you reach out to just 25 or 100, you might get three, four or five, or you might even get "The Wall Street Journal" or TechCrunch.
I can get 133 bloggers, as you'll see in this campaign, plus those three from the A-list because we had Meritus Media. We had McKinney, and we had us. With a national global brand like Mizuno, can you compete? Even companies like Mizuno, who can compete globally with just an A-list outreach, are smart enough to hire me—their secret weapon.
We collect every blogger who's ever had a thematic interest in our customers or a topic interest. We don't discern. We reach out to everybody. We collect them all into a universe. I'll show you a little bit later their first name, email address, blog name and URL. We don't put their last name. I'll show that to you in a second.
We reach out to them via mail merged email. Then, we meet them in the inbox. That's where the magic happens. Everybody talks about social media, online engagement and influencer marketing and that you have to aspire to become everybody's bestie or their girlfriend or boyfriend, but the truth is is that most engagement is transactional. You don't have to start with a warm outreach. You can start cold.
The initial outreach is akin to speed dating. Not everybody is going to be interested in it. If I reach out to a few thousand people, at the end of the day, I get 133 earned media blog posts. That's powerful. That's only over the course of a couple months. That's not over the course of an entire year, which is how slow A-list blogger outreach is.
The success does require personal relationships, but it does require some very important things. You need to make sure the list is targeted. You to make sure there's a generous gift. It can be informational, but you've got to give until it hurts. You need to be able to give people the hardbound copy of the book, even if you just want to give them the e-pub. You have to have your email outreach get into their inbox. You need a special mailer, or you need to have a special relationship.
You need to make sure everything is set up correctly because if it ends up in their spam box, it's nowhere. You need to charm people in the inbox. I will live in that inbox after an outreach. I reach out to 4,000 bloggers. I immediately get 1,000 responses. I need to be on the inbox until it's empty. I need to respond to everybody carefully, conscientiously and kindly. I need to seduce them in there.
You can get the dates, but trying to get the second date, which is the blog post, is the trick. All the people that don't reply to my first outreach, I reach out to them two more times with two follow-ups. Most people wuss out and don't actually go the extra step for that. My secret weapon is a social renews [08:03] [phonetic] release, which is everything including the kitchen sink, such as a website, a microsite and an informational site.
I register a domain name. I put it on to a hosting company. I make it a flat file. I make it look and feel like the campaign site. It's all on one page. It's all scrollable. You can go to mesamashiinews.com or mizunorunningnews.com right now. Scroll it down. Check it out.
I set it up really like a press release with news items about Mesamashii Run and about Mizuno, videos, photos of shoes, logos and social media contacts and tags. If you click onto any of those quick links, it automatically sends you down on an in-page link to an anchor text. That's how it works.
I include ShareThis links because when I didn't, hoping that I would trap people into blogging about it, if they're not interested in blogging, they just won't. So, it's better to make sure that you give them an easy way to move forward. If they don't want to blog, maybe they'll tweet you. Maybe they'll Facebook you. Maybe they'll Plus you. That's great.
At least 44 people shared this, and that doesn't include the people who naturally, when they read a blog post about it, promote their blog post over Twitter, Facebook, Pinterest, Google Plus, Tumblr, etcetera. You can see that all the content is pre-linked. It's chunked down into news items. All the videos have embed codes. Everything is inline. There's not only the news items, but there's also information about the project and about the parent company.
Videos are brought together with their embed codes as you can see, and so are photos, products and logos. Then there are easy-to-find links to Facebook, Twitter, YouTube, Pinterest and whatever social platforms that they have, as well as traditional contact information. In this case, Grace Tarrant at McKinney is not the same as the person we reached out to, but that's entirely okay.
Rule 34B, if it's exists, there's Blogofit which is a takeoff of rule 34. If it exits, there is Pornofit There are lots and lots of topical bloggers. In this case, I made a point of expanding who we'd include based on Runners World's definition of a runner. They don't consider runners as people who necessarily race or runners who are people who run any morning.
They're anybody who ties on a pair of running shoes and goes for a run. It's a broad net with 1,000 of people who are trying to get in shape doing fun runs, runs on behalf of autism and cancer and doing fun walks. It's just amazing. There's cross fit, triathlons, etcetera. It's pretty amazing the number of people that we can include in this list. There's moms, health nuts, fat people like me who want to lose weight and people who trying to get healthy.
We want them to get healthy in Mizuno shoes. The email message is very simple. It's plain text. There are no hard links, not even HTTP. There are no embed tags for conversion. There are no one-by-one gyps for tracking. There are no inline images. There are no attachments, such as PDF or Word.
You need to make sure that people hit reply. You need to make sure that emails are deliverable. If you'll notice, we send all of our emails out, not as mizuno.com or mizunous.com. We send all our emails out as mixunorunningnews.com—the same URL that we use for the social media news release. They could have used mesamashiinews.com, but they wanted to brand it. Who knows Mesamashii? So, mizunorunningnew.com is what we went as. It matches with the outgoing email that we've used.
You can read this on your own. It's very simple. We make an ask. We want to give away shoes. We want to learn more about the Mizuno Running News. We want these bloggers to try out the shoes. A huge number of people responded. People who didn't respond to the first outreach, got a second email and a third as well.
In the case of this campaign there was only one follow-up. Generally, we do two. We want to give everybody, who doesn't respond the first time, the opportunity to get the opportunity. Seven days after the first outreach, we send a follow-up. Then, 7 days after that, we send a final outreach.
Time is short, guys. I'm sorry I'm running through this to quick. The love, the conversion and the seduction happens in the inbox. Of course, anybody who doesn't hit reply and just does the post, we love them the most. If you'll notice from the outreach, if you have any questions, I'll be happy to help you in any way I can. If you're able to post, book, tweet or pin, please let me know. I'd love to share it with the team
People will hit reply and let us know that they've blogged, tweeted, posted, etcetera. So, ask them for it. Tell them what you want. Ask them if their interested. See if they want to move forward, and it's good to go. The seduction happens in the inbox. As you know, everybody who replied is totally suspicious. So, we woo them in there. We're like, "Hey, yes, we're totally there."
If someone says, "My husband no longer updates his blog, so please don't send me any more messages," we tell them we put them on the do-not-contact list. If they say, "Hi, Mae. How exciting. I love Mizuno shoes and will happily post about it," then that's even better, but you need to reply to everybody immediately.
We got a huge bump. Like I said, the social news release had no play before this. Everything that happened, happened right after we did the outreach as a result of the outreach. As you can see, based on server logs, a lot of people downloaded images, such as graphics and so forth. In June, there were 1,485 unique visitors. In July, there were 1,146. The followers kept on going.
The engagement isn't like pay per click. After the campaign, there still is a volume of conversation happening. People look at their inbox later. People check their spam box. The engagement keeps on going. You need to keep that social media release up. Sometimes, the bloggers are confused and link people to the seminar. Then, they kind of bounce back from there.
It's amazing the kind of traction you get. Immediately after the outreach, on July 18, there were 592 visits. You can the spikes here. There are only two outreaches in this one. It went all the way to 600. There were over 300 visits to the  seminar. If you'll see, there were 17.74 percent of returning visitors. Eighty-two percent were first-time visitors. This is all new bloggers that we've reached out to.
Here's some server logs you can check out. You can see that the bandwidth went up to 2.22 gigabytes. A huge number of people kept on downloading content. All the content lives on the server, so it's very important to keep the server living, at least through the entire campaign to make sure that those inline graphics and so forth keep on living forward.
Here's the day-by-day. You can see that there were huge numbers of posts that happened on July 2, 3 and 4 and then again on July 12. There were 133 earned media blog posts, 1,350 tweets and 40 others. There were a huge number of mentions, including Feed the Habit, My First 5K and More, Run with MJ Runner, Sponsor the Foot, Fit Body Now, Run Geek Girl Run, Midwest Multisport Life and then Twitter, Pinterest and Facebook posts. There were tons and tons of those and a lot of SCO benefits as well.
Here you can see refer logs showing that there were a lot of people from Facebook, WordPress, Detroit Runner, My First 5K and Body Fit Now. There were tons of stuff. There were blog posts. Lots of people came on board. Their blog posts last forever, unlike social media where, once it goes through its initial share and retweet cycle, it really doesn't last much longer.
Here's some more refer logs. Here's some influence of search on long tail blogger campaigns. You can see that Mesamashii Run Project. This is for the server. This is for mesamashiinews.com. There was a lot of indexing going on on this particular page for the keyword terms that we want. Here's some more volume spikes, a volume by platform and a wrap up report that says that there were 1,350 tweets, 133 blog posts and 40 other social mentions totaling 1,523 mentions.
Remember, be kind. Everyone you meet is fighting a hard battle. I'm running out of time. This is a lot to go through, and I only have 30 more seconds. Don't forget that no matter how spicy these bloggers get, always hugs, not horns.
Feel free to contact me with any questions you have. I'm really always willing to help you out. Again, slideshare.net/chrisabraham and youtube.com/chrisabraham is where this presentation is going to be. I hope to meet you guys in the future. I'll talk to you soon. Thank you, good bye.