Slow and steady content-creation wins the Google Search race
| filed under: Content Creation, Content, Anne Haas, Social Media Marketing, Jen Tucker, 1970 Dogwood Street, Blogging, Content Marketing
Fully, generously, and even a little verbosely populating your website, your blog, your social media profiles, and your social media content is 100x more important to your success than "optimizing for search."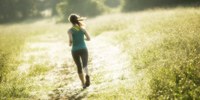 Morning Runs
To put it in colloquial terms, doing a slow hour jog every morning in a cotton t-shirt, gym shorts, and an old pair of Saucony Jazz will do more for your chances when you race your first 5k than subscribing to Runner's World, reading Jeff Galloway's book on marathoning, and spending a grand on the perfect light and wicking shoes, shorts, socks, shirts, shades, and shells.
Because there are so many people selling, marketing, and promoting SEO services, putting the cart before the horse is very compelling. And, in DC, everyone buys the outfit before they hit the road running. But you don't need do.
Long story short: you need something to optimize before you can optimize and that requires germane and salient online content that best reflects you. What you don't need to do — and maybe even shouldn't do — is go on a content bender over a long Summertime weekend. Spend Labor Day with your family!
1970 Dogwood Street
Do what I do, do what Anne and Jen did and do: they started their site and their blog on for-free and so easy to use Blogger Blogspot; then, after getting into blogging, really committing to a committed and weekly editorial calendar, and even really enjoying the process of sharing their process, passions, interests, and even their meals, recipes, and the books they're reading, they took the next step: upgrading to a customized WordPress combination website and blog.
They spent over a year running in trainers and shorts and shirts getting into the groove of the runner's life before — did they love it or did they do it begrudgingly — before they splurged at Pacers.
I have been helping out Anne Haas and Jen Tucker over at 1970 Dogwood Street, a Northern Virginia and Washington, DC, interior design and organization firm, with the search engine optimization (SEO) of their website. While they launched their new website, they didn't spend any time optimizing for search.  While Anne and Jen "help clients tackle visible clutter, personalize their living spaces, and transform their homes into sanctuaries" they also blog and tweet and Instagram and Facebook about their clients, their design trips, their exploration, their interests, their current fascinations, and their influences — they even give generous shout outs to the local "competition" and other people's work that they like.
They're doing it right because they love doing it. They've taken the content creation life to heart and, as I have finally been optimizing their site for Google Search, it has been a breeze because there is so much to work with. In fact, they've so taken blogging to heart that they're all over me whenever my WordPress and site updates in any way interrupt of change their process at all (no good deed goes unpunished).
That's where you want to get. You want to achieve whatever Jen and Anne have. Because it's sustainable and they'll never become frustrated by the work because it's become part of their lives and they've integrated it into their lives as part of their daily bread.
Optimize After You Build Your Base
Now, it's time to take it to the next step with optimization: connecting to Google Analytics, Bing, Yandex, Google Webmaster Tools and Bing Webmaster Tools, sitemaps, metadata and tags and all that fun stuff.
Until then, regale yourself on all of the blog posts I have written in the past year on the subject of content-creation and content marketing:
Via Biznology