Why I prefer the Hoka One One Bondi 3
| filed under: Fat Runner, RNNR, Hoka One One, Run Fat, Running Fat, Heavyweight Runner
I did a lot of research before I bought my first pair of Hokas and I bought them from Pacers Running's Alexandria location for around $140.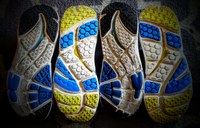 I did a lot of research before I bought my first pair of Hokas and I bought them from Pacers Running's Alexandria location for around $140.
This review is not about price, it's about everything else and then price.
But I am a big guy so if something that costs me $140 can get me running at 46-years-old, at 300 pounds, and at 6"3", then the price is more than fair -- and quite a lot less than some of the most fancy and popular runners. 
The Bondi 4 and the Bondi 3 are pretty identical except for four changes:
The 4 has a padded tongue and the 3 has a flat tongue
The 4 has more padding in the collar than the 3
The 4 has more exposed EVA midsole and the 3 has more rubber outsole
The upper materials of the 4 and the 3 are different
Padded Tongue vs Flat Tongue
When I researched the Bondi shoes, lots of people were said to have complained about the Bondi 3's flat, thin tongue, and that's why Hoka revised the tongue of the Bondi 4, adding padding.
When Bondi did their revision between the 3 and 4, Hoka added quite a lot of padding to both the tongue and the collar. At first, I thought I would prefer the padded collar and tongue to help me lock down the shoe for runs.
Unfortunately, there's just too much padding and it tends to squeeze/cinch my ankles and compete too much with my socks. I ordered an old, lightly-used pair of Bondi 3s and really loved the thin tongue and the thinner padded collar.
The 3s and 4s both come with a quick lacing system as well as a pair of regular laces.
I swapped out the quick lacing system for regular laces on my Bondi 4s and first pair of Bondi 3s; however, when I bought my second pair of Bondi 3s used off of Ebay, the extra pair of laces didn't make it to me so I have just been using the quick laces and they've been fine and I don't plan to switch them out.
I had planned to use that pair only for walking on my treadmill and not for running and racing but there's never the right pair of running shoes where you need them, be it at my office or at my apartment, so I have been running in the quick laced Bondi 3s and they're just fine.
Exposed EVA versus Semi-Protected EVA
Everyone who has reviewed both Bondis have loved the 33mm EVA soles and nobody has said that the wearing off of big patches of EVA has reduced the lifespan of any of the shoes.
That said, I'm a heavy forefoot runner and the bare EVA on the Bindi 4s are really wearing off in hollows.
While the Bondi 3s are virtually the same, there's just enough rubber outsole protecting the 29mm of forefoot EVA and the 33mm of heel EVA that I feel like the Bondi 3s are just going to last longer.
The way the Bondi 4's exposed forefoot EVA is wearing, I am super afraid that I'll start supinating, rolling my foot out instead of getting steady support.  
I know from all the ultra runner reviews from Fellrnr and the Ginger Runner that the wearing of exposed EVA is pretty much just cosmetic and doesn't really effect the performance or longevity of either pair of the sho
I don't have a lot to say about this except that my baby toe prefers the boxier toe box and mesh materials of the Hone One One Bondi 3 over the more snug, lycra upper that they call their ComfortFrame upper.
I have learned that these Hokas don't need to be as cinched down as other running shoes I have run before because the Hokas tend to be more of a cushioned platform you run on as opposed to the way minimalist shoes need to play the part of being armored and mildly cushioned socks.
With the Hokas, you're on the shoe and with other running shoes, you're more in the shoes. Does that make sense?
As a result, you can leave the shoes a little more loosely tied and loosely strapped, especially in the case of my Bondi 3 shoes, because what you're really doing is carrying around a well-cushioned landing pad with you in the form of a shoe rather than the more typical way a shoe fits.
If you're having problems with the shoe fitting properly, you might just want to try not tying the shoes so tight.  With the Bondi 3s, I never have a problem with the storied and feared Hoka blisters that result in some crazy cutting and modding of the shoes.
That my report so far. I am surprised that I love the "before" much more than the "after," the Bondi 3 much more than the Bondi 4.  
I have been bidding on as many "good enough" men's size 13 Hoka One One Bondi 3s as I can on Ebay just to make sure I have them as far into the future as I can.
If I could never get more Bondi 3 Hokas on discount, clearance, or auction, I would be happy to commit much more fully to the Bondi 4s, though I might also be willing to try other Hoka One One models as well as give the maximalist Altra shoes a go as well, since they're known for their wider toe boxes and their zero drop shoes.
That said, let me underscore the fact that I probably would not be (able to be) commute running the 2.25 miles from my apartment to my office twice-a-day, be able to run a 45.5-minute 5k, and a longer 7-mile run without these maximalist shoes.
They're essential to what I can do as a 46-year old man with an ACL-rebuilt, a 6'3" frame, and over 300 pounds on my frame. They're my secret weapon and I recommend everyone in my position do the same, even if you, like me, have no plans of becoming an ultra runner or even running a half-marathon.
Please let me know what you think. What experiences have you had? What shoes do you use and what shoes might you recommend I try in lieu of the Bondi series of Hoka One Ones?