Took a nice four mile run around the National Mall today
| filed under: Run, RNNR
My girlfriend has been pushing me to get outside and get more active. I love her for that.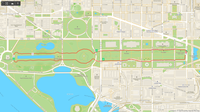 My girlfriend has been pushing me to get outside and get more active. I love her for that.
Today, after completing an hour of Solidcore she joined me in my car and we drove to the National Mall and proceeded to run together around the entire National Mall.
Well, she can run a lot faster than me, but she walked briskly and I did my version of running, which currently ranges from 17:00-20:00 pace.
The paths are mostly clear but there's still a lot of slush and the entire Mall is still covered in snow. Hard-pack snow. So, it wasn't perfect.
Surprisingly, there were quite a lot of tourists and also quite a lot of runners -- though it is Sunday and in most places around the world, Sunday is family promenade day.  
Like I said, I am slow. I am pretty heavy still, though I have been carefully tracking my food intake and restricting my overeating -- which I think is very important.
I am also giving up carbs, wine, beer, liquor, and will be restricting my diet to carefully-regulated proteins and vegetables.
Tonight's dinner is a lovely salmon dish. Lunch was an omelet made with spinach, mushrooms, a little Swiss Gruyere mix, and we added bowls of Greek Yogurt with pomegranate seeds as well as a little treat: some smoked nova salmon with some capers on top for a little extra zing.
For breakfast I had two eggs over easy with some salt and pepper and a little dipping sriracha.
Oh, and on the way out to the run, we stopped at the local 7-Eleven to grab a pair of two-for-a-dollar bananas for some vitamin C and B6 as well as potassium and magnesium for the win.
To make up for the fact that I am very heavy and I am always worried about my knees and back, I have taken to running with Hoka One One Bondi shoes.
Today I chose my Bondi 4 running shoes though I also have a pair of Bondi 3s -- which I love much more than all the bad reviews, and I might like them more than my 4s, and which are super cheap if you do some searching and check out eBay -- and also a brand new pair of Speedgoats, which I actually bought for cheap off of eBay (they were an open display pair in size 13).
Here's the info from Runkeeper: