My fitness rocket has officially successfully launched
| filed under: Rowing, BiPap, Spinning, Health, CYCLEBAR, Fitness, Spin, Spin Class
Like SpaceX and Blue Origin, I always have a hard time even getting off the launchpad to say nothing of neither exploding nor imploding. This time, however, I think I am off the pad and past the riskiest parts of the launch.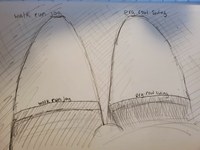 Tattoo Sketch
I have been so obsessed and so desperate to get back in share, to lost a hundred pounds, and to get back onto the Potomac River in the seat of a single, rowing every day from Potomac Boat Club, of which I am a proud active Senior Member. I've had failure to launch after failure to launch to the point where I have gotten actual tattoos on the top of my thighs to remind me to walk run jog, erg row swing.  I also have multiple posters up on my walls with kettlebell exercises, my apartment is more gym than home with a Concept2 erg and SkiErg, a treadmill desk, a doorway pullup bar, lots of elastic rubber workout bands, a TRX, a Swiss ball, a Bosu ball, three workout benches, a used Keiser M3 spin bike, and a whole series of kettlebells from 12kg through 40kgs. And yet, I still failed to launch. 
I Almost Made it Once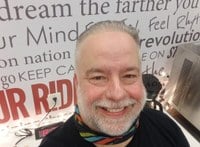 Up until April of 2019, I was committed to attending CYCLEBAR on Columbia Pike as often as possible and as close as every day as I could. And I was doing it until my heart unfortunately popped into afib after being in sinus rhythm for quite a while. Now, after struggling with afib and general arrhythmia, I have been in sinus rhythm for a while now. So, instead of dicking around with trying to make sure I always swing and I always row, etc, I decided to make myself extremely accountable to my daily workout. And, there's nothing that holds anyone accountable than paying $150/month for unlimited spin classes during a time of Coronavirua with a $20 fee if you either miss your class or don't cancel with enough time notice.
My Everyday Baseline is 45-Minutes of Riding at CYCLEBAR
So, while I am trying to keep my exercising heart rate within very conservative Maffetone limits—and that's between 105-115 beats-per-minute—spin classes allow that. Every rider at a spin class "rides their own ride." And, no matter how much our spin instructor motivates us to getting up to 120-130 revolutions-per-minutes (fast sprint) or grinding up the highest make-believe mountain with the gears ratcheted up to 12, 13, 14, 15, 16, and higher on our Carbon Blue custom Schwinn AC spin bikes, you're only really accountable to yourself. And even though CYCLEBARs have screens so that you can see how you're performing compared to the rest of your class, you can opt out of that with the click of your finger or mouse. So, I walk the .82 miles there, get there around ten-minutes early, warm up, and make sure my Garmin Forerunner 920XT connects to the power meter in the bike's screen and then make sure my Garmin is connected to my Polar H10 heart rate strap (which is compatible with the Schwinn computer), then I record my rides via my watch set up for Indoor Cycling. And, before I leave the class, I make a note of the distance recorded by my personal bike and then update that by hand after the watch syncs with the Garman Connect app. Usually between 16-17 miles. It's a great setup. 
I Still Plan to Gym, Swing, Run, Jog, Erg, Row, and Swing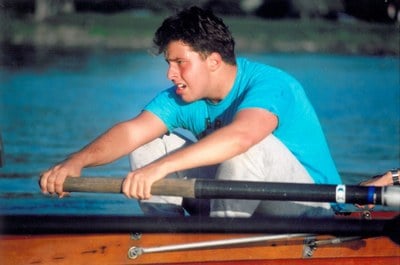 I am still letting my body get used to this daily 45-minute workout every single day. After my body gets used to it, I will both increase the intensity of my spin workouts, of course, but I will also add back my rowing, by kettlebell swings, and will even drop by my local XSport gym.  And, when I drop weight, want to warm up for my spin class with some jogging as well, even if I just do the .84 mile jog to class and then, after class, meander around the neighborhood in a slow jog until I am knackered and then head home or to the gym for some freeweights. Or, upon getting home, some kettlebell stuff, at least lots of swings.  I mean, I am signed up to row for the Fall Team Challenge and it happens exactly at the time when my first month at CYCLEBAR ends so maybe I will take the chance of spending my daily hour on my erg instead of on the bike since it's a team challenge and I am joining the Potomac Boat Club on this virtual team challenge. We'll see. I don't want to flake and do nothing in lieu. I'll see how I fee come September 15. 
I Am Feeling Very Positive About Making it to Fitness Orbit
All I can say is that things are going pretty well. My next class is a 5:45 PM this evening on Bike 1. So, I am on track at least through the middle of September. I have a bike reserved for myself every single day between now and when my $119 unlimited rides for a month runs out. I plan to sign up for the full-price $149/month unlimited because Marina, the owner, can only rely on 12 bikes-per-class so getting any discounts really doesn't help her—and all her spin instructors—stay in business. So, all I can say is that I feel really good. 
My Body Went Back Kicking and Screaming, I Won't Lie
My heart rate was elevated after class on my first day back to the point where I was a little worried. But I did it again the next day. And then another day. Then I took a day off. And then missed a class. But now, my heart is way less pissed off at me for abusing it in a good way at my daily spin class. Now, things seem to be working much better and my heart has been returning to normal resting heart rate levels much more quickly and, during sleep, my Fitbit sleep tracker and also my Cardia device are telling me nicer things as my body—and my heart—are adapting. 
Even the Doc Told Me Huzzah
My beautiful sleep doctor, Chonnipa Hongjaisee. PA-C, told me that I can ride, that my Bi-PAP is working and that my sleep is sound and that my extreme sleep apnea is well controlled. I don't have to see her for four months. And, my cardiologist and my cardiac electrophysiologist (cardiac EP) have both given me good diagnoses as well so I am going in confidently. I just need to do my part and I need to do the work.  Wish me luck! It takes a village to make Chris Abraham skinny.
My Tattoos from Inq Tattoo in Old Town Alexandria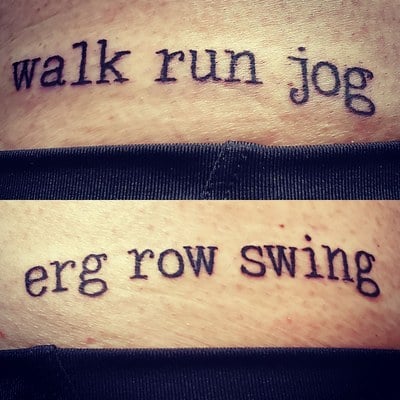 What ChatGPT Thinks
It sounds like you have a lot of great fitness equipment and routines in place, and it's great that you've found a form of exercise that you enjoy and are holding yourself accountable to with spin classes. Here are a few additional suggestions and considerations:
As you mentioned, it's important to gradually increase intensity and add in additional exercises as your body gets used to your current routine. Make sure to listen to your body and avoid overexerting yourself, especially as you add in new types of exercise.

Consider adding in some variety to your routine to challenge your body in new ways and prevent boredom. This could include trying out different types of classes or workouts, incorporating interval training, or adding in some outdoor activities like hiking or biking.

Pay attention to your nutrition and make sure you're fueling your body with the right types and amounts of food to support your fitness goals. This may involve working with a registered dietitian to create a personalized plan.

Don't be too hard on yourself if you miss a workout or don't meet a particular goal. Fitness is a journey, and it's important to celebrate your progress and focus on the positive changes you're making.
Overall, it sounds like you're off to a great start and have a solid plan in place to achieve your fitness goals. Keep up the good work and stay consistent with your routines!