Chasing Nicole
| filed under: Nicole Wilson, Memories, Nostalgia, Running, Trail Running
I have been going to the gym like a maniac over the last few months. I can see my scores on the Erg improve and I can see a lot more musculature. I felt pretty good about my progress until I accepted an invitation to go on a walk with Nicole Wilson.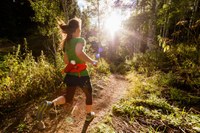 Nicole lives in Adams Morgan and has a very cute figure, which I of course attributed to her age, 22. She earned it. 

It started off sweetly enough. I pretty good pace. I felt like those cute little power walker office girls you see on K street for a while there. We talked and it seemed to me to be really an excuse to get outside and explore the neighborhood. To spend some time together. 

I was mistaken. 

We padded through Adams Morgan and then descended into Rock Creek. Nicole turned from a pretty young woman into a scampering ocelot. Bounding down single tracks and goat trails, hustling up hill and dale. Never once breaking stride, conversation, or a sweat. 

I, on the other hand. 

To be fair to myself, I did keep up. I broke my stride. I broke my conversation. I broke a sweat and then some. 

One hour and forty-five minutes later and I knew that I had -- before that day a week ago -- forgotten that I had ham strings. That Miss Nicole earned her toned legs and admirable bum. And that I had begun to build me a gymnasium musculature -- based on eliptical machines and rowing ergometers and not based on actual land-navigation. 

She let me off easily, I dare say. She might have run it, truthfully. She would have been not unlike a wild stallion amongsts the bluffs of the Southwest United States! 

Note to self: if I want toned legs and an admirable bum, I really had better do more scampering about and less WSC.