Addicted
| filed under: Runner, Running
I just quit the gym. I am addicted to running. Running takes a long time, so I can only do one or the other, and the Washington Sports Club loses this battle. There is nothing like running, to be sure.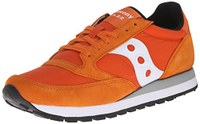 Orange Saucony Jazz
Since I have returned to running after so long, I have become obsessed. It really started a few weeks before I left to go sailing. I had been running from the Grotto to the Sports Club, but it was merely a conveyance and never a sport in itself. Well, while in the WSC on the elliptical one night, I realized how absurd it was to exercise indoors. So I took it outdoors and I don't want to look back. I don't run far or fast and some days I really cannot get it going at all, but when I finish -- and while I am running -- I feel exhilerated and its almost like I fly. There is an endorphin high as well.
I usually run from my pad on 14th & A, SE, in DC, along Mass ave, past Lincoln and Stanton Park. I run past Union Station and then turn left toward 1st Street, NE. I run between the Supreme Court and the Capitol Building until I cross over to Pennsylvania Avenue, SE, take a left, and then run alond all the Hill Staffer and Intern bars, past Starbucks and Cosi, and then past Zack's until I hit 7th Street. I take a left up past the Market and then turn right towards home, on North Carolina Street. How far is that? Does anyone know?
Anyway, I just quit the Washington Sports Club in the Hill -- and I have been a member since 1997. Oh well, if I do join a club it will be downtown near the office. Until then, I will row on my Erg (and I am so glad the eBay auction fell through to tell you the truth), row singles on the Potomac via the Thompson's Boat Center, learn to Rollerblade thanks to Wendy, ride my Pista track bike once I get it all fixed up, go to the pool now that its going to be opening now that it'll be Summer (and you girls can again wear white shoes and carry white handbags -- oh joy!). And Wendy's dad Ben is going to hook me up with some clubs and so I hope to learn how to golf, and maybe even play tennis!
So, goodbye WSC, hello crazy pair of orange running trainers. You're doing fine by me!