Travelling to Cabo San Lucas
| filed under: Kinship II, Sailing Mexico, Cabo San Lucas, Sailing
Its all the best and the worse of everything you could imagine from one of the top holiday, winter, and spring break destinations on the planet for Americans on the west coast and in the bread basket.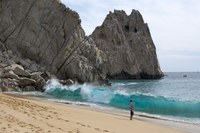 Playa Cabo San Lucas
We struggled up the coast from where we were holed-up in Las Hadas, avoiding the weather system that brought us into Manzanillo in the first place.
The wind was at our bow the entire time, as was the current. We had to motor. In fact, we enjoyed very fine seas, indeed, and so we kept to the port diesel and chugged along, eventually bringing down the main and reducing the fine vessel into a motor yacht.
Then, we ran out of fuel. 105 gallons of diesel, and the fuel consumption was much greater than we anticipated. I was pretty grunty as was Mark, and we suffered through 4 days of passage, 24/7. During the nights, I would take the helm from the early evening until around 1 and then Mark took nights until right before sunrise. He knew I love to see the sunrise and in general, days, hours, minutes become irrelevant. The 4 days of passage merged into one giant day of several suns.
We initially were going to motor to Isla Isabella, but we chose to head direct since time was our enemy as Roger waits in Los Angeles. No big deal, but I am eager to see Wendy, whether it's in San Diego with a short passage to LA, or at baggage claim at Dulles. Too many days to be away from her, to be sure.
On the direct trip from Manzanillo to Cabo San Lucas was 450 miles. Along the way we came upon a field of what looked like German pickelhelm. Each helmet was a sea bird atop a sunning sea turtle. We came upon several of them, as they littered the sea like mines. Each shell supported a gull. The turtles must have been basking for a number of hours or days as each shell supported a generous helping of guano. When we approached one, the bird fled and we realized that the turtle was asleep. Like a bird, its head was tucked atop a fore fin.
I have photos of this amazing reptile, but was especially silly was that when basking, the turtle fills its shell with air, so when it awoke and then realized it had an 80-200mm Nikon lens pointing at it, making a racket, it tried to dive, but the air pocket help it bobbing at the surface like a rubber ducky.
Finally with a fat belch, the air escaped and this furtive, awkward, clumsy turtle submerged into the glassy indigo sea and again became graceful, masterful, elegant, efficient, and essential. The visibility pushed 100 feet and Mark and I watched the turtle return to the deep.
Later, I spotted a dorsal fin and recognized it as a dolphin. I rushed to the deck and we were cruising through a large pod or over 100 animals. Mark and I rushed to the tramp at the bow and I intentionally ignored my Nikons.
We held our entire torsos over the crossbeam and held our faces out as a half-dozen bottlenose rode our bow wake. I have never been so close to so many. They were turning their heads, they were surfacing and spraying us with their spouts, they were darting to and fro, weaving between each other. For about ten minutes, I was mesmerized by this dance. Although we were trying to squeak at them and attract their attention with our hands and calls of hello, none of the visitors looked up once at us, they just did their own thing around the boat. My face was covered with spray. After a while, their number decreased until there was only one. Suddenly, this last animal turned on its side, looked up at us, lifted its right dorsal in a salute (ask Mark), and peeled off.
I jumped up and ran to the stern. These wild bottlenose were jumping up and out of the water in twos, as if trained. Smaller youths were flopping about and we watched as the pod got further and further away from us, which always takes a while when you're sailing. We were speeding away at 3.9 knots, less than 4 miles per hour.
Then we ran out of diesel and since Mark is an excellent captain, he vetoed my suggestion for using our jerry cans of diesel up in one go, so we raised the main sail and set sail, which tacked up way out of the way, but we made good time.
Until the main's halyard broke. That was when I was off watch and asleep. When I awoke, I took the helm and the watch. A couple hours later, the second backup halyard snapped. These ropes are worthy of over three thousand pounds. One, maybe, but two in a day? So, we needed to use the Genoa line which runs only 3/4th of the way up the mast. We limped along.
Finally, after a double rainbow (I have pictures -- Mark was asleep) and a thick fog with a vis of 25 yards, the sky cleared to the desert mountains of Baja. The southern tip. Only one more tack, and we turned on the diesel and we chugged into Cabo San Lucas.
We anchored the gleaming gorgeous Kinship II off of this silly little beach bar that spends its entire day baiting drunk college coeds into doing things that make me positive that if I have a daughter she is going into a convent! In fact, both Mark and I agree on that. And, as a check of my age and how old I have become, since when did Mark and I start equating 18-21-year-old women with being daughterly? So as we watched these spectacles, completely offended and aghast (we though this was a family restaurant!), we started becoming curmudgeonly, saying things like, "if my daughter did this, I really would not want to know," or "Chris, if you thought your daughter were doing things like this, heaven help us." I guess everybody was having loads of fun because one of the aside coming from the girl who passed by us with her friends was, "guys, we can't let the alcohol level drop in our bodies or I won't be able to go out tonight." And for those of you who are counting, the official music artist of Spring Break 2003 is Eminem.
We've made it as far as Cabo San Lucas, the southernmost tip of Baja California, about 1000 miles from L.A. Slowly making our way north. We might even bail on getting the halyards and lines fixed as it requires either a monkey to shimmy up our treacherous 65-foot mast, or a crane. Neither of us is willing to try as we want to stay safe and sound, and there are some serious rolling tides that are keeping even the stable cat undulating.
Cabo is perfect for the rich American (I mean rich too, there is really not a lot of price difference for anything -- Peoria, Ill for example is cheaper -- but there is a lot of fun, luxury, refinement, and you don't even need to convert your dosh -- greenbacks are dandy here. I ate a burger at Johnny Rockets and there is a Burger King. Mark and I saw Chicago so that he could see Susan Misner, his ex, as Liz. We sat in EZ-Boys leather recliners and it was phat!
So, we have been enjoying it and trying hard to live cheap and it's not easy. People are happy to pay out the wazoo -- anything is cheaper than Napa, than LA, than Santa Cruz, than San Francisco!
Anyway, feel free to comment and I will continue the travelogue shortly!