Post Mortem of Grotto Whole House Party
| filed under: The Grotto, Fire Dancers, Grotto Party
The night went exceptionally smoothly. Estimates of 200-300 people. All the cool kids were to come -- and most did.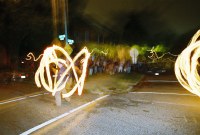 Grotto Party Fire Dancers
Maya attended from Opera School in London, Lovely Emily who needed to wear jeans, glittery Katia who believed she over-dressed, hot little Joanne who danced all night.
Stephanie Kaye who kept out of my way in her belly-bearing searing delight.
Sarah dancing like a pro, and even Baruch (AKA Boris) -- the hottest club kid in the universe of DC.
There was Mark.
Nicole in her Dangerous Red Pants and the German Fraulein bodice top.
There was Joel Burton (who is now Joel at Zope.com), Sharif, a phalanx of Frenchies, a Murder of Germans, and of course a pod of fire-dancers, as one often finds in a party such as this.
And they all came, they call came!