London, the Baroness, and Me
| filed under: England, Travel, Diary, Stories, London, Journal
I spend the entire morning unable to connect with any of my mates in London.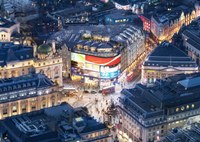 Piccadilly Circus
Failed to plan but didn't plan to fail. So, I stored my bags at the Paddington bag-check and then hoofed it about.
Firstly, I had a sandwich and an espresso at a very fine Italian-inspired cafe; then, I hoofed it around. Its a very attractive and exotic city, London. Much more exotic and Euro than I remember it being.
It is probably heightened as a result of Summer. There are maybe as many French tourists in London as there are German and English tourists on holiday in Majorca.
I ended up in Hyde Park, just spending time making .99c calls around town in an attempt to make the connection keeping me from failure.
I had called Audrey a few times, only to get the old "I don't answer my phone until after 2pm" message and so I plopped down on a lawn right near the rowboat pond and quickly chatted up a few Kiwis.
They turned out to be the long-haul Kiwis, from Christ Church, South Island. They were brill and I believe their names are Justin, Nadine, and Sarah.
The Cure was prepping to play and I would have found a gentle scalper and secured a ticket (to go with Nadine) but I called Audrey one last time and she answered and beckoned me come quickly to meet at Paddington: there was to be a party.
Of course, London was 28C yesterday and 29C today. All the Weekend email has tried to remind me to bring along cashmere and rain gear, but alas, its hot and sunny.
I always have a tendency to bring along the unseasonably warm weather (I have yet to see Seattle rainy) so this is really very little surprise except I am bleeding bloody hot as a pimple on Ra's bum.
And I don't have the proper kit, either.
Well, the shower did me well, the ex-boyfriend would not allow me to stay over and crash at Audrey's pad (long story) so I am squatting at a shitty hotel near to where Audrey lives (not her real name, I am sure you could guess. I mean, how many Baronesses do you know who are named Audrey?) so that she and I can grab lunch and whatnot, convenient to Paddington -- which is where my train leaves to get me to Oxford for Renaissance.
The gang at this dual-service birthday party were brill. There were some really fly people. First black partner at a Very Large Consulting Company, the head of European operations for a Very Large International Coffee Cafe, etc. Lovely people and since lovely Collette had just been to Russia, there was actually more red and black caviar than the entire party was able to consume. And I had a very good go of it.
Although I do have to admit that I failed miserably. Gorgeous and amazing people, all. I do have to admit that I felt dagger the entire night from Audrey's ex, although he really had nothing to worry about. I am a sweet, loving, charming, innocent school boy.
Although I had not had a nap at all, I was able to play until well after midnight. I awoke at half-eight and was so excited as to the weather and how much fun I would have whilst in London, I quickly fell asleep.
Then, an hour later, Audrey rung and told me to meet her at a cafe out my door, take a left, then another left at the T. She would be at a table half-noon.
Of course, I was excited and so grateful because I had three hours until we met. Oh, the fun I could have in London until then.
When I awoke at 11:30 with a start, I rushed around, trying to both remain cool (so that I didn't start a nasty sweat) and also speedy. No AC in the room, and no WC in the room either, although I had a sink and a shower.
I took a quick shower, donned the CAP shorts I brough as an afterthough, and then the shirt I am wearing now and rushed out to spend the morning (er afternoon) with sweet A.
The place we ate (the name escapes me) is a cafe, pizza joint, and DVD rental store.
I had a delightful croissant (I am still finding crispy flaked in my clothes), a cappuchino, and an OJ.
Audrey drinks three bottles of SPA watter-with-gas a day, so I could never keep up.
But what we did that was fun was take a long lazy playful and chatty walk around the lake right by her flat. The park is part of the greater Hyde park and was a laugh. I actually got to see Londoners pretty close to nekkid since the sun was out and it was hot.
There were bellies, breasts, and bottoms exposed everywhere. You interpret that as you may.
And then our togetherness was over and Audrey had to go rush off to study Hindi (as one does, I suppose).
And I went home and was hot hot hot; I went home and watched Formula 1 and tried to get cool. Michael Schumacher won, and I guess I am lucky to have seen it. Go Ferrari!
Then I went and used an internet cafe, walked to Piccadilly Circus where I saw the Austin Powers film, walked around more, being beckoned and resisting all the sin with which London may tempt one, and finally I am at what is called the easyInternetCafe.
And now I have to find my way home, back to the charming fleabag hotel.
And I have more stories, but I am tired and I wan't to go to bed. Sing me to sleep, sing me to sleep, and then leave me alone. Don't try to wake me in the morning 'cause I will be gone.
In London, baby!
(I actually awoke at half 11 and had to be at the cafe at noon. I was well late. Arrived at 4-minutes after noon -- which is grand; forgot my pants, which was not.)