London Life After Dark Sunday
| filed under: Travel, London, Traveling, Traveler, Journal, Diary
London just after dark and into the night near Piccadilly and so forth Just Isn't Cricket.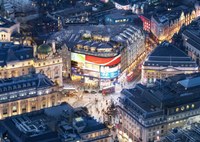 Piccadilly Circus London
Its rough, tumble, and belligerently drunk. That said, I was able to harness a little bit of Chris Magic(tm) after leaving the Internet Cafe

I don't actully possess a map of London. I have been following my bliss. By the time 12:30am came around, I was well lost. The streets are dodgy but not dangerous... quite the opposite of Washington's.

Finally, after being unable to find a taxi, I thought that I would in fact have to actually ask directions. Just then I came across a man who was pushing his car. Being Big and Burly, I made quick work of pushing his car around the corner.

JJ apparently has his Accord tricked out with the top-of-the-line security system. Thing is, the radio tower buggered his remote, so his car was incapacitated.

When I easily pushed his car about a kilometer, he got it started and I was rewarded with a new friend in London -- he's Filipino -- and street-to-door service.

Sadly, I have to go -- I have lunch plans -- but I am still not on England time and I slept til noon.

More later!