Eat and Run: My Unlikely Journey to Ultramarathon Greatness by Scott Jurek
| filed under: Book Review, Runner, Ultrarunning, Running, Book, Scott Jurek, Ultrarunner, Book Reviews, Books
His level is so stratospheric that it was a vicarious experience.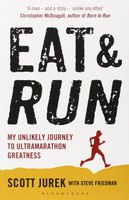 Eat and Run by Scott Jurek
Eat and Run: My Unlikely Journey to Ultramarathon Greatness by Scott Jurek is such a fun book to read. But I have adopted at least three recipes from this plant based diet book. Such a worthy read. Such a wonderful experience to share with us, the reader.
READING PROGRESS
May 21, 2016 – Started Reading
August 9, 2017 – Finished Reading
About Eat and Run by Scott Jurek
"For nearly two decades, Scott Jurek has been a dominant force—and darling—in the grueling and growing sport of ultrarunning. Until recently he held the American 24-hour record and he was one of the elite runners profiled in the runaway bestseller Born to Run."

"In Eat and Run, Jurek opens up about his life and career as a champion athlete with a plant-based diet and inspires runners at every level. From his Midwestern childhood hunting, fishing, and cooking for his meat-and-potatoes family to his slow transition to ultrarunning and veganism, Scott's story shows the power of an iron will and blows apart the stereotypes of what athletes should eat to fuel optimal performance. Full of stories of competition as well as science and practical advice—including his own recipes—Eat and Run will motivate readers and expand their food horizons."
About 

Scott Jurek
"Scott Jurek is a world-renowned ultramarathon champion who trains and races on a vegan diet. He has prominently appeared in two New York Times bestsellers, Born to Run and The 4-Hour Body, and has been featured on CNN and in the New York Times, USA Today, The Wall Street Journal, and numerous other media. Known and admired for his earth-conscious lifestyle, Scott is also a highly sought after motivational speaker, physical therapist, coach, and chef. He has delivered talks to numerous organizations, including Microsoft, Starbucks, and the esteemed Entertainment Gathering. He lives in Boulder."