Kofuzi AKA Michael Ko made me proud to be a non elite runner
| filed under: Running Shoes, Chicago, Runner, Running, Non-Elite, Running Vlog, Kofuzi, Runner Vlog, Non Elite, Running Shoe Vlog, Michael Ko, Mike Ko
Michael Ko, AKA Kofuzi, is the coolest kid. He's a self-descrived non-elite YouTube running and running shoe review blogger. And he's super-cool. He makes anything look cool: running, being a dad, living in Chicago, and even running through cornfields when he's hanging out with his inlaws.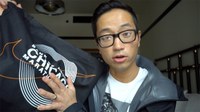 Michael Ko AKA Kofuzi
Before there was Seth James DeMoor or Edd Bud, there was Kofuzi AKA Michael Ko. Maybe I discovered him after the Ginger Runner, Ethan Newberry, but that doesn't mean I don't own more Kofuzi swag than Ginger Runner swag. Single-handedly, Kofuzi made me fall in love with Chicago. He's a city dad and makes beautiful videos of The Windy City, City of Big Shoulders, The Second City, The White City, and The City That Works. Plus, he stands by his principles and reviews shoes better than anyone. He's pushing 60k subscribers on his YouTube channel so please subscribe and push him past 60,000, 100,000, and then up to 500,000 and more. Because non elite running and jogging is the place to be and there are a lot of us out there. According to Strava, "running is a globally-inclusive sport, with 240.7 million runs logged around the world in 2017—53.2 million of which came from the U.S. That's an increase of 46.2 percent, which shows that running's popularity continues to grow." So, take your first step and check out your first Kofuzi vlog. I'll find you a really good one: here's Mike's last run along the Chicago lakefront right before Novel Coronavirus and the threat of COVID-19 shut it—and the rest of Chicago's parks and trails—down.