Noraly Schoenmaker returns in season 3 of Itchy Boots on YouTube
Noraly AKA Itchy Boots is my favorite person on planet earth and she's back for season three of her video travelogue today!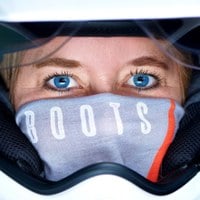 Noraly Schoenmaker AKA Itchy Boots
Unlike season one and season two, Itchy Boots is taking on Western and Northern Europe. First destination is Iceland. So, on her new-to-her Japanese motorcycle, Ronin, from Utrecht, Netherlands, through Germany, into Denmark, and then into a ferry and to Iceland you go. Don't worry, today the first episode of the third season dropped so you won't be behind (though you have all of Russia, the Stans, Asia, and South America to catch up on, season 1 and 2). Who is Noraly? 
My name is Noraly and I am a 31-year-old Dutch solo female traveller, currently riding a Royal Enfield Himalayan from India towards Malaysia and beyond. My travels really kicked off at the age of 23 when I ended up working in gold mining in Australia, became rich, and travelled solo around the world for two full years.
That's who, though now, she was back home in Utrecht, a town I lived in most of the summer of 1996, because the global Novel Coronavirus pandemic caught her in a small, rightfully afraid of ousiders, village in Peru. Thankfully, the Dutch government was able to repatriation lovely Noraly back to The Netherlands while leaving her beloved, second, Royal Enfield Himalayan named Dhanno and all her gear with a shipping company in Lima. Now, after buying a second-hand Honda CB500X with 10,000 kilometers (now, 11,000 kilometers before heading out to catch the car ferry to Iceland. Maybe this one:
A Smyril Line passenger & car ferry called the Norröna sails from Hirtshals in northern Denmark to Torshavn in the Faeroe Islands & Seydisfjördur in Iceland, roughly once a week all year round.
Now that you're all caught up, here's the first episode that launched today of season 3 of Itchy Boots by Miss Noraly Schoenmaker. Enjoy!