I've joined the cult of British non elite runner and shoe-reviewer Edd Bud
| filed under: YouTube, Edd Bud, Vlog, Non-Elite, Running Vlog, Non Elite, Running Vlogger, Vlogger
I discovered Edd Bud, the Beast, his torpedo feet and slight frame via Kofuzi; though, Ed Budd stands alone, from his charming kindness to his cheeky bugger to his Musical Interludes. Yes, he also runs and reviews running shoes.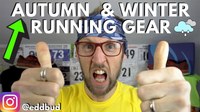 Edd Bud Running Shoe Reviewer
Edd Bud, the Ichabod Crane of the running vlog world. So, dude's only got 8.68k subscribers and I can't fathom that at all as he's bleeding bloody world-class! He's super-tall, super-"slight", and has the best taste in music you can imagine (and shares an album and an artist every single episode). He's non-elite (a term coined, I think, by his brother-from-a-different-mother, Kofuzi, and he even, with only under 9k subs, hosts lots of live streams. He's a charmer and non-traditionally beautiful. He should really have more like 868,000 subscribers, this modest lad with his cats, his Mrs. Edd Bud, his child and his child-about-to-come-every-day. And, all the runners in all the UK should surely follow him because he's a total deal-finder when it comes to how best to spend your "Earth Credits," which are, apparently, sound British Pounds Sterling. Be sure to subscribe to his Channel and, you too, can become a devout follower of the Cult of Edd Bud!
Also, he's extremely disappointed by the new Nike Air Zoom Pegasus 37s, that's for sure!