The two-handed kettlebell swing is the backbone of my fitness regime
| filed under: Pattern Recognition, Spook Country, Novels, Tw-Handed Kettlebell Swing, Daily Workout, William Gibson, Swing, Kettlebell, Books, Favorite Books, Kettlebells, Fitness, Best Novels, Reading, Kettlebell Swing
I got all my swings in this AM and spent them mostly with my 20kg kettlebell.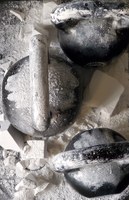 My Best Kettlebells
It feels good starting the day by shocking my posterior chain into submission before moving on to everything else—even if thay does include resistance bands, treadmill desks, urban hiking, rowing, erging, running, slow jogging, or my TRX straps. 
I am continuing to care about my steady-state cardio and plan to join up with the Dog Days of Summer Concept2 erg Challenge and I want to spend long hours on my spin bike. I want to walk and to slow-jog and be non-elite; however, I also feel like "as many two-handed kettlebell swings as I have time for and feel like doing" is going to be my baseline, my every day, my daily bread.
Okay, now I am off to spend the rest of my say walking and reading and working. It'll be a mixed-use sort of day, as it goes. The temperature will be 88°F and the humidity will be 63% so I will get my sweat in as well as my tan on.
Oh, for the record, I am in the midst of reading Spook Country by William Gibson. It's not Pattern Recognition, my favorite of his novels, but it's the second of the Blue Ant series of books. I generally always want less Bigend and more Cayce Pollard, but Hollis Henry will do. Check them out, you'll love them. I can't promote them even remotely enough. I have read Pattern Recognition multiple times, both the proper book and the audio book.