Exercises I am adding to my daily workouts in addition to daily two-handed kettlebell swings
In addition to burning out my posterior chain with daily morning two-handed kettlebell swings, I want to spend my evenings on an erg, on a bike, or slow jogging on the road for at least an hour every evening, even if it's while watching bad TV and movies.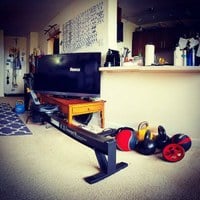 My Erg Abuts my Television
I know that the two-handed kettlebell swing is an HIIT and considered more of a stamina, cardio, and conditioning workout; however, I want to work really hard on just getting good, bad, and garbage miles of activity and mileage into my tank, to make sure I develop more and more general fitness, so I always want to add at least an hour of what I'll call cardio into the mix. This daily hour can be done on the road through slow jogging or in my apartment on my Concept2 indoor rower, my SkiErg, or my Kaiser M3 spin bike. I consider my treadmill desk to be less cardio than getting my steps in. So, I want to do an hour every day, while listening to podcasts (when I am slow jogging around the neighborhood), or watching a movie in my apartment:
Concept2: slow row for an hour to 90-minutes with periodic power 10s and power 20s. I will track this on Strava and the Concept2 Logbook via ErgData and a heart rate strap.
Slow Jogging: for me, it will probably be an hour or two outside at a pace between 12:00-16:00-minutes-per-mile (extremely slow, but will improve as I become more fit and light). I'll track it with a Garmin Forerunner 920XT, a heart rate chest strap, a Stryd pod, and upload it to Strava and Garmin.
Keiser M3: I can easily do an hour or two easy ride, also with sprints (power 10s and power 20s) built in. I like to track my rides on Zwift. I have glued Wahoo speed and cadence sensors onto the bike and I can record the rides on either my Android or my AppleTV. It's a lot of fun and, when you're done, Zwift automagically uploads the workouts to Strava. The only thing that ever messes with my rides is saddle soreness. I have padded bibs and shorts and also have a gel saddle cover. It must be my incredible weight because this isn't a problem I am used to. That said, I can always mix my indoor cycling with my slow jogging with my erging and with my skiing. It just needs to take up at least an hour of my evening as many evenings, every day, as possible.
SkiErg: I can't really do the SkiErg for an hour or two like I can the erg so I would need to either add the SkiErg into my morning routine, mixed in with my daily morning two-handed kettlebell swing regime; or, I can mix the SkiErg into the rows and the rides. I know that my butt can get a lot sort after too much time on the saddle if I haven't been biking for a while. Maybe I can mix the SkiErg into the biking as a way of giving my bum a break. 
OK, it's that simple. I had the plan before but I always tends to sit down or lounge in the evenings when I am relaxing after a work day. But, I like rowing and riding and slow jogging. It's simple and for everything but the slow jogging, I can do it while catching up on old X-Files and while catching new movies on Hulu+, Netflix, AppleTV+, Amazon Prime Video, HBOMax, and Disney+. 
I used to tell myself that the TV wouldn't work unless I was generating the electricity with my pedaling, my rowing, my skiing, and my walking on my treadmill desk and that I forbade myself from watching TV unless I was working out, no matter how lightly and easily, but that didn't work for long. I'm going to try again.
What do you think? Let me know in the comments.