Get Fit, Get Fierce with Kettlebell Swings: Just 12 Minutes a Day to Lose Weight, Prevent Sitting Disease, Hone Your Body and Tone Your Booty! by Don Fitch
| filed under: Training, Book Review, Workout, Kettlebell, Book Reviews, Kettlebell Workout, Kettlebell Swing, Don Fitch
As someone who works alone, swinging a kettlebell for 90 seconds every hour is exactly what I need to break up a techie, sedentary, life. Starting with just 12-minutes every day. Really, easier said than done.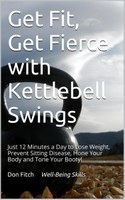 Get Fit, Get Fierce with Kettlebell Swings
I am very sedentary. They tell me that sitting kills. So, I took to kettlebells. I work from home so I can workout during the day. At first I would do one 45-60-minute kettlebell workout but then I discovered Get Fit, Get Fierce with Kettlebell Swings: Just 12 Minutes a Day to Lose Weight, Prevent Sitting Disease, Hone Your Body and Tone Your Booty! and feel like I won the lottery.
I could get off my butt every hour (I am using a GymBoss interval timer to keep track of it) and swing my kettlebell for 90-second every 60-minutes. They say that the two-handed kettlebell swing is all you need to get oneself into phenomenal shape, both fitness and strength.
I don't even really break a sweat, though I am only running a 12kg kettlebell until I can slowly build to my 16kg, my 20kg, and ultimately my 24kg bells. Even though the workouts are for only 90-seconds every hour, maybe 6-12-times-a-day, they really build up and I can feel it in my glutes and hamstrings almost immediately.
The only thing that one must do is to be sure to stretch and not to just sit down on the couch right afterwards. As kettlebell god Pavel likes to say, after you do kettlebell swings, you need to make sure you don't hunch forwards, that you should sit or stand proudly upright.
So, if you decide to add Get Fit, Get Fierce with Kettlebell Swings into your workout routine, be sure not to underestimate their effects on your entire body. Warm-up, cool down, stretch, and be sure not to allow your body to seize up.
If you give maybe 90-seconds to stretching and cooling down after every 90-second workout, you've still only "wasted" a total of 3-minutes every hour on exercise, a combined 18-36-minutes/day, max! More like 9 minutes if you don't stretch and 18 if you do.
About Get Fit, Get Fierce with Kettlebell Swings
This ebook shows you how to benefit from kettlebell swings as a key to achieving your fitness and weight loss goals. Called the "most perfect single exercise," kettlebell swings offer not only cardiovascular conditioning but also serve as strength training for losing fat and building great body composition.
The book acquaints readers with kettlebells, round weights with handles, and the kettlebell swing, a quick exercise that takes about a second and a half per repetition. With this simple weight and this single exercise, the basic requirements to gaining outstanding conditioning and weight loss are yours.
The book encourages you and makes it easy to take on the goal of 12 minutes per day of kettlebell swings. This is roughly the cardiovascular equivalent of a mile and a half run, but spread out across the day. Ideally, your swings are accomplished in one to 2 minute segments of 36 to 72 repetitions.
You will learn the basics of both the kettlebell weight and the key exercise, the two-handed swing. The book aids you in determining good kettlebell weights and helps you find them.
Although this wellness book does advocate other aerobic exercise, e.g. walking 10,000 steps per day and does present nutritional guidelines for weight loss and maintenance, the 12 minutes of kettlebell swings are the revolutionary element that can deliver exceptional fat loss and body toning. Weight loss and body composition goals that have long been elusive can quickly be achieved with your kettlebell swing sessions.
Your one-minute to two-minute kettlebell swing sessions are uniquely and powerfully timed to avoid and fix "sitting disease" maladies. Simply sitting has been found to be a cardiovascular and metabolic risk factor. Sitting too long confuses your metabolism. A quick kettlebell swing session is the postural and metabolic opposite of sitting and a perfect 90 second antidote to sitting diseases.
This book promotes and guides other wellness lifestyle changes to complement improvement from the kettlebell workouts. Choices of food and drink are critical to helping new muscles build while carving away fat. A chapter leads you through the what, why and how of eating choices that inoculate you from obesity and help develop and maintain a healthy, muscular and lean body.
On a personal note, I am not a certified kettlebell trainer and I do not attempt to instruct in kettlebell workouts. The kettlebell swing, one simple exercise, is all we work on in this book. We just do a lot of swings, more than you would do in a certified course. I have completed the 10,000 Swings monthly challenge. At 63, I find the exercise a great source of vitality. Swings are foundational to all kettlebell training, but just one of a dozen kettlebell exercises. For cardiovascular and strength training the swing is perhaps the most useful of all exercises.
You need only this ebook and a few kettlebells (the book helps you shop for them) to begin to gain the strength and weight loss that a few daily minutes of kettlebell swings will provide you. Get fit! Get fierce! Get swinging kettlebells.