Today I will be an indoor cat as temperatures in DC will top 100F
| filed under: DC Summer, Kettlebells, Kettlebell Swings, Keiser, Spin, Summer Weather, Kettlebell, Spinning, Kettlebell Training, Keiser M3, Indoor Cycling, Kettlebell Workout, Kettlebell Swing, Air Conditioning, Hot Weather
Someone on Facebook made fun of me because I am obsessed with urban hiking, something I never thought to call it. But it's true. And I pride myself on my ability to weather the heat and humidity of the mid-Atlantic; however, today I will do all my work and my workouts safely cocooned in my air-conditioned little studio.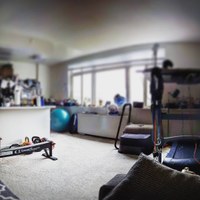 My years ago studio
This is not an interesting post. This is just a report, if you will. TL;DR: I will do as many two-handed kettlebell swings as I can today, up to 32kg, and then, this evening, I will try to spend as much time with my butt in the seat on my spin bike to get some steady state ergo cardio in as it's too damned hot today and I went healthy food grocery shopping last night so I don't need to leave my little studio apartment at all today. Thank god for competent and plentiful A/C. 
Blah blah blah blah blah
I'm extremely grateful that my entire COVID-19 gymnasium lives in my little apartment. My 12kg, 16kg, 20kg, 24kg, 32kg, and 40kg kettlebells are in here as are my old reliable (and refurbished) Concept2 Model C indoor rower—my erg, the erg I bought off of Craig's List back in 2011 after having given my original Model C to my buddy Scott back in 2007.
I have a pretty new SkiErg and a treadmill desk and a very heavy sandbag and some resistance bands and a TRX strap anchored to my doorjam. I have a contraption called a BODYBOSS and I have another gimick called the Gorilla Bow. I have a Bosu and am writing this while sitting on a Swiss Ball wedged into an inexpensive dip station.
I bought a used Keiser M3 that was retired from a spin studio as well. Recently, however, I have committed to so-called urban hiking and to kettlebell swings. Once I have my swings going full throttle and I start seeing and feeling real fitness, body, and real-world conditioning and fitness gains, I will expand the repertoire to include other things.
That said, since I do not have the mettle to want to put my currently comorbid self under the weight of a 100-degree Fahrenheit humid Arlington, Virginia, day. So, I will add an hour of spin at some point today—maybe even 90-minutes or two-hours, depending on my bottom.
I didn't get a full eight-hours of sleep last night so I might either nap today or I might just hold my sleepiness through to an early bedtime. So, the Keiser M3—the one without any Bluetooth or real tech—shall be my steed today.
I don't want to do the erg—the indoor rower—because they both punish the posterior chain and who need that right now. So, for now, I will focus on either spending that hour every day walking—urban hiking—or slow jogging or—like today—spinning on my stationary bike, my indoor cycling hooptie.
As you might well know for me, I tend to put the tech before the horse, so I have added Wahoo Speed and Cadence to the old school—though cool-looking and elegant—Keiser.
This allows me to connect my bike to Zwift via ANT+ and Bluetooth and allows me to track my rides online and to Strava.