My Keiser M3 Water Bottle Hack
| filed under: Keiser M3, Stationary Bike, Keiser, Stationary Bicycle, Spinning, Keiser Spin Bike, Indoor Cycling, Spin
The Keiser M3 stationary exercise spin bike is form over function and its water bottle function is terrible so I made some changes.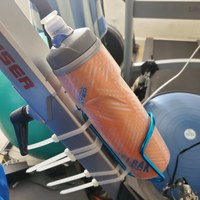 My Keiser M3 Spin Bike
There's a place for a bottle built-in artistically but not usefully on the down tube of my Keiser M3 spin bike, however, the bottle doesn't stay and it always falls off the recessed bottle holder. So, I bought heavy white duty cable zip ties and a blue anodized aluminum bike bottle cage and now I have a proper place to put a bottle of water while I'm indoor riding at home instead of CYCLEBAR which is superior in every way. But this was my hack after the bottle fell off the bike's water bottle holder 100% of the time. Yes, OCD people, I will flush clip the extra zip tie bits, no worries.
I bought the Keiser M3 well-used from a replacement sale from a gym through a fellow member of Potomac Boat Club and I have loved it for its form, its function, and its quietness and durability; however, the way it built in its water bottle holder left a lot to be desired. This is the first-gen M3 without any Bluetooth connectivity so I have subsequently hacked in the Wahoo Speed and Cadence pods to make this spin bike work with Zwift on my Android, my iPod Touch, and my Apple TV device. It's not perfect and does now show true power, but it's pretty great to at least be able to play the game.