Why big, tall, chubby, fluffy, heavyset, and fat athletes should wear cycling bib shorts during their spin workouts
| filed under: Fat Fit, Fat Rider, Gear, Riding While Fat, Riding, RNNR, Gear Reviews, Gear Review
Don't be afraid of the very pervy-looking cycling bib. While it looks a lot like fetishwear, cycling bib shorts make these spin class godsends in 2XL.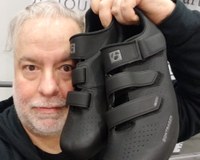 Don't be afraid of the very pervy-looking cycling bib. While it looks a lot like fetishwear, cycling bib shorts make these spin class godsends in 2XL.  Personally, I did a lot of research and chose to order three pair of Pearl iZUMi Men's Escape Quest Cycling Bib Shorts from Amazon; however, American-made Aero Tech Designs Big Men's Top Shelf Padded Cycling Bib Shorts go up to 5XL.
While they look bizarre, embarrassing, and grotesque on their own if you're not a lithe cyclist, the built-in shoulder straps keep the bike shorts up no matter what. No plumber's crack. No mid-ride or mid-spin class wardrobe malfunction. 
In addition to that, the quasi-singlet nature of bib cycling shorts also prevents any belly or oblique exposure if and when I need to reach up or bend over or anything of that type. Unlike the JL Racing unisuit, which really does keep your stomach in control when your running or jogging--sort of like a belly bra, a pair of bib cycling shorts just cover, they don't control. The bib part of the shorts scoop way down to the navel and the material of the bibs and surrounding material above the lycra shorts is actual mesh. While very breathable and light, it's really got a spanky-spanky fetish club vibe.
Of course, the real advantage of cycling shorts is the padding. It's all about the padding and padding has come a long way since the basic chamois existed back in the 80s and 90s. I have a lovely Brooks B17 leather saddle so for the last ten years I haven't needed to wear padded bike shorts with an integrated chamois; however, the moment I received my spin class retired Keiser M3 stationary bike with its rock hard seat, I knew that I needed some relief until my bum got used to hard, narrow,  foam, rubber, and vinyl bike seats. 
I wear my cycling bib shorts under a pair of Champion Men's Jersey Short With Pockets and a black t-shirt; however, once the lights go down in the studio, I drop the shorts and just ride in the cycling bib shorts and my t-shirt.
I had worn the shorts underneath until I realized I was spending half my time pulling up my shorts and getting them snagged up on the saddle. So, I am over most of my embarrassment. My body shyness. Once the class is over and after I stretch, I slip back on the shorts and I am good to go. 
Being a bachelor, I don't always keep up with the laundry so I have also taken to wearing a pair of 2XL or 3XL REEHUT Men's 3D Padded Bicycle Cycling Underwear Shorts that I found by just searching around on Amazon that I started to wear under my JL Racing Unisuits that I recommend people wear while running-while-fat and rowing-while-fat.
Turns out, if you put a pair of padded cycling underwear underneath your rowing singlet. Of course, it's always nice to be able to ride your bike on the street in streetwear--jeans, boots, and a t-shirt--with some extra padding underneath. Just note that these particular underwear don't have a Y-front opening.
In conclusion, coverage is good, padding is good, and modesty is good. What's also good is that you can find something that was initially designed for an anorexic cyclist in Big & Tall sizes. Don't care about what it looks like on the model, consider it athletic lingerie: only you need to know you have such sexy kit on, you tiger!