Why should heavyset athletes wear rowing unisuits during our workouts?
| filed under: Heavyweight, Fat Athlete, Heavy Athlete
Nobody wants to see my belly or butt during floor work and lat pull-downs. And when I'm on a jog, I don't like feeling my tummy move as I run.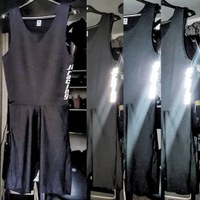 My new XXL JLRacing Rowing Unisuit
UPDATE: both my boathouse, PBC, and I have mostly switched out allegiance from JL to Boathouse for their amazing rowing unisuits, which are much stretchier and forgiving and seamless and, while maybe less durable (we shall see) are quicker to dry and seem to be much more stretchy with a very generous sizing (the 2XL from Boathouse is much more forgiving and comfortable than the 2XL from JLAthletics). I still order my trou from JL, however, and their erging trou are legacy trou and will outlive me, they're sure well-made, thick, and durable (though I don't think they make them any longer—they even had a pocket!)
Why should heavyset athletes like mewear rowing unisuits during our workouts? Because we spend so much time being afraid of our t-shirts flying over our head, exposing our flabby pale flanks, our plumber cracks, or anything that makes us insecure, especially men, who are always pulling down their t-shirts at the gym in the same way someone might constantly and self-consciously adjust a revealing or I'll fitting bikini or gown.
And nobody wants to see our bellies and butts during floor work and lat pull-downs. And when I'm on a jog, I don't like feeling my tummy move as I run.
Or, when I'm bicycling or at spin, I don't have to worry about mooning those around me whenever I wear my wrestling singlet or rowingunisuit, ordered to size, underneath my sweatshirt and t-shirts.
I can feel free to go to 9round and roll all over the floor doing abs and plans and when I do yoga I can try to hit all the Asanas without revealing all sorts of the flesh and skin I'm working hard to shed. It makes such a difference, at least for me. I recommend it.
It also prevents chaffing between thighs and nipples and any other chaffing problems.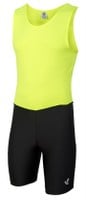 They're a little expensive but they last forever, are well made, you can get cheaper ones, and they also act a little bit like Spanx under clothing.
I just received my custom-sewn black XXL rowing unisuit from JLRacing to add to my drawer full of various and sundry JLRowing trou and unisuits.
Why do I order unisuits and not just the rowing trou, which look like bike shorts but don't extend over the torso into a tank top like the rowing unisuit does. 
My weight yo-yos between healthy eating and running, rowing, and lifting and getting obsessed with work and forgetting to put in the miles and getting seduced by a natural addiction to food.
Along the way, I have developed some body dysmorphic disorder and general shyness about my body even during the best of times. While I am shirt-off at the pool and beach, I am very self conscious whenever I am spinning at Biker Barre, doing intensive floor work at 9Round, doing all the mat stuff at RowVigor, or even the belly-baring exercises I do at XSport Express gym.  
My solution for all of these embarrassing scenarios is to wear a rowing singlet under my t-shirt and shorts. When I reach up to do my lat-pulldown exercises at the gym, nobody can see my belly, they just see the black lycra of my unisuit.  
When I do a sun salutation at Yoga, my t-shirt does reveal my torso if I don't tuck in, but that's OK with the unisuit because all anyone sees is the slimming black lycra of the top of what looks exactly like a wrestler's singlet. 
Are you sold yet? Too expensive? Always going to wear it under your clothes? Smaller than XXL and happy to try out XL and smaller? Here are some pro-tips!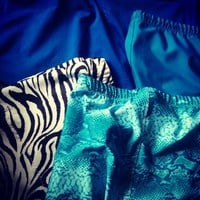 Most of the time I order from the cheap seats called the Bargain Unisuits which are $32.95 instead of $48.95 retail for the Original Unisuit: Black but I am currently bigger than usual so I thought I would try the XXL, which JLRacing doesn't keep on hand. But when you order from the Men's Bargain Unisuits or the Women's Bargain Unisuits, you don't get to choose which uni you get — you need to choose between No White, No Hi-Viz, As Bright as Possible, As Dark as Possible, and Surprise Me! but it's worth the difference in $16 is worth it — plus, it's fun, especially if you order the Bargain Tights because whenever I have done that I have gotten loads of crazy patters including zebra stripes and blue snakeskin.
Please Note: since the fabric is made of Drywick and Lycra Spandex it's slippery. I use a SPIBelt to cinch my shorts to me so they don't fall down. I use the SPIBelt anyway in order to make sure my smartphone, keys and wallet are always on me so it's just convenient. So, if you can't cinch down your overshorts or overpants, find something like a SPIbelt or something else like a nylon strap and buckle to keep your shorts up the way I do.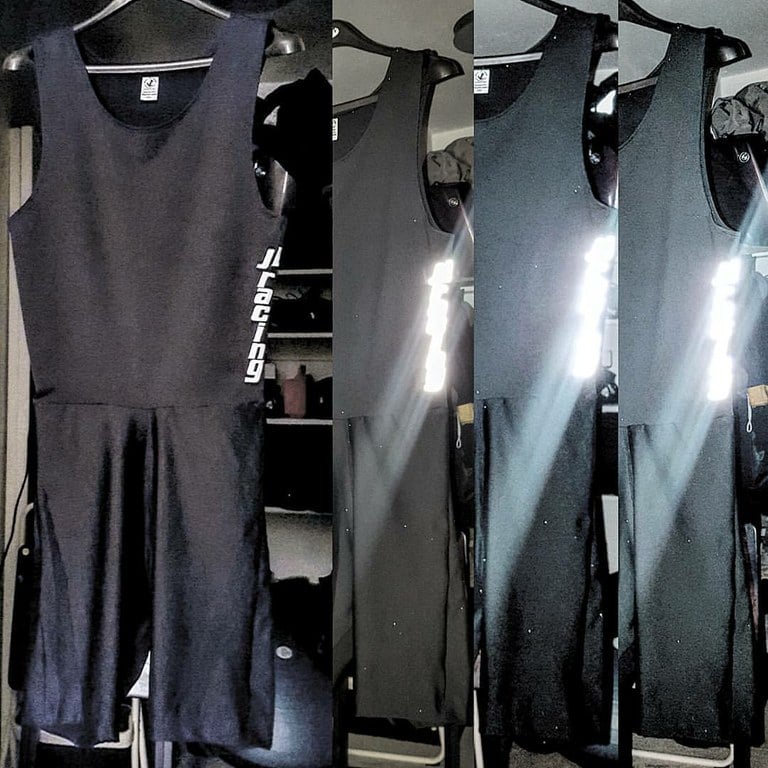 Via RNNR blog