My favorite indoor rowing trou shorts just arrived from Concept2
| filed under: Training, RNNR, Workout Gear, Rowing, Erging, Workout Clothing, Indoor Rowing, Rowing Gear, Concept2, Concept2 Indoor Rower, Indoor Rowing Gear, Gear Review, Rowing Trou, Exercise
UPDATE: I have indeed blown through a pair of these cotton rowing trou, just as I had feared. They blew out when I was sitting down for an indoor row.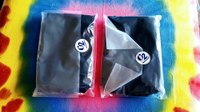 Two pair of C2 rowing trou shorts 90% cotton 10% lycra in packaging
UPDATE: I have indeed blown through a pair of these cotton rowing trou, just as I had feared. They blew out when I was sitting down for an indoor row. I threw on a pair of super-duper over-engineered and overbuilt XXL polypro Erg Trou on instead of the blown-out XL C2 cotton rowing shorts and I was good-to-go; however, they don't make those anymore so I have just ordered anything that JL makes that's on sale.
I walk at least 12,000 steps-a-day as part of my health regimen. Rowing is for fitness, walking is for health. I wear the same shorts at my treadmill desk while I am at work and on my Concept2 Indoor Rower, AKA The Erg.
I usually wear Drywick or Polypro rowing trou from JL Racing, especially when they're running cheap from the bargain bin. While they do wick sweat during performance athletics, I do most of my walking and indoor rowing -- even my hardest interval training on the erg -- in an air-conditioned room so general breathability is more important to me than wicking off sweat.
So, I tried out a pair of rowing shorts that Concept2 offers at its site that's made of 90% cotton and 10% Lycra. They call them their Cotton Lycra Shorts and they're priced at only $29/pair. Good value even if they're not ultimately as durable as my impossible-to-kill JL Athletics rowing trou.
When I received them I fell in love. They feel like a pair of snug boxer briefs but with some padding on the bottom and the support of compression shorts.
They breathe so if I wear them all day long while I am walking, working, swinging the kettlebell, and rowing on my C2 erg, I don't feel the same sort of crotch rot that often results if you spend too much time in a pair of Drywick or Polypro or Lycra Spandex tights. Nobody likes schweddy balls -- or sweaty anything.
So, while the 90/10 cotton/spandex mix of Cotton Lycra Shorts isn't actually performance fabric, it's comfortable, soft to the touch and to the body, feels more like underwear than a pair of bike shorts, and still had the padding and compression that rowers and athletes love -- I love.  
So, when I spent almost an entire workout week wearing and shower-washing and sink washing my C2 Cotton Lycra Shorts, and started to get afraid that these cotton shorts wouldn't wear as hard or as well as all of my JL Racing rowing trou and unisuits, I ordered two more pair, right away, and they arrived today in the mail via UPS Ground in a little under a week for ordering.
The C2-branded shorts are made by RegattaSport of Canada and are made in Canada, according to the label.  They come in XS to XL but they don't have XXL, though I think they offer XXL if you order rowing trou directly from RegattaSport, though I couldn't find a cotton/Spandex blend on their site, so who knows.
If you want more information about rowing performance garments and gear in the form of rowing shorts, rowing trou, rowing tights, and rowing unisuits, check out both Why should big, tall, chubby, fluffy, heavyset, and fat athletes wear rowing unisuits and wrestling singlets during their workouts? and My recommendation for indoor rower rowing shorts for erging on the Concept2 -- check them out!