My recommendation for indoor rower rowing shorts for erging on the Concept2
| filed under: RNNR, Gear, Rowing, JLRacing, Erging, Workout Clothing, Workout Gear, Concept2, Concept2 Indoor Rower, Gear Review, Rowing Trou
I've put a lot of meters onto my PM5-updated twenty-year-old Model C Concept2 indoor rowing machine. While you can, and should, row in whatever shorts you have on—even pantsless if you own your own erg—there are some better solutions.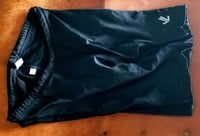 The Erg Trou by JL Racing are the ultimate rowing trou
I've put a lot of meters onto my PM5-updated twenty-year-old Model C Concept2. While you can, and should, row in whatever shorts you have on—even pantsless if you own your own erg—there are some better solutions. 
Boathouse Unisuits and Trou
I had spent a couple of decades rowing and erging in JL Racing trou and unis but have transitioned, in 2018 or 2019, from JL to Boathouse.com. I got my first one because my boathouse, Potomac Boat Club, transitioned from branded unisuits and trou from JL Rowing to Boathouse unisuits and Boathouse rowing trou and I have been very happy with the quality and the durability and the comfort. While JL Athletics had always been extremely durable—bombproof, actually—something's happened the moment JL started cutting corners and pinching pennies, exporting their production from Santa Ana, California, to El Salvador—though I think the build quality isn't an issue as much as just the materials. In my own personal experience.
Now, the unisuits I buy from JL might or might not fit, the stretch of the Lycra might or might not be stiff and tight. However, every single pair of trou and unisuits I have bought from Boathouse.com have always been completely stretchy and comfortable and durable and while I don't think they're as bombproof as my Made in America old-school JL Rowing gear were back in the day, those days are over.
My boathouse, PBC, used to choose JL but now they've left to BH—as have many. So, I can't recommend JL anymore and need, alas, to only recommend Boathouse.com for rowing and erging trou. I haven't slipped on a pair of the C2 Cotton Lycra rowing shorts or any of my old JL Athletics unisuits or trou for a year now. So, make your own choices and spend your own money, but Boathouse is what I wear every day and it's what I recommend. 
Concept2 Cotton Lycra Rowing Shorts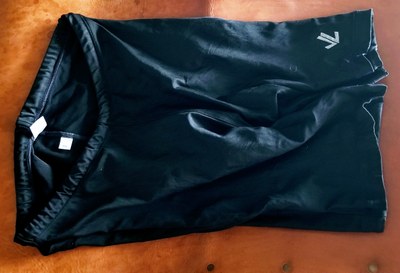 Until a month ago, I was a true blue JL Racing / JL Rowing / JLAthletics rowing trou devotee -- until I tried out a pair of the Cotton Lycra Shorts that Concept2 sells on its very own Online Shop.  
They're only $29.00 and they're cotton. They breathe differently and they're much more comfortable over the longer-term than are my Polypropylene JLRowing rowing trou, which I always buy out of their Bargain Bin.
That said, I am already fearing that the cotton shorts aren't as durable as my Polypro JL rowing trou, all of which have survived for years of abuse. Two really old pair have become a little threadbare (I wouldn't wear them to Yoga, they might be a little too see-through) but I still wear them, and shall until they actually rip through.
I feel like the cotton pair might be less durable--but I am willing to budget to replace them or get more than one pair so that I can distribute the wear and tear on each one over time.
UPDATE: I have indeed blown through a pair of these cotton rowing trou, just as I had feared. They blew out when I was sitting down for an indoor row. I threw on a pair of super-duper over-engineered and overbuilt XXL polypro Erg Trou on instead of the blown-out XL C2 cotton rowing shorts and I was good-to-go
Since these shorts are exclusively indoor rowing trou and I do live alone, and when I wear them out, I also wear a pair of gym shorts, I might be willing to allow these cotton shorts to really get pilled and threadbare and even holey until they just become unwearable to me and not just publicly unwearable--publicly inappropriate, if you know what I mean.  
I don't wear underwear under rowing trou (nobody does) so I wear them as a first layer. Even if I wear a pair of shorts over the trou, I will take them off if I am using these 90% cotton/10% Lycra shorts on the erg or even at Spin class.
But, I always throw the shorts back on as soon as the classes end, not because these shorts are revealing but I am just self-conscious. All the guys who wear rowing trou at the Potomac Boat Club aren't even the littlest but self-conscious.
Bottom Line: Choose Concept2 Cotton Lycra Shorts for price and comfort
JL Racing Rowing Trou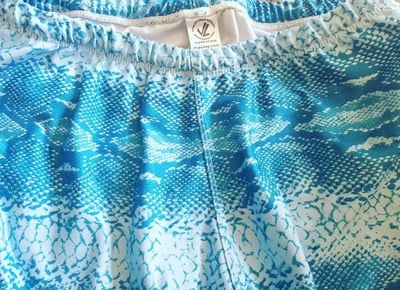 I have never been able to kill a pair of JL Racing rowing trou no matter how long I have had them or how hard I have used them.  I only own Polypropylene JL Racing rowing trou and they have never run or laddered, they have only gotten progressively more threadbare and see-through.
They still work fine and feel even more comfortable to be because they're looser and more relaxed, but the oldest ones have also lost all of their compression--but I don't mind that. I have never killed a pair, though I am sure if I had a girlfriend or wife, she might have thrown out the two oldest pair since I do have newer, less ratty pair--but to me, failure means I can't use them anymore, and that's not the case. At $36.95/pair, they're almost $8 more expensive than the cotton shorts but they're a whole $16.05 less than the Concept2 Black Polypro/Spandex Rowing Shorts, so they're a bargain if you compare like to like.
Warning: you don't have much of a choice when you order from JL Racing's Bargain Bin. You only get to choose between No White, No Hi-Viz, As Bright as Possible, As Dark as Possible, and Surprise Me! but it's worth the $16 difference—plus, it's fun because you don't know what you'll get. I might always only order black tights myself, every time, but because I like a deal, I have gotten a lot of crazy patterns in my orders, including zebra stripes and blue snakeskin. I did choose "Surprise Me!" in that case, however.  And I, personally, have never found a flaw in any of the Bargain Bin rowing trou orders I have made, myself.
Also, you can get an entire Polypropylene rowing unisuit/rowing singlet for only $32.95 if you shop on JL Racing's Bargain Bin -- and while they didn't have any spandex rowing shorts right now in the JL Racing Bargain Bin, I would keep checking back because they often do.
Bottom Line: if you like getting the best value and durability over comfort for your money, buy your rowing trow from JL Racing's Sale Bargain Bin, though even if you need to buy your Polypro rowing trou full price, they're still cheaper than similar Polypropylene shorts at Concept2.
While I spent 15 of those years on the seat that came with my C2, I added two Concept2-brand Seat Pads, one on top of the other, when I started doing high-meters challenges, but that doesn't change anything--I mostly got the pads because my girlfriend at the time wanted--needed--the extra padding, but I haven't converted anything.
GLOSSARY

:
Concept2: A brand known for its indoor rowing machines.
Erging: The action of using an indoor rowing machine or "ergometer".
Erg Trou: A specific type of shorts designed for indoor rowing, made by JL Racing.
PM5: The performance monitor for the Concept2 rowing machine.
Unisuits and Trou: Rowing attire.
Boathouse.com: Another brand that provides rowing attire.
Potomac Boat Club (PBC): A boathouse that transitioned from JL Rowing attire to Boathouse attire.
Lycra: A type of stretchy fabric often used in sports attire.
Polypropylene: A type of fabric used in some rowing attire.
JL Racing / JL Rowing / JLAthletics: Brands/lines that make rowing attire.
Concept2 Cotton Lycra Rowing Shorts: A product from Concept2 made of cotton and Lycra.
Bargain Bin: A section on the JL Racing site where discounted items are sold.
FAQ

:
What is the author's recommendation for indoor rower rowing shorts for erging on the Concept2?

The author recommends the "Boathouse.com" rowing and erging trou. The author previously recommended JL Racing but has since shifted preference due to quality concerns.

What is the significance of the PM5 update?

PM5 is the performance monitor of the Concept2 rowing machine, which the author has updated on their twenty-year-old Model C Concept2 machine.

What changes did the Potomac Boat Club make regarding rowing attire?

They transitioned from branded unisuits and trou from JL Rowing to Boathouse unisuits and rowing trou.

What is the author's experience with JL Racing's products?

While the author acknowledges the durability of older JL Racing products, recent experiences have been mixed due to inconsistent quality after production moved from Santa Ana, California, to El Salvador.

How do Concept2 Cotton Lycra Rowing Shorts compare to other products?

They are more affordable and comfortable, but the author is concerned about their durability compared to Polypropylene JL Rowing trou.

What is special about JL Racing's Bargain Bin?

It offers discounted items, but the color/pattern choices are limited to broad categories like "No White" or "Surprise Me!".
BACKGROUND & CONTEXT

:

Chris Abraham, the author, is a seasoned indoor rower with extensive experience using Concept2 rowing machines. Over time, he's experimented with various rowing attire and provides insights based on personal experiences.

Initially, he heavily endorsed products from JL Racing. However, due to shifts in production quality and materials, he transitioned to using Boathouse.com attire, particularly after his boathouse, Potomac Boat Club, made a similar switch.

Concept2 also offers its Cotton Lycra Rowing Shorts, which the author finds comfortable and affordable but raises durability concerns.

The article concludes by mentioning seat pads, an accessory for the Concept2 machine. Though the author added two seat pads during high-meter challenges, it was mostly a decision influenced by his girlfriend's preference for extra padding.