A+D Ointment cures my runner's inner thigh chafing overnight
| filed under: Chub Rub, RNNR, Injury Prevention, Reviews, Healthcare, Runner's Rash
Tub of A+D Original Diaper Rash Ointment And Skin Protectant 1lb 454gI am built like a Tyrannosaurus rex. Huge thighs and skinny arms.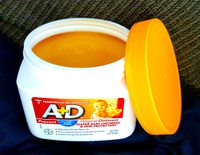 I am built like a Tyrannosaurus rex. Huge thighs and skinny arms. When I am fit, it's muscle; when I am fat, it's flab. No matter what, my inner thighs rub, especially when it's hot and humid outside and I am sweating like I champ. They call it chub rub.
Most of the time, I can combat thigh rub with Lycra Spandex bike shorts like my JL Racing rowing trou or a dollop of Vaseline petroleum jelly or BodyGlide.
If I forget to apply or the rub happens in civvies, I can walk funny for days or even weeks. Whenever this happens, I always go back to the same solution that has saved my ass for almost fifty-years and that's the anointing salve brought to the world by Germany's Bayer: A+D Original Diaper Rash Ointment And Skin Protectant. It always fixes everything.
Truth be told, I've always had diaper rash since I was in diapers and I still do today.
 Application Hints: Because the stuff is stick and stinky, I always apply the A+D ointment to a thick layered wad of toilet paper and then use the TP to apply the ointment liberally to the chafing. I do apply liberally until it's gluey and tacky and probably way too thick. But that's how I do it. But if I do it right, I can keep every little bit of that gluey, viscid, and sticky nasty-smelling stuff off of my fingers.  Either way, I do wash my hands thoroughly in hot soap and water. 
What's In It: it's very simple: the active ingredients are 15.5% lanolin (the actual diaper rash ointment), it's 53.4% petrolatum (the skin protectant). Petrolatum is the technical term for petroleum jelly (or Vaseline). And finally, there are the inactive ingredients: cod liver oil (contains vitamin A & vitamin D), fragrance, light mineral oil, microcrystalline wax, parafin. It's perfectly natural but only as natural as you think petroleum byproducts are. Even the Canadians consider petroleum jelly to be non toxic.
Where To Get Some: They offer it on Amazon as well as in all pharmacies or wherever moms buy diaper rash ointment for their little babies. They have a 1lb tub, a 4oz tube, and a 1.5oz tube, so there are a lot of options.  I keep the 1lb tub at home in the bathroom, I keep the 4oz in the travel dopp kit/toiletry bag, and I keep the 1.5oz tube in my pack. So, it's convenient -- there are a lot of options.
Too Much Information (TMI): If I don't run for a long time my hairiness works against me.  When I run regularly, any hair that grows in the Chafing Region is rubbed smooth. If I haven't run for a while, all that hair grows back and needs to be depilated by rubbing again, which results in some serious inner-thigh chafing and rash. Hair-removal can cause a stinging rash.  So, the worst chafing I get is when my body hair, gets tangled and then pulls out by the roots and creates a very painful rash that I treat with A+D Ointment (but you can use Vaseline, too, according to Livestrong). Once the rash goes away and I continue running, the number of issues with inner thigh chafing and diaper rash really reduce. It doesn't go on forever so please work through it -- it's just part of the starting up discomfort.
Good luck!