Atlas Shape Fitness Tracker Review
| filed under: Fitness Tracking, Atlas Shape, Fitness Tracker, Atlas Wearables, Atlas Wristband2
The Atlas Shape, by Austin-based Atlas Wearables, is a legit fitness tracker, including steps, sleep, personal-training, training programs--but for me, it's only a half-solution to me.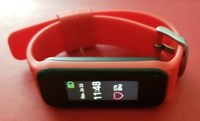 Atlas Shape from Atlas Wearables
The Atlas Shape, by Austin-based Atlas Wearables, is a legit fitness tracker, including steps, sleep, personal-training, training programs--but for me, it's only a half-solution to me. That said, it's the missing half to my Atlas Wristband2, which lacks the all the fitness tracker functions Atlas Shape offers me but with a suite of workout, weightlifting, and training functions that the Atlas Shape lacks. Luckily, they work beautifully together and you'll generally find me wearing both devices whenever I am getting my sweat on.
The Wristband2 and Shape are Peanut Butter and Chocolate
I originally purchased Atlas Wristband2 because I do a lot of two-handed kettlebell swings. That, walking, and indoor rowing is the holy trinity of my workout regimen. I wanted to be able to track my kettlebell swings so that I could swing without needing to count. I wanted to just focus on my form and my breath. The Wristband2 is just a dumb sensor with a little memory and some autonomous smarts. Set it on FREESTYLE and if you have had the forethought to download the right exercises to your device, your device will not only identify your exercise but also judge your form and track your heart rate (HR). All the magic happens on the web server in their data center.
The Atlas Wristband2 Isn't a Fitness Tracker But The Shape Is
The battery of the Atlas Wristband is limited, even with the MOWER SAVE MODE set to ON. So, you need to be judicious and make sure that you charge your device completely before you need it again. The Atlas Shape, on the other hand, is both surprisingly thinner, smaller, more delicate, and much more of a fitness tracker like the Fitbit Charge, Fitbit Blaze, Garmin Vivoactive, Fitbit Versa, Fitbit Altra, Garmin Vivosport, the Apple Watch, Jawbone UP Move, Misfit Flash, Xiaomi Mi Band 2, Fitbit Flex 2, or the Fitbit Zip's always clipped to the hem of my rowing trou.
I Refuse to Use the Apps and Notifications
Yes, the Atlas Shape offers apps and notifications that I neither use nor have enabled. They include SMS, missed call, incoming calls, e-mail alerts, social media, calendar events, loss protection, and "activate screen on wrist raise." I don't use any of them. There's a warning underneath these toggle options that warns you that every single smartwatch sort of update or notification will reduce the band's battery life--so, no to all of those guys!
I Wear My Shape in My Trou When I Use My Treadmill Desk
I transitioned from my Fitbit Charge HR to my old school Fitbit Zip when I realized that wrist-based step-trackers are not ideal when it comes to treadmill desks. For me, I clip my Fitbit Zip to the hem of my rowing trou and then use the polypro/lycra blend of the trou to mount my Atlas Shape to my right thigh when I am walking on the treadmill desk (I don't know how it works yet--I am comparing the steps my Fitbit tracks with the Shape and with the number of steps my desk tells me I have taken. We'll see in a follow-up post.
Charging Is Easy But It's Not Simple
I love having a generic USB charger for my devices. Micro-USB or Mini-USB. However, those USB ports and plugs, both male and female, fail so quickly. Yikes! So, it's nice that the Shape has a very nice, magnetized, proprietary charging dock. That said, don't lose is or you're SOL. I have mine in its little home and it works really well. Instead of a gator clip like some Garmins have, it's magnetic. It's cute, and it mates with a Micro-USB. Neither the Atlas Wristband2 nor the Atlas Shape take long to charge up, but the Shape lasts a lot longer and is intended to be on your body all the time.
Don't Wear the Atlas Shape in the Shower
Dude, right after I showered with my Fitbit Shape, things started going wrong. So, immediately after my shower, I checked the Atlas FAQ and it says NO SWIMMING OR SHOWERING which is a serious fail since the Wristband2 is more durable than that, I think. Here's the notice, for your convenience:
Atlas Shape is water-resistant, which means it is rain-proof and splash-proof and can stand up to even the sweatiest workout. However, do not swim or shower with your tracker. Shape is able to resist water, but it is not 100% full proof (water-proof). Whenever you get your tracker wet, dry it thoroughly before putting it back on.
So, while my device still tracks my steps and my sleep and syncs with the Atlas Shape app, but the touchscreen is being a total jerk. I need to thwack it with my fingers and swipe hard at it and maybe the LED screen will turn on or maybe not. I need to become a heavy-handed beast with this device, which is OK, because I don't really need to interact with it all the time (because I have all the notifications turned off).
But, it's annoying. And I would call it partly broken after the first offense. But I don't want a replacement. Why? Because the screen never turns on anymore unless I really want it to so I guarantee I am generally only sipping battery. If the screen is mostly unresponsive, the Atlas Shape fitness tracker will surely last a short week at the very most. It does pop on once in a while to let me know it thinks I'm sleeping and to remind me to be more active.
But I am going to take it off before going to the pool, the beach, or into the shower. Pity. So close to being competitive with all the other devices, which are pretty much all pool and shower-friendly. I recommend charging your Atlas Shape while you're doing the dishes, washing your car, taking a bath, grabbing a shower, or at the pool or the beach.
That's enough charging.
Sleep Tracking isN'T Fancy Like GARMIN, Fitbit, or TomTom
I love the Atlas Shape sleep tracker. It tells me all I need to know. When I hit the sheets, how long it took me to fall asleep, how fitful my sleep was, and how many minutes of actual sleep I got (versus just the amount of time I was supine or prone in bed). Garmin, Fitbit, and TomTom have a lot of other cool metrics, but I like what my delicate, red, unobtrusive, and svelt, offers me. Besides, a lot of those other new devices, especially the Fenix, Suunto, Apple Watch, and TomTom which are beefy and oftentimes made of steel, aluminum, and titanium. You can see how tiny this device is compared to the size of my Casio G-SHOCK Military Black Series (DW-5600BBN-1JF).
I Get to Track My Workouts Using an AI Robot Lady
I have an Atlas-supplied Coach. But she's a robot lady. I assume she's a lady because this device seems to be the more feminine of the two Atlas devices. It's so purty and delicate and red and svelt and all the workouts are pretty feminine. I am into it. I am a modern man. Whenever I wear both devices, it's total yin and yang. See it yourself. I'll share it again here. See how good they look together? And they work together, too! The main differences between the Atlas Shape and the Atlas Wristband line of workout trackers is that the Shape only offers guided workouts. As far as I know, the Shape isn't as smart as the Wristband2.
It has a little HR one-LED heart rate monitor (compared to the three green LEDs on the Wristband) and when you let your Atlas Shape App know you want to do a predefined workout, it tells you what to do and when you do it, your Shape knows what you're doing it, so it leads you. The Wristband2, when using FREESTYLE, which is the only way use it, follows your lead, trying to use its big machine learning brain and little black box full of sensors to sort out which exercise you're doing for any set, from pushups to TRX rows to crunches to deadlifts to anything I throw at it--just as long as that exercise has been intentionally downloaded to the device before I start working out. It's super cool. What's better?
That my Shape App recognizes all the workouts I do using my Wristband2--without conflicting with it. They work together beautifully, once you get it working (don't be frustrated on your first sync, it can be a little tricky). So, once you do all your FREESTYLE reps on your Wristband, they show up not only in the diary/journal/log of workouts on the Atlas Dashboard but also on the Shape App, and all of your workouts synced from your Wristband is included in whatever my very own AI robot mistress personal trainer IM chatter lady tells me.
She--I'll call her Eliza from now on--knows all the manly work I've been doing on my other device and includes them all in my real-time coaching (not by a person but by the equivalent of a fitness ELIZA. I thought I would show you what it looks like but it sort of looks like a combination of ELIZA, an SMS/Chat back and forth with a real trainer, and a choose your own adventure/Japanese role-playing Nintendo game. You can't ask any unique questions, you can only choose from a couple questions that it asks you at the end of every analysis that robot Trainer Eliza offers you. I feel like I have run out of first impressions. I chose not to call this a full review because I have had some technical difficulties over the last week or so--but I just didn't want to wait any longer.