Atlas Wristband2 review: fitness tracker for kettlebell swings
| filed under: Strength, Girya Sports, Fitness Tracking, Atlas, Girevik, Atlas Wristband2, Full Body Training, High Intensity, Atlas Wearables, Bicycle Roadside Assistance, Kettlebell Training, Kettlebell Swings, Functional Training, RNNR, Girya, Fitness Tracker, Kettlebells, Activity Tracker, Cardio, HIIT, Ballistic Training
I bought my Atlas Wristband2 exclusively to keep track of my daily kettlebell swings. And it does an amazing job of tracking my swings as well as other kettlebell, TRX, and floor workouts. This is my review.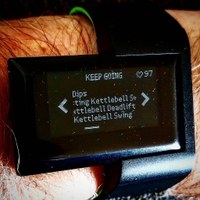 I bought my Atlas Wristband2 exclusively to keep track of my daily kettlebell swings. And it does an amazing job of tracking my swings as well as other kettlebell, TRX, and floor workouts. This is my review.
I just received a notice that my new Atlas Shape is waiting for me to fetch downstairs. Before I explore Atlas Wearables' newest fitness tracker, I want to report on my current fitness tracker, my Atlas Wristband2.
Short review: I love it and it's perfect for how I specifically use it; however, it's imperfect and specialized and the battery will fully deplete for no reason if you don't keep on top of it.
I Bought My Atlas Wristband2 to Track my Swings
How do I use my Atlas Wristband2? I bought it exclusively to keep track of my daily kettlebell swings. If that's all the Atlas Wristband could do, I would be happy. It's pretty cool: you put the device on your left wrist, switch it over to FREESTYLE, and start doing kettlebell swings.
The fitness tracker uses its deep database of exercises that you can download to the wristband from the Android or Apple iOS app; or, even cooler, you can train your app and wristband new workouts and exercises by going through a process of training the Wristband's, Apps, and Atlas' servers, to create new exercises.
The more you personally do each exercise, either provided by the app or invented by you, the better the device can identify the type of exercise you're doing, the number of reps of that exercise, and also the quality of your exercise.
The Wristband2 Can Identify Exercises By Itself
Whenever you perform an exercise—a kettlebell swing, for example—the device is doing a bunch of things concurrently: 1) tracking your heart rate using its built-in, wrist-mounted, three-sensor HR monitor; 2) tracking your movement through space, searching the database of exercises, smartly, limiting itself only to the exercises you have actively already downloaded to your device (and so many exercises are so similar, right?
And Atlas always does such a smash up job with the ID, virtually every time); 3) it tracks the quantity of the exercise, namely repetitions, and 4) it tracks the quality of those repetitions, based on the ideal form reps that are provided with the app or the ideal-form repetitions that you use to train the machine learning software when you add a new exercise.
The Wristband2 Has True Machine Learning
Yes, I have trained the device! There were so many dumbbell exercises that I wanted to do with kettlebells instead and Atlas didn't have them (though they do have all the exercises I wanted; however, they were for dumbbells and I didn't want to just use the DB versions so I spent an hour training my Atlas all the kettlebell exercises that I wanted to use from whole cloth.
This is super-cool because there are not that many opportunities we have to actually experience machine learning. When you add an exercise to Atlas, it asks you to tell the Wizard which muscles the exercise uses and then asks you to do multiple perfect-form exemplars of the exercise.
The custom exercise Wizard asks that you do as many repetitions as you can do with perfect form. I generally did three or four sets. All the computing happens on the servers over at Atlas, I can tell, because the work I did disappear for a little while, and the exercise wasn't perfect accessible for a few minutes after the teaching and the syncing.
Manual Sync Every Time
That's another thing that's different with the Atlas device: there's no active sync with the Wristband2. You need to intentionally click the sync arrow wheel in order to start the sync, unlike the Fitbit devices that can actively sync with your smartphone at random times during the day. This is OK because I already struggle with keeping the Wristband2 fully charged across the day.
My Wristband2 Randomly Burns Batteries
Sometimes the device keeps up at around 97% for what seems like all day. Other times, out of nowhere, the device starts tracking an exercise on its own and then runs itself out. I sometimes walk up to the device as its charging and the heart rate LEDs are blinking their green lights like crazy.
The way I am using the device is unique, though, and if you were just going to the gym over the course of a couple hours a day and not spreading your kettlebell swings across the entire day like I am (check out I'm swinging a kettlebell for 90-seconds every 60-minutes).
If you're just spending a couple hours working out in a row, I am sure you'll have plenty of juice—just make sure you make sure the device is fully juiced up before heading out—don't assume your device is charged no matter what—my bugger just sometimes randomly turns itself on and burns itself out by the time I retrieve it after giving it a full charge. 
What Does the Power Save Mode Do?
Under the wrist device's DEVICE & TIPS menu item, it'll show you how much battery you have and also give you the choice for turning POWER SAVE MODE on or off. I don't know what it does.
I don't know what benefits there is if you turn it off or the restrictions of turning it on.
Does it sample less? Does the LED turn off sooner? Is the display brighter or always on when the POWER SAVE MODE is turned off?
I don't know. Do you?
I Only Use Freestyle Mode
Anyway, I only use the FREESTYLE mode of the device so I can't tell you anything about Guided Workouts.  I bought this wearable exclusively to collect all the swings and other sorts of exercises I do across the entire day in my own studio, office, and at home. It's pretty much limited to two-handed kettlebell swings; TRX assisted chest presses, squats, rows, bicep curl, suspended row, tricep press, reverse fly, fallout; air-squat, crunch, dips, push-ups, sit-ups; in addition to kettlebell deadlifts, front high raise, incline press, military press, and tricep extensions.
Keep It Simple
That's about it. I try to keep it simple; and, 90% of all the exercises I track using the Atlas Wristband2 is the simple two-handed kettlebell swing. And I try to do as close to three minutes of swinging every 30-60-minutes when I am free and available. I have a GYMBOSS interval timer set up for 30-minutes rest: 3-minutes swing. For as much of the day as I can.
Get Fit, Get Fierce with Kettlebell Swings
This workout is adapted from the eBook I found years ago on Amazon,  Get Fit, Get Fierce with Kettlebell Swings: Just 12 Minutes a Day to Lose Weight, Prevent Sitting Disease, Hone Your Body and Tone Your Booty!—this guide recommends 90-seconds every hour; however, I feel like 3 minutes of low-weight, high intensity, vis-a-vis like a round of boxing, is better for me because it actually gets my heart rate up and keeps it up for a sustainable amount of time, which is what I really want. So, I adapted it from 90-seconds every 60-minutes to as close to three minutes every 30-60 minutes, depending on how available I am over the course of the day. 
My Atlas is a Dedicated Swing-Counter
So, instead of trying to keep track of all the swings and all the weight and all the heart rates in a spreadsheet or some sort of ledger book, the Atlas Wristband2 just sort of popped up in my Recommended Queue in my YouTube. Out of nowhere, RIZKNOWS popped up with a pretty great review of the Atlas Wristband2. I really like Jeff Rizzo and his staff and like his reviews so his video put me down a rabbithole and before I knew it, I found an  that was only $26.99, down from $249, which is what it was being sold as, retain, two years ago, when it was introduced.
It is totally worth $249 now that I have my hands on the device, though I would never have bought it at that price.
However, if the Atlas Shape doesn't offer the same sort and quality of exercise tracking that the Wristband2 does, I don't know what I will do as the new Shape is an actual fitness tracker instead of being such a specialist tool, which is what the Wristband2 is. 
If I had bought the Atlas Wristband by Atlas Wearables out of Austin, Texas, for the retail price of $249 I would still be pleased because this little device, along with the Dashboard and App, is very powerful technology. That said, at $27 it's impossible not to buy, right now!
I'm Off to Pick Up My Atlas Shape
OK, I am off to the parcel and package locker for my building and I will go fetch the Atlas Shape fitness tracker that USPS told me is there.  I wanted to post this now before I spend a couple weeks with the new device.  At $99.99, down from $129.99, it's not that much more than the Wristband2. The Wristband2 really isn't an activity tracker or even a fitness tracker; the Wristband2 is more of an exercise or workout tracker. The Atlas Shape does rep counting, audio coaching, goals and progress tracking, heart rate tracking, daily activity, and steps, sleep tracking, calorie burn tracking, notifications, silent alarms, and an inactivity alarm. The Atlas Shape promises to be a much more holistic and comprehensive device that will probably appeal to a much broader spectrum of athletes and fitness buffs.