I am going to add some calisthenics to the kettlebell swing mix
| filed under: Calisthenics, Army Physical Fitness Program, Workout, APFT, JROTC Ranger Club, Callisthenics, Fitness, Army's Basic Training Physical Fitness, Saint Louis JROTC, PFT
I am really loving my two-handed, heavy-kettlebell, swing routine but I also plan to add some simple Army-style calisthenics to the mix in addition to slow jogging, indoor cycling, and indoor rowing.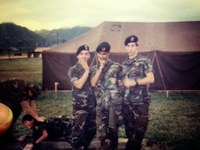 Chris Abraham as a Saint Louis JROTC Ranger
When I was a young lad, I was a member of Saint Louis School's elite JROTC Ranger Club and not only did we practice L ambushes, staggered coulumns, silent movement, and even tank identification based on profile, but we also worked our asses off doing side-straddle hops (AKA jumping jacks), loads and loads of pushups, sit-ups, and other Army PT-style calisthenics, including lots and lots of running and humping. 
As you know, I am pretty obsessed with the two-handed kettlebell swing—and I plan to keep on keeping in with a relatively heavy-but-lazy routine with my 20kg, 24kg, 32kg, and 40kg cast iron kettlebells from Kettlebells USA—I really think I need to also add some unlazy exercises such as:
8-Count Body Builder
Angel of Death
Bend and Reach
Bent Leg Body Twist

Bottoms Up

Burpee
Extend and Flex
Flutter Kick
High Jumper
Knee Bender
Leg Circular
Leg Tuck
Leg Tuck And Twist
Mountain Climber
Overhead Arm Pull
Power Jump
Prone Row
Pushups
Rower
Scissors
Side-Straddle Hop
Single Leg Over
Single Leg Push Up
Situps
Squat Bender
Squat Thrust
Squats
V-Up
Verticals
Windmill
That's a lot of calisthenics and I know I will be hit or miss with these daliances away from the daily bread swinging heavy as much as plausible every day. I will stick very hard and very tight with that, but I will add, to this base, the erg, the SkiErg, the slow jogs, and all the callisthenics. Especially with the pushups and the ab work: who doesn't need to be good at pushups and situps? And side-straddle hops!