From one burrito-a-day to one bowl-a-day in my one meal-a-day diet
| filed under: 24:1, Dieting, OBAD, Intermittent Fasting, One Burrito-a-Day, Fasting, Fasts, Recipes, Recipe, Weight Loss, Weightloss, Cooling, OMAD, One Bowl-a-Day
tl;dr: OBAD once meant, to me, one burrito-a-day but now it means one bowl-a-day. My 24:.25 daily intermittent fasting eating window from the early afternoon to first thing in the morning. My one bowl-a-day is a big bowl at 48oz-a-day. Here's what I prepare and eat.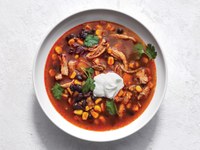 Not my recipe but close
I really love my one burrito-a-day (OBAD) diet because it's a food I love, there are two burrito shops in walking distance, and an everything burrito comprises an extremely balanced diet: meat, beans, rice, lettuce, tomatoes, cheese, salsa, guacamole, tortilla. It's got everything and meets my daily one-meal-a-day intermittent fasting diet, delivering 1,000-1,500 calories: the sweet spot of daily requirements for weight loss and for someone with my activity level.
Update: By 48-ounces I mean 48-fluid-ounces and not by weight. So, basically a full pho bowl like the 480z bowl from Chef Miso. And, those 48 ounces might be a combined dry and wet ingredients or 48-fluid-ounces by volume of all dry ingredients with hot water added to that, so maybe more than 48-ounces and eaten from a bigger bowl, like a mixing bowl. 
Ka-Ching!
It ended up being expensive, costing between $10-$10/day. On one hand, it's for all of my meals for the day. I choose to do the OBurritoAD diet because it kept food out of my house. My only true vice⁠—which is trying to kill me⁠—is gluttony.
Literally, a Deadly Sin
I am a glutton. It might have looked like I was an alcoholic, but giving up drink was easy: not a sip since March 11, 2020. Gluttony looks like alcoholism because if you put a bottle in my hand, I will drink the bottle. Give me a six-pack, I'll drink it. Give me a 750ml bottle of fine single malt scotch or tequila or icebox vodka, and there's the focus of my near-term gluttony. Huzzah! It was pretty easy to kick.
Fat Bastard
But I am still a fat bastard at 322 pounds (23 stone and 146 kilos), down from 350 a dozen weeks ago. I am back on the intermittent fasting bandwagon with a lot of success. At least as much success losing 28 pounds is success. It's hard-won. In the last month or so, I have had quite a few slips. And, I did take a pizza night with friends. But I am always keeping my aim on my one-meal-a-day, which is now a one giant 48oz bowl of homemade meat, bean, rice, and vegetable stew.
Homemade Meat, Bean, Rice, and Vegetable Stew
It's basically a crockpot surprise. So far, here's what's in the stew that I scoop from every morning, for my one-mean-a-day meal. It evolves because I constantly add new meat to is as I run through the meet and there's meatless rice, beans, and veggies left; then, I add more veggies, because those run down before the beans and rice are fully consumed. But here it is so far, all dumped in one or more slow cookers, over time:
Ingredients
Boneless chicken thighs

Broccoli florets and trunks

Brown rice

Chickpeas/Garbonzo beans

Black beans

Red lentils

Butter

Olive oil

Salt & Pepper

Store-bought chicken stock
Collard greens
Celery
Mushrooms
Carrots
Cider vinegar
Whole Vidalia onion
Louisiana hot sauce
Sriracha
That might be it. One time, I cooked the brown rice in my 3-cup Zojirushi rice cooker. Other than that, it's a combo of a 1.5-quart Elite Gourmet slow cooker and a much bigger 6-quart Hamilton Beach slow cooker. 
Notes
I am not allowing the beans to cook for long enough in order for them to become toothsome. They're a little hard. It's my fault. I should either commit to running the slow cooker at High for 4-5 hours rather than not quite make it to a solid 7-8 hours at low. What would you do? Run it hot for a couple of hours and then move it to low? Put it on low and then put it on high for a couple hours?
This All Feels Sustainable
I wake up at 6:30 or so and I have my coffee and my 48-ounce bowl of chicken, beans, rice, and vegetable stew. I reheat the stew in a pot or a pan on the stove and, during heating, I add enough water to make it into more of a soup than a goulash. I like doing that because a hot soup not only delivers around 1,400-1,600 calories to me but all the liquid both fills me up while also hydrating me. It's like medicating myself with chicken soup every morning. It's delicious and it keeps me running all day. And I seem to be fine this way. 48oz of food (before the liquid) is a lot of food so it keeps me running all day. And, since I go to sleep early, at around 8-9 every night, I am good.
The Proof Will Be In the Pudding
I will do this at least until I go through all of my beans and rice. I will keep on adding meat and veggies every day or so. Then I will check my progress against my scale and against my happiness and contentment. As you may know, I am tracking all of my fastings with the Zero Fasting app and my My Fitness Pal app. Wish me luck. Let me know what you think.
It's a Lot Like a Burrito Bowl Stew Soup
I think what I am doing is eating a daily breakfast of a one-burrito-a-day deconstructed into a burrito bowl stew soup, which I love, because I love burritos. Maybe since I am doing this for breakfast, I can eat some of them with a couple-few fried eggs on top in lieu of the chicken. Nothing is wrong with nice eggs on rice and beans. Maybe another day I can make a Mexican-style Loco Moco with rice, beans, a big juicy hamburger patty, and a nice couple eggs all in a bowl without all the soup. A Loca Moca? 
This'll be fun!