Spring 2019 Update
Happy Spring! I'm taking a breather to reconnect with you after a busy past six months.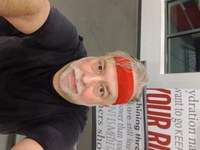 Après-Spin
My latest news is that I am spending a lot of time indoor cycling.
Marina
from
Cyclebar here on Columbia Pike
has been mentoring me to get on saddle and ride. Starting today—yes, today!—I am giving Intermittent Fasting, portion control, and clean eating 100% commitment. Today's the first day of the rest of my life.
Late last Summer, we editorially launched Newconomy, providing written and video content that explored all four corners of the world of cryptocurrency and blockchain. From nothing to 17-articles-day, Dan and I were acting Editor-in-Chief and Executive Editor respectively. 
Last Spring we took on an amazing Online Reputation Marketing campaign that we can't talk about at all except to say that it was global and political. Other than that, mum's the word. 
In addition to our current clients, we've partnered with a team focusing on
ADA, American's with Disabilities, Compliance, for websites
. There have been thousands of lawsuits settled from websites not being up to current legal standards. We've started offering our services to bring businesses and website owners up to the legal standard of accessibility for all. 
I just wanted to pop you a note to let you know that I am still here, still plugging away, and still making Washington, DC, both my HQ and my home. If you have any need for any services from influencer marketing to online reputation management to ADA compliance, I'd be happy to help.
I would love to catch up so please feel free to reach out to me by just hitting reply to this email or pop me a text to +12023525051 or set up a call with me via my Calendly
www.calendly.com/chrisabraham
and we can spend some time together. I hope you're having an amazing Springtide.