Our Sculling Caper
| filed under: Rowing, Hudson Boatworks, Potomac River, Thompsons, Thompson's Boathouse, Sculling, Scull, Row
September 8, 2002, Washington, DC – It is true that Mark had talked to Paul about being okayed to be allowed to take out Sculls onto the river; it is true that Mark and I rowed in college at GWU. When Mark and I arrived to rent racing sculls from the Thompson Boat Center (from where Mark and I rowed during college), I hadn't rowed any shells in ten-years, and I had never rowed in a single scull in my life.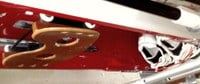 My Hudson Heavyweight Single
We played it cool, and before long, Mark was using his Silver Tongue on the Manager. He was able to secure for each of us an 11-row pass, which gave us carte blanche to take out racing sculls onto the Potomac 11 times.
We both played it cool, but when we got to the river, it really was a comedy act like you would never have believed. We were pointing the oar locks in the wrong direction, we were awkwardly playing the boats and sitting wrongly, possibly injuring fiberglass and the single's structure in the rush.
I even tipped and fell over the moment I tried to push off. Right into the drink. Soaked GAP Khaki shorts, black leather belt, and black tee, with a dead cell (I was expecting a call from Wendy — we were to Kayak later, after the Caper) I jumped in again, changed my oarlocks — thanks to the help of the Aussie who later narced on us — and pushed off!
With the oarlocks positioned like they're supposed to (like pointing a gun, point the oarlock away from you!) it was like riding a bike. There are enough commonalities between the Heavyweight Eight Sweeps I used to row in College and sculling; between the Walden Pond Blue Kayaks and sculling. Within 100 meters, I was doing pretty well and moved on to using the full slide.
My hands bonked into each other, a caught a couple crabs, and there were a few times when I forgot to look behind me, but I felt the sun, I smelled the mildly fetid waters, and felt the muscles work in my gluts, in my back, and in my shoulders.
I row obsessively on my Concept II rowing ergometer. They call it an indoor rower. The strength and stamina I have acquired translated directly and all the training and fantasizing I has been doing came to fruit in that quick flee from what I was beginning to suspect was a bliss and abandon — the perfect caper on one hand and the ease with which I warmed up to this sport which has always been too sexy, too delicate, and too elite to actually pursue — was going to be short-lived. Before the Caper, cut wood and carry water; after the Caper, cut wood and carry water.
I figured I has been found out when Mark never did leave the dock. I was alone out there,
Squared blade. The catch. The drive. The finish. Feather blade. The recovery.
A Thomson's Boat House skiff, like one skiff my coach used to take out from which to coach us, left the dock — I could see it in the distance for I was already passing the Potomac Boat Club's boat house — and powering towards me, I was certain.
They took quite a while to arrive. There is such a difference between moving through the water in my Little Blue Kayak and cutting through the water in the racing shell. Their skiff, with its outboard engine, took forever and I tried to ignore their relatively lazy pursuit.
When they arrived, I was asked to board their boat. They took one oar, me, and then the other. They pulled the scull up next to the skiff, turned around, and powered me back. Instead of being screwed, though, I was told that it happens all the time. Instead of being busted, we were offered a generous opportunity:
"if you take the course we are offering starting Monday at 6pm," said the Manager calmly, "we will credit the money you have paid to it and we will forget this ever happened.
"We came to get you as a matter of safety," he added, still calmly, "and when you finish your five days of classes, you can come back here and rent the singles to your heart's content."
So we did just that, Mark and I. We will both me down at Thompson's Boat House every evening at 6pm for our course; afterwards, we will be licensed to transcend any time we want or can afford — weather permitting.
It really doesn't get better than this, to be sure.