Initial impressions of the TomTom Adventurer Outdoor GPS Watch
| filed under: Outdoor, Watch, Fitness Tracker, Adventurer, TomTom, TomTom Adventurer Outdoor GPS Watch, GPS
It's simple, it's a fitness watch first and a GPS adventure watch second, at least that's how I am using it for now.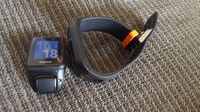 TomTom Adventurer Outdoor GPS Watch
I am sorry about not posting for so long. I was really sick over the Winter and am finally on the mend. In the meanwhile, my Fitbit Surge broke and I have been making it work with a Fitbit Zip.
Last week, my buddy Dan asked me if I would be willing to review the new TomTom Adventurer Outdoor GPS Watch. He must have TomTom as a client so I agreed.
It arrived in a box, well-packaged, but also quite anti-intuitive.
FIRST IMPRESSION
It's simple, it's a fitness watch first and a GPS adventure watch second, at least that's how I am using it for now.
It wasn't intuitive for me but it's pretty easy to use once you get started. It has a Heart Rate monitor built into the watch, and the battery lasts a lot longer than competing watches.
You can upload and sync 3GB of music and connect the included wireless Bluetooth headset to listen while walking, running, etc, using either the built in GPS or just the always on step counter. It might be worth $350 but it feels like a $99-$199 watch compared to the offerings from Suunto and Garmin.
MIGHT BE MORE THAN MEETS THE EYE
I think there are some cool adventureteering tricks up its sleeve because they are asking $350 for it instead of $99 so there must be a lot I am missing. I know you can upload GPS Exchange format (.gpx) files in order to organize and plan all your cool adventurneering using tools available via the web and maybe via your phone (I haven't done any GPS stuff with it yet, as I told you before).
I'VE BEEN USING IT AS A FANCY ACTIVITY TRACKER
Before I started wearing it, the screen seemed small and the bezel seemed a bit thick. When I charged the watch using the included proprietary USB charger, I saw that the available display is quite minimal and that most of the valuable data is only available via the web-based TomTom MySports dashboard and the apps available for Apple iOS (iPhone, iPod Touch, iPad, etc) and for Google Android phones, tablets, and devices. 
So now I'm wearing it and have been for a week now. I haven't yet used the GPS but it's doing a brilliant job of keeping track of my daily resting heart rate using its integrated one-sensor watch-based optical heart rate sensor that blinks green every once in a while.  I like this because I am checking my pulse as often as possible and am on heart rate meds just to keep my AFib in check.  
And while the heart rate monitor works more persistently while tracking sports using the tracking function on the  TomTom Adventurer GPS Outdoor Watch via a nice run, walk, treadmill, trail run, hike, cycle, indoor riding, swim, ski, snowboard, gym, or freestyle.  I can't believe I haven't done it yet. I will surely try out the GPS tracking — what it tracks that I can see on the watch and which I will have to put off until I get back to the app or the web dashboard. 
IT DOESN'T HAVE BUTTONS OR EVEN A TOUCHSCREEN 
I am slowly learning the elaborate dance of the four-way button controller that I though, at first, was the GPS antenna (don't some Suunto ambit and Garmin fenix watches still have those) but is, instead, the master controller.
Spend some time playing around. If you click around creatively enough, you can find steps, calories, miles, and sleep, as well as weekly combined steps, calories, miles, and sleep.
The watch is water-resistant down to 40 meters (131.234 feet) so you can swim with it and just generally forget that it's on (I wear it in the shower).  Since I will be doing a lot of water-rowing on the Potomac this summer, this could be very useful.
I just wish I could create a sport, Sculling or Water Rowing, like you can in the Garmin fenix's software. But, hey, I don't think that's a deal breaker. 
THE LONG-LASTING BATTERY IS A STRONG SELLING POINT
If you just use the TomTom Adventure GPS watch as an activity tracker, it'll last ten days between charges. If you're a heavy sports users, you'll get over 10 hours of power on all Sports modes, and over 20 hours in Hiking Mode — though this is only from the press propaganda and not from personal experience. So far, just using it as a cooler-looking Fitbit fitness tracker, I've never needed to charge it, I just just have done. I'll let it go from now until it runs out to see how long it lasts, first hand.
NOBODY LIKES THE MP3 STORAGE OR BLUETOOTH HEADSET
It came with a lovely bluetooth headset and 3GB of storage in the watch to allow me to listen to my MP3s wirelessly but I am not a fan. At first I get really excited, adding as many MP3s as I can from recent episodes of Coast-to-Coast AM, but then why would I ever listen to them from the watch when I mostly have my phone with me anyway, allowing me to stream endless content via the ubiquitous magic of cellular networks.
I guess, maybe, if I am out for a long time and my phone dies, the MP3s on the watch might get me through extreme boredom.  I tried it before with my Timex Ironman One GPS+ Watch. Maybe if there were 32GB of storage, maybe, but with 3GB these devices feel cheap and like they're stuck in the late 90s. We live in an iPod world so having a little bit of file system not integrally-built into streaming, into wireless syncing with the cloud, or something like the way the Apple Watch does it, which surely increases complexity and decreases battery life (something the TomTom Adventurer Watch does very well with).
I actually never got my included wireless Bluetooth sports headset paired because every time I tried it search, found more than one thing to pair with, and then failed the pairing because it can't deal with two or more options, so it told me that in order to actually successfully pair, I would need to physically get out of range of any other Bluetooth device besides the headset. That's sill, lazy, stupid, and puts the onus of this annoying task on me, which is just rude. 
IN CONCLUSION
It's an awesome and easy-to-read watch face even for the aging athlete. Once you grok the crazy one four-way toggle button instead of a fancy touch screen or four or five bezel buttons, you'll be appreciative because things don't get funny in the water with those touchscreens (things tend to get screwy) and you also don't have to lock those bezel-based and case-based side and bottom buttons like you have on other activity and GPS watches such as some Garmins and other GPS watches. 
The strap is a little small for my wrist is the only complaint I have — but does fit. It's light, it's durable. The display feels like eInk but is probably just black and white retro LCD. The watch cares so much about saving battery that you can turn off the backlight and just about anything else that will train power. And, unlike Fitbits, there's not even a persistent sync setting. If you want to sync with your phone, you'll need to toggle down and only then will the sync happen.
Via RNNR