Beautiful Night for a Ride and a Walk
| filed under: Riding Bikes, Bike Riding, Bike Commuting, Bianchi Pista, Ride Report, Bicycles, Fixed Gear, Single Speed, Biking
What a gorgeous night it was for a reckless ride through the city streets of washington, DC.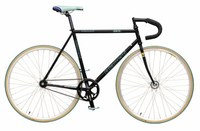 Bianchi Pista
I had a late night at work but wasn't bothered because of the gorgeous night. I am a night rider. I love that my fixed gear pista, BFJ, is completely silent. I love to carve up the city streets at night. Such a sense of speed and control. Such agility. At night, downtown DC is empty. On a Sunday night, doubly so. As I approached Union Station on Massachusetts I stuttered through broken bottles and caught a flat in my hind wheel.
Pssssst.
What a wonderful night for a walk in clipless bike shoes. Crunching along the street. Gave Janna a call. Cool night, walked BFJ through the dark. Just as pleasurable as the ride though surely far less exhilarating.
Poor baby. It's time to start shopping for new shoes for the Pista.
Or, rather, tonight, the Psssssssssssta.