Buca di Beppo Washington, D.C.
| filed under: Pope Room, Buca di Beppo Washington, D.C., Washington Buca di Beppo, Buca di Beppo D.C., Washington, D.C., Renaissance Weekend, Buca di Beppo, Dinner Party, DaVinci Dinner, Buca di Beppo Pope Room
If you really must abuse yourself with delicious platefulls of spicy Italian food in a round room around a round table with a lazy Susan and a centerpiece in the form of a plaster bust of His Holy Father John Paul II in a lucite box, then you really need to reserve the Pope Room at Buca di Beppo.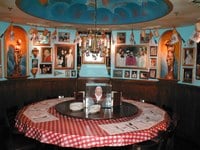 Buca di Beppo Washington, D.C.
Good Lord do I feel rough this morning. My manager told me upon retelling, "don't drink the wine, I could have told you that."
I stumbled out of the restaurant and felt like there was an Alien ready to burst from my ribcage and slither right across the street and into the Hinckley Hilton. But in a good way.
We ordered platefulls of buschetta, calamari, garlic bread, tomato and spinach salad, green beans, eggplant parmigiana, baked ravioli, and veal limone.
And the nine of us (ten, with his Holy Father) shared a 3 litre bottle of the house chianti.
Good Lord.
In order to pay as much respect as possible, we raised our glasses to the health of Pope John Paul II and for his speedy recovery. Just like everyone is Irish on St. Patty's day and everyone is Jewish on Passover and everyone is Muslim during Ramadan, everyone is Roman Catholic during dinner in the Pope's room.
Not merely garish, over the top, and splendid, the room is rife with Papal memorabilia from every century and through the continuous line of succession.
The compulsory plump nude cherubim, complete with little penises blond ringlets, danced amongst the clouds in the dome over our heads. The dome acted as a parabolic chamber so there was noone who was ever out of earshot. The Pope's room does not condone gossip, whispering, side talk, and secrecy.
Of course, being Catholic last night, after over five years of being safely Episcopalian, leaves me feeling very guilty: all the food, all that wine, all that money -- and on a school night, too! And I couldn't help myself. Whenever the lazy susan presented the bust my way, I couldn't help crossing myself and was tempted to genuflect.
Thanks to John Hlinko for organizing this gathering, the Da Vinci Dinner 2.0, an unofficial Renaissance alumni and friends gathering in DC. Also, thanks to Maya, Ben, Kyle, Christian, Leigh, Lisa and Alexa for the fine conversation.
I must add quickly that the spirit of the 3rd night at Renaissance when we find our own group, find our own restaurant, and all eat together in the most spirited of conversations, laughter, debate, storytelling, and mirth was for sure faithfully recreated last night.
Buca di Beppo Washington, D.C.
1825 Connecticut Avenue N.W.
Washington DC, DC 20009
Phone: 202.232.8466
Fax #: 202.232.5711
Hours:
Monday - Thursday: 5-10
Friday: 5-11
Saturday: 4-11
Sunday: 4-9