An Intimate Dinner for 25
| filed under: RW, Renaissance Weekenders, The Pope's Room, Da Vinci Dinner, DC Posse, Renaissance Weekend, Buca di Beppo, The Pope Room, Washington DC
Last night, Carrie, John, Dmitri, Christian, Kyle, and I organized a casual dinner for our 25 closest friends: the Da Vinci Dinner 3.0.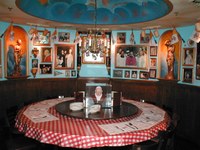 Buca di Beppo DC Pope Room
Total door-blowing success. Can't wait until the next one.
We squished nicely into the Pope room at Buca di Beppo on Connecticut Avenue for the second time. This time we overflowed.
Luckily, there's nothing in this world a couple of enormous bottles of Chianti can't cure.
Other than that, I really don't remember eating this time.
That's a good thing since you can leave Buca di Beppo in a wheelbarrow if you're not careful.