Aborted our Sail out of Cabo
| filed under: Sailing Mexico, Cabo San Lucas, Sailing
Mark has never done it and neither of us is the type, but either the people we have met in Cabo are pulling major magic or we forgot to weigh anchor because we left Cabo San Lucas and then came right back. It was 12 hours of being on a stationary bike at sea: lots of peddling but we weren't going anywhere.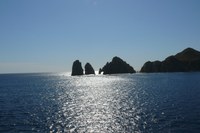 Cabo San Lucas
Mark and I made a run to escape Cabo San Lucas because it really is quite beautiful, the set up that we have down here.  Every morning, we wake to barking sea lions.  Absurd manta rays flopping around like flapjacks on the water.  Noble pelicans skimming the tranquil shallows.  The bay is surrounded by cragged cliffs and rocks fronts.  Although skidoos buzz like gadflies, the water is calm and safe and its possible for a boat to anchor very close offshore.  With the Wade family (Seb and Deb) sharing their cute little kids (Alex, Ben, and Dom) with us (and sometimes too much of a good thing!), with Bruce keeping is rife with fresh fish, and with the gang from Italian Coffee Company hooking me up with Espresso Dobles and Mark up with diesel and Cabo tips, its is quite comfy here.
So, we left yesterday at the crack of noon.  Mark, being a Virgo (that´s his excuse not mine), requires us to always make sure that Kinship II is completely tip-top shape each and every time we ship out, which means we burn the morning.  I am a very fine crew so this is no big deal, especially since we get to spend just a little more time in Cabo as a result, but by the time we departed after saying our goodbyes to the Wades and to Bruce in a sort of fly by, we hit a load of awful weather.
From storm clouds to lightning, from current to big seas, we couldn't catch a break.  We were able to motorsail past Cabo Falso, which took us around 2-4 miles offshore, but then we fought for 12-hours and couldn't make any ground.
From noon until midnight, under full power and sail, we stayed still.  We used both the engines and still, after twelve hours of motorsailing out, it took us only 3 hours to return.  Yes, Captain Mark aborted and we came back to moor at 3am and touched our way in like a blind man.  Using our memory and a spot, we were able to find a mooring and fell to sleep in our cabins exhausted at four in the morning.  This is the very first time in the years that Mark has sailed that he has ever aborted a sail.  The only other options we have under this problem is to tack to Hawaii and then back to LA; alternately, since I want Wendy to continue dating me, we can load up the deck with jerry cans of diesel and fight it out, using much more fuel than we can currently carry.
So, tomorrow, Mark and I are driving out with Alexandro Junior from the Italian Coffee Company to find diesel jerry cans so that we can carry enough to take us through.  We have been getting loads of diving in as well.  We have been compulsively scrubbing the hulls in the hope that we can squeak even as little as a quarter of a knot out of the hydrodynamics of sweet Kinship II, our beloved 42-foot French catamaran made by Jeaneau. 
As I always like to say about our boat: Better the sailboat Jeaneau than the sailboat you don´t.