Progress not perfection for the Fall Team Challenge
| filed under: Concept II, Concept2 Challenge, Concept2, Concept2 Challenges, Concept 2, Concept2 Fall Team Challenge
I have been on the sliding seat at least once every day since the Concept2 Fall Team Challenge that started on September 15 and continues until midnight, October 15.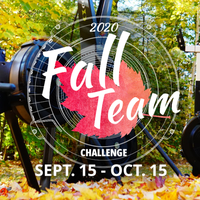 Concept2 Fall Team Challenge 2020
I am rowing the Fall Team Challenge on team Potomac Boat Club.
At the current moment, Team PBC has accrued 3,089,639m and we're currently ranking 37 out of 898.
As an individual, I am 3,177 place with 74,375m.
Luckily, in my boat of 35 active rowers, I'm 18th. 
Wish me luck!
Distance
Duration
Type
Time
Date
1,695m
10 minutes
Row
8:15 PM
September 15, 2020
2,009m
11 minutes, 36 seconds
Row
7:05 PM
September 16, 2020
1,809m
10 minutes, 45 seconds
Row
7:37 PM
September 16, 2020
2,507m
15 minutes, 13 seconds
Row
7:52 PM
September 17, 2020
2,049m
12 minutes, 34 seconds
Row
7:30 PM
September 22, 2020
3,009m
18 minutes, 7 seconds
Row
8:29 AM
September 23, 2020
2,704m
16 minutes, 7 seconds
Row
8:13 PM
September 23, 2020
2,585m
15 minutes, 4 seconds
Row
8:34 PM
September 24, 2020
5,096m
29 minutes, 52 seconds
Row
9:08 PM
September 25, 2020
5,109m
30 minutes, 2 seconds
Row
8:24 PM
September 26, 2020
5,006m
30 minutes
Row
7:38 PM
September 27, 2020
2,483m
15 minutes, 9 seconds
Row
8:10 PM
September 28, 2020
3,548m
21 minutes, 2 seconds
Row
8:27 PM
September 28, 2020
5,009m
30 minutes, 8 seconds
Row
8:40 PM
September 29, 2020
5,005m
30 minutes, 51 seconds
Row
8:14 PM
September 30, 2020
7,381m
45 minutes
Row
7:29 PM
October 1, 2020
6,915m
45 minutes, 11 seconds
Row
8:00 PM
October 2, 2020
3,139m
20 minutes, 3 seconds
Row
8:21 PM
October 3, 2020
7,300m
45 minutes
Row
10:13 AM
October 4, 2020
74,358m