My slow but acceptable Concept2 Dog Days of Summer Challenge progress
| filed under: Concept2 Dog Days Challenge, Concept II, Concept2 Challenge, Concept2, Concept2 Challenges, Concept 2
Each week, the Concept2 Dog Days of Summer Challenge requires 10,000 meters more per each subsequent week through the month of August: week 1: 10,000 meters, week 2, 20,000 meters, weeks 3 (this week, 4285.71 meters-per-day) 30,000 meters, and next week, week 4, 40,000 meters, which is 5,714.28 meters-per-day.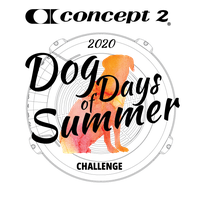 2020 Concept2 Dog Days of Summer Challenge
The 2020 Concept2 Dog Days of Summer Challenge has been good for me. I am just making it. But it doesn't matter. All I need to do is make the meters. And, hopefully, each week will make me stronger since my ultimate goal is to row or ski at least 5,000 meters-per-day (with a goal of pulling 10,000 meters-a-day for most of the rest of the days of my life: 40–45 minutes of my every day, preferably during that brain dead time during which I watch movies, TV, listen to podcasts, NPR, No Agenda Show, or audiobooks. Wish be luck and good luck to you. The next Concept2 challenge is a team challenge. I am on the Potomac Boat Club team. The Fall Team Challenge is a team challenge where team members try to reach either 100,000 meters or 200,000 meters by the end of the challenge and goes from September 15–October 15.
| | | | | |
| --- | --- | --- | --- | --- |
| Date | Type | Distance | Time | Pace |
| 8/1/2020 | Rower | 1,017m | 06:16.2 | 03:04.9 |
| 8/1/2020 | SkiErg | 1,331m | 09:03.6 | 03:24.2 |
| 8/1/2020 | SkiErg | 540m | 03:14.6 | 03:00.1 |
| 8/1/2020 | SkiErg | 1,459m | 09:00.7 | 03:05.2 |
| 8/1/2020 | Rower | 1,039m | 06:10.9 | 02:58.4 |
| 8/2/2020 | Rower | 436m | 02:32.8 | 02:55.2 |
| 8/2/2020 | SkiErg | 1,668m | 10:06.2 | 03:01.7 |
| 8/2/2020 | Rower | 2,614m | 15:02.5 | 02:52.6 |
| 8/2/2020 | Rower | 1,012m | 06:06.4 | 03:01.0 |
| 8/3/2020 | Rower | 610m | 03:35.2 | 02:56.3 |
| 8/3/2020 | SkiErg | 527m | 03:15.1 | 03:05.1 |
| 8/4/2020 | Rower | 1,011m | 05:43.7 | 02:49.9 |
| 8/4/2020 | Rower | 2,012m | 11:32.1 | 02:51.9 |
| | Week 1 Total | 15,276m | Goal | 10,000m |
| 8/8/2020 | Rower | 1,011m | 05:46.7 | 02:51.4 |
| 8/8/2020 | SkiErg | 1,114m | 06:56.7 | 03:07.0 |
| 8/8/2020 | Rower | 1,014m | 05:46.8 | 02:51.0 |
| 8/8/2020 | SkiErg | 1,010m | 06:14.1 | 03:05.1 |
| 8/8/2020 | Rower | 1,007m | 06:00.4 | 02:58.9 |
| 8/9/2020 | Rower | 578m | 03:23.2 | 02:55.7 |
| 8/9/2020 | SkiErg | 731m | 04:20.5 | 02:58.1 |
| 8/9/2020 | SkiErg | 629m | 03:31.6 | 02:48.2 |
| 8/9/2020 | Rower | 2,239m | 12:53.6 | 02:52.7 |
| 8/9/2020 | SkiErg | 2,007m | 12:01.7 | 02:59.7 |
| 8/9/2020 | Rower | 2,010m | 12:00.4 | 02:59.2 |
| 8/10/2020 | Rower | 1,854m | 11:00.1 | 02:58.0 |
| 8/11/2020 | Rower | 3,011m | 16:58.8 | 02:49.1 |
| 8/13/2020 | Rower | 385m | 02:21.0 | 03:03.1 |
| 8/13/2020 | SkiErg | 1,013m | 06:07.2 | 03:01.2 |
| 8/13/2020 | Rower | 1,010m | 06:02.1 | 02:59.2 |
| | Week 2 Total | 20,623m | Goal | 20,000m |
| 8/15/2020 | SkiErg | 1,513m | 09:09.6 | 03:01.6 |
| 8/15/2020 | Rower | 1,507m | 08:50.0 | 02:55.8 |
| 8/15/2020 | SkiErg | 1,510m | 09:23.5 | 03:06.5 |
| 8/15/2020 | Rower | 1,512m | 09:06.1 | 03:00.5 |
| | Week 3 | 6,042m | Goal | 30,000m |
Week 1, Aug. 1–7: 10,000 meters
Week 2, Aug. 8–14: 20,000 meters
Week 3, Aug. 15–21: 30,000 meters <= I am here right now!
Week 4, Aug. 22–28: 40,000 meters