My best gym and workout towels are from NIcool Sports
| filed under: Erg, NIcool Sports Cycling Towel, Working Out, Fitness, NIcool Sports, Erging, Gym Towels, Spinning, Gym, NIcool Sports Towel, Spin, Workout, NIcool
I am always on the lookout for the world's best towels. It's probably because of my devotion to Hitchhiker's Guide to the Galaxy—Hey, you sass that hoopy Ford Prefect? There's a frood who really knows where his towel is—but it's my White Whale. My White Towel. The NIcool Sports Cycling Towel on Amazon is currently my very favorite gym and workout towel.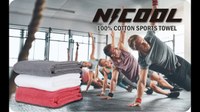 NIcool Sports Cycling Towel
Before I discovered the NIcool Sports Cycling Towel on Amazon, my favorite towel for when I row, erg, spin, and go to the gym, was my small collection of fading gym towels I had from being a member of Golds Gym at least a decade ago. But now, I have replaced my sacred gym towels with some very thick cotton towels that are just the right dimensions at 43"x13.75". I found them on Amazon for $19.99. That may sound like a lot, but they'll last forever and come in a number of colors (I have only ordered white towels because I am a masochist). But I think they're built to last.
A good, durable, towel, can be used for many different things, including being a workout assist. One can hook this oblong towel, which is extremely over-engineered and over-built, through the handle of a kettlebell and do a kettlebell towel swing. I also keep these towels, which aren't small or thin or microfiber but thick, absorbant, cotton terrycloth. Throw it in the washer, the dryer, add bleach, and do whatever you need. Even if it shrinks or curls up or discolors? Call it patina. Call it earned mileage. Besides, you don't need to get it in white. You can get it in whatever color you want, including black, grey, pink, and white. You can buy them in pair, in color mixes.  I will try to get some photos of me with the towel in the wild. Below is a bunch of info about the towel from Amazon: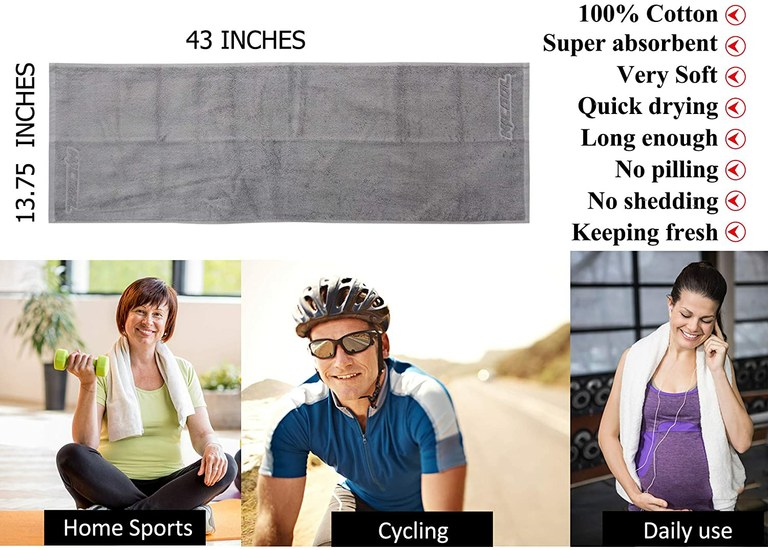 About this item
100% Cotton Sports Towel -- Super Absorbent, Quick Drying, Durable and Multi-usage.

Imported

Machine Wash

Multi Use : Nicool sports towels for gym, fitness, workout, yoga, Pilates, golf, football, bowling, running, swimming, cycling and so on. no pilling, no fading and no shrinkage after repeated cleaning. Can be used for a long time

MENSION: Large, Long, Soft, 43"x13.75". 100% cotton fiber is super gentle on your face, body and skin - Slip-resistant hypoallergenic surface makes it a perfect workout towel

QUICK DRYING & SUPER ABSORBENT: Breathable, soft, smooth towels is super water absorption and fast drying to keep you always pleasant and comfortable in fitness like cycling or yoga

MACHINE WASHABLE: Please wash it before the first use! These yoga towels are highly durable because of the high quality ,up to 800 times washing.The colorfast cotton fiber is super environmental friendly and harmless to human health.

SATISFACTION GUARANTEE: NIcool Sports aims to provide best products and service for you and your satisfaction is important to us. If our products that carry a lifetime warranty don't work as you expected, pls feel free to contract us and we will deliver a satisfactory solution asap!