Roger Wolfson: The Gym No Matter What
TL:DR: "Always go to the gym, no matter what. If you decide to hit the happy hours after work and get loaded on apps and drinks, it's especially important that you make it to the gym. Your workout might be garbage but you get to keep your habit, your commitment, and you'll regret having over-indulged immediately as you lift weights and hit the treadmill. Your workout might be garbage but you get to keep your habit, your commitment, and you'll regret having over-indulged immediately as you lift weights and hit the treadmill." —Roger Wolfson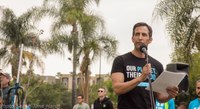 Roger Wolfson
When it comes to treating my body like a temple, I am spotty at best. I am inconsistent and sometimes defiant and self-destructive. I also often find myself using every excuse in the book, many excuses were based on poor planning and terrible decisions. For example, I will blow off the gym or time on the erg if I grabbed a big dinner with friends or had a couple-few drinks at L.A. Bar or Taqueria el Poblano. When I was in my 20s and was pretty fit, ran 4 miles-a-day, and rowed on the Potomac out of Thompson's, and I also spent time almost every evening at the old Capitol Hill Washington Squash Club (WSC) which became the Washington Sports Club.
But, I was nowhere near as fit and disciplined as my friend Roger Wolfson, who was religious about it. His discipline was—and is to this day—bulletproof.
DC is a schmoozer's town. You political staffers and interns get all their calories at happy hours, where the hors d'oeuvres were free and the drinks were cheap. If I was looped into a happy hour, it would basically kill the rest of my evening's plans. I would either change my plans from "pop in to grab a drink after work" to "I guess I closed the place."
Not Roger. No matter how full his belly was with pupu or his hollow leg with house liquor, he still spent his allotted time at the gym, making sure he didn't miss his leg day—ever!
To paraphrase him from memory:
Always go to the gym, no matter what. If you decide to hit the happy hours after work and get loaded on apps and drinks, it's especially important that you make it to the gym. Your workout might be garbage but you get to keep your habit, your commitment, and you'll regret having over-indulged immediately as you lift weights and hit the treadmill.

Additionally, by going to the gym every day⁠—even after swilling half-priced or free wine and spirits⁠—you'll limit your exposure, preventing your happy-hour from becoming an unhappy all-nighter.

And, either way, it tempers you and makes your commitments to yourself, your health, your well-being, and health harder to dismiss than using 'I'm a little drunk' or 'I ate too much' or 'I feel sick to my stomach' as a too-easy excuse to avoid the gym and the workout.

It makes the commitment a lot stronger, especially when drinking or over-eating are always well within your control in the first place. Never reward yourself for your bad behavior, lean into the suffering associated with doing the best thing for yourself and others, for your health, wellness, strength, longevity, and fitness benefit others as well.
To this day, had I taken this advice, I would be as fit at Roger is to this day—and has always been.