Motion is Lotion; Moving is Lubing
| filed under: Moving is Lubing, PT, Knees, Physical Therapy, Rowing, Mobility, Erging, Range of Motion, Motion is Lotion, Fitness
There are those who believe that a life of athletics ruin knees and elbows and there are others who believe that keeping active through functional fitness is the path towards a lifetime of easy mobility: motion is lotion. I'll gladly add, cheekily, moving is lubing.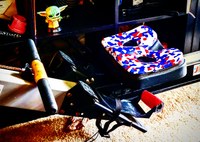 My rowing seat with ProW pad
While I agree with both motion is lotion and moving is lubing, not all athleticism is created equal.
(Moving is lubing is maybe more accurate but is less rhyming and quite a lot more porny)
If you are a regular reader, you'll remember that I returned to my favorite spin club, Cyclebar Columbia Pike, for a month a month ago. I bought an all you can eat pass and jumped in feet first, breaking myself, stopping going a week before the 30-day pass expired. I broke my knees. My fitness was fine as were the strength of my quads and calves; however, my tendons and joints were not up to the task. They were neither lubed nor lotioned. And, even worse, I only thought, at the time, that my quads and calves were kosher. They weren't.

The moments after I started my spinning, even though I intentionally gave myself permission to not ride my Schwinn hard and put it away wet. I gave myself permission to keep myself in the aerobic range, keeping my heart rate mostly within my Maffetone range. Even so, my legs, my muscles, my knees, my joints, and my dorsal chain froze up, allowing me to walk like a little old man, littler and older than normal.
So, I gave myself a couple weeks to stretch out, to allow my muscular chain to take a chill pill, and to allow my joints and tendons to heal and reduce inflamation.
I realized that biking and cycling and spinning do not give the leg an actual full range of motion, from full extension to full contraction.
But rowing does, both indoor and on-water. It is actually an extremely adapted form of squats. I often wonder why the Kardashians and Jenners do not have their own eight-buttock boat. From the catch to the finish, you progress from a full seated squat, with your sliding seat nearest the footstretcher, the catch, to the finish, when your sliding seat is furthest from the oars and your legs are fully extended. The elusive full range of motion: maximum lotion, max lube!
So, as I have committed not only recently but a number of times, my goal is to commit sixty-minutes every day to getting my Kardashian into my red, white, and blue-speckled ProW seat, for the rest of my life.
And not for fitness, though I will become fitter and fitter, and not for weight loss, though it will do a lot to mitigate my obesity; rather, my commitment to sixty-minutes-a-day of rowing (for the rest of my life) is physical therapy because motion is lotion and moving is lubing.
And I am too heavy and 50 and have even had two catastrophic knee injuries: one, a wrestling injury, and one a square-stepping injury. The wrestling injury was cured by rest and lots of awesome chiropractics but the two-stepping injury resulted in a torn ACL and that required meniscus work and an ACL rebuild.
So, I need all the lube and all the lotion I can get. I do believe that joints and tendons can rejuvenate, but that's more to do with growing up in Hawaii and believing in magic and the restorative powers of chi and chakras and meridians. Bite me, science.
So, as I have shared before, my commitment is to 60-minutes-a-day--and I am working up to it, currently running between 30-40-minutes-a-day every night between 8 PM and 9 PM. Holy time of functional fitness and aerobics prayer. Time spent either enjoying Netflix and Row, catching up on audio books, listening to No Agenda, Coast-to-Coast AM, or The Big Broadcast, or watching the first or last hour of a film.
Right now, I am not quite there. I won't make the same mistake that I did with the all you can eat spin; this time, I should have worked myself up to around 10,000 meters-a-day, up to 60-90 minutes-a-day, within the next ten days to two weeks.
Wish me luck!