Slow row progress not perfection wins the Holiday Challenge
| filed under: Concept2 Challenge, Concept2 Challenges, Concept2 Individual Challenge, Concept2 Holiday Challenge, Holiday Challenge
I flaked that the 2020 Concept2 Fall Challenge started ON Thanksgiving Day so I started on the 27th and have already missed December 1st. As a result, in order to reach my goal of 200,000 meters by midnight of 24 December—Christmas Eve.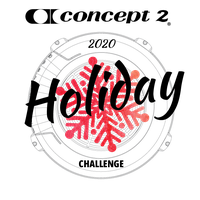 Concept2 Holiday Challenge
 It's not too late to join the Concept2 Holiday Challenge—be sure to get onto that sliding seat immediately and help make some amazing charities some money and get in ship shape during the holidays and see if you can make it to 200km before Christmas, like me, or to 100km, which is a better target for a newbie or a latecomer. Good luck. I, myself, am a bonafide slow-rower so no actual, competitive, rower or Cross-Fitter will be happy with my times and that I watch films while rowing.
Date
Work Time (Formatted)
Work Distance
Stroke Rate/Cadence
Pace
Avg Watts
Total Cal
Avg Heart Rate
12/2/2020 20:41h
45:44.6
7,836m
25spm
2:55.1/500m
65
396c
99bpm
11/30/2020 20:15h
48:56.9
7,327m
23

spm

3:20.4

/500m

43
369c
77

bpm

11/29/2020 20:19h
20:44.4
3,386m
24

spm

3:03.7

/500m

56
169c
91

bpm

11/28/2020 19:34h
31:06.9
5,307m
26

spm

2:55.8

/500m

64
269c
105

bpm

11/27/2020 20:10h
39:07.5
6,523m
26

spm

2:59.9

/500m

60
327c
94

bpm

30,379m
24.8

spm

3:03

/500m

57.6
1,530c
93.2

bpm
Concept2 Holiday Challenge
The Concept2 Holiday Challenge was born 20 years ago as a way to encourage people to stay motivated and healthy during the hectic holiday season. In 2008 we added a charitable giving component to the challenge: Concept2 donates money to selected charities based on your accumulated challenge meters. It's been a huge success thanks to all of your efforts. Together we have contributed over $340,000 to charities addressing issues ranging from the environment, clean water, hunger, poverty, disaster relief, early education and women's issues—both globally and locally.
When

Nov 26, 2020 12:00 AM 

to


Dec 24, 2020 12:00 AM

Where

Concept2 Online Logbook

Add event to calendar
 vCal
 iCal
Row, ski or ride 100k or 200k meters between American Thanksgiving and Christmas Eve and help raise money for one of four great charities.
Row, ski and/or ride 100,000 meters or 200,000 meters from November 26 to 11:59 p.m. December 24.
Indoor rower, SkiErg and BikeErg meters only (no on water/on snow meters please). You can combine meters from each machine to reach the challenge goal. Note: BikeErg meters are counted as half when applied to the challenge. Learn more about BikeErg meters below in How To Participate.
If you're looking for help in recording your meters, ErgData is a good option for iPhone and Android users.
Support great causes with your meters! Read about this year's charities below.
This is an individual challenge. Teams are not used for this challenge.
The Kids' Holiday Challenge allows kids (aged 16 and under) to participate at 50,000 meters.
Adaptive athletes can choose to participate at the 50k, 100k, or 200k levels.
Deadline for entering meters: 11:59 pm GMT (6:59 pm ET), January 4th.
How To Participate
You must have an Online Logbook at concept2.com (it's FREE!) and all of your meters must be entered into your Online Logbook. If you don't already have one, visit the Online Logbook home page and follow the directions to register. Kids' Challenge participants need to set up an individual logbook (using a parent's email address is fine).
Choose your charity from the main Logbook page. This will be available to do from mid-November and can be done at any point before the end of the challenge. Note: It's possible to choose either "Do Not Donate" or "Let Concept2 Choose" as an option. People who do not choose a charity will not be eligible for a pin if they reach 200,000m
Under the Profile tab, enter your current mailing address. This is to ensure we have your correct mailing address for mailing your pin (see below for how to qualify).
After your workout, record your meters in your Online Logbook. Note: BikeErg meters are counted as half when applied to the challenge, so a BikeErg workout of 40,000m would give you 20,000m towards your challenge score. This is done automatically, so if entering workouts manually in the Logbook, please enter them as normal.
Visit the Challenges page in your Online Logbook. When you've reached your goal, the Challenges page of the Online Logbook automatically recognizes your achievement and displays instructions for claiming your rewards.
More information about this event…