What clients want and expect from influencer marketing
| filed under: Influencer PR, Influencer Marketing, Creator Marketer, Influencers Reviews, Influencers, Creator Marketing, Influencer Engegement, Influencer Research, Influencer Outreach, Influencer Pitch, Influencer Marketer, Influencer Engagement
Clients want sales. In terms of KPIs (Key Performance Indicators), sales are king. People want to make money—not after seven-touches or down the road—but now!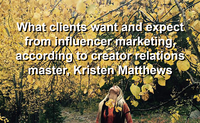 Kristen Matthews
I reached out to Kristen Matthews yesterday to catch up with her and to ask her about what she's seeing in the marketplace. What do clients want and expect? What do influencers want and expect? What does Kristen Matthews, herself, want and expect from her clients, influencers, and creators?
This week—today—I will be addressing the first of the three, what do influencer marketing and creator relations clients want and expect? Come back in the next couple weeks for the "what do influencers want and expect" and "what does Kristen Matthews, herself, want and expect from her clients, influencers, and creators?"
My Influencer Marketing Consigliere
Even though I have been doing influencer marketing since 2002, whenever I need advice about influencer marketing and creator relations at the cutting edge of 2018, I always reach out to Kristen Matthews.  She's such a professional. Her expertise is all-encompassing because she not only consults major brands on their influencer marketing strategies, she's also an influencer marketing practitioner who spent years as the face of GroupHigh.
GroupHigh is still my personal go-to platform to discover, engage, and track all of my influencers and all my influencer marketing campaigns–including searching, finding, collecting, engaging, retaining and reporting.
What Do Clients Want?
Clients want sales. In terms of KPIs (Key Performance Indicators), sales are king. People want to make money—not after seven-touches or down the road—but now!
And, if that client isn't selling something that can be drop-shipped from a warehouse overnight, then clients are looking for something as close to a sale as possible: newsletter signups, in the case of a yogurt company she worked with—because premium dairy treats don't travel well in the canvas shoulder bag of your local mail carrier.
Clients Demand Accountability
Clients also want accountability. No, not just the theoretical performance metrics associated with the influencer's Q-Rating or Klout based on the number of their followers, their engagement, their subscriptions, Likes, or the traffic and SEO PageRank of their blog, but actual conversions and visits that can be directly connected to each influencer.
I Vant to Suck Your Blood
It's like vampire lore: when a vampire turns a mortal into another vampire, they have a blood bond, a sire bond. And each vampire that that sired vampire makes is connected to the original vampire. So, when a client hires an influencer marketing campaign, they need to associate all sales that result from that influencer marketing outreach and engagement, both from the influencers and their friends, fans, readers, watchers, subscribers, etc. Clients demand to have proof of lineage, proof of the sire bond.
Influencer Marketing is the New Affiliate Marketing
Just a few years ago, getting unique tracking codes for each and every influencer was a pain. What used to be done is what you see on late night infomercials. You would provide a unique domain name or unique URL address that was only associated with the campaign but would not have the granularity that modern clients demand.
Google has something like it, called the Campaign URL Builder that you can link to your Custom Campaigns in Google Analytics. That said, on the phone yesterday, Kristen tells me that every single one of her current clients has a dedicated Affiliate Manager. If you have any experience with affiliate platforms such as Amazon Associates, eBay Partner Network, CJ Affiliate, ShareASale, Rakuten, etc, you know what I'm talking about. Now, everyone does.
Affiliate Manager Collusion
Clients demand that you collaborate with their affiliate manager or their affiliate marketing provider to secure bespoke affiliate links, step one, and have enough influence on the influencer to make sure they're willing to maintain the integrity of their unique tracking URL both on their own sites, blogs, and social channels but also make sure that, to the best of their ability, they will make sure that their friends, followers, subscribers, and readers use the influencer's unique affiliate link as well.
The Buck Stops Here
Any shortcuts that anyone takes that works around the supplied link just won't be associated with campaign success.  This might mean that influencer marketers will need to audit the links and linking on the influencers sites and across social media.
Ringing the Bell
Casually, Kristen Matthews bragged that she's seen $6 made on $1 spent on influencer marketing. She hates to lead with this because sometimes nothing works out and the campaign's a dud. That said, part of being an influencer marketing is not just doing what your client wants you to do. Influencer marketing specialists must make sure they only promise what they can deliver, to manage expectations, and to under-promise and over-perform.
Correct Your Client's Bad Behavior Earlier than Later
And, if your client is making choices that are hurting your ability to perform well in your influencer marketing campaign, you need to be willing to overcommunicate with your client, to let them know how they're hobbling your chances for success—well before the campaign craters and you're left holding the bag. You're the expert in this space no matter how many marketing or business degrees and years of experience your client has.  Stand up for yourself well before you end up missing the agreed-to KPIs by a mile.
Hire Me
Feel free to own the yacht but hire a crew if you're not yet seaworthy. If you get my drift and want to adopt the yachting lifestyle yourself but either don't have the mad sailing skills yourself, don't yet possess a world-class crew, or don't know yet where to go, then you should give me a call or reach out me by email — so I can help you pilot your vessel now, in the tranquil blue-green shallows of the Caribbean, as well as in the roughest seas and into — as well as out of — the storm.
Be sure to check out the next in the series, What Influencers Want and Expect from Influencer Marketing.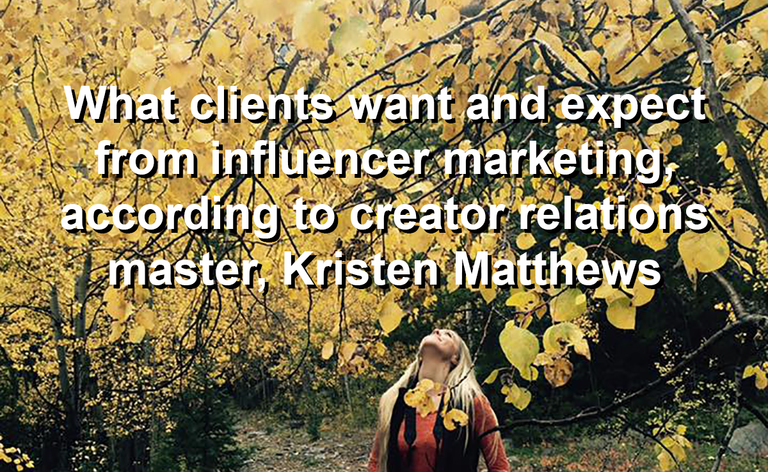 Via Biznology